Adobe After Effects CS5 Digital Classroom, (Book and Video Training)
ISBN: 978-0-470-59524-4
384 pages
November 2010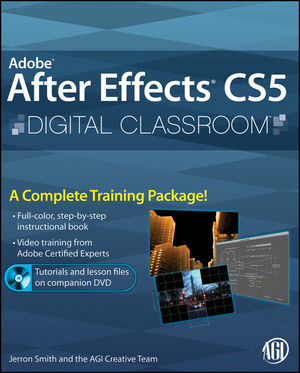 This video and full-color book combo has quite an effect for learning After Effects CS5!
Adobe After Effects is a leading motion graphics and visual effects program that allows you to create and deliver compelling motion graphics and visual effects. This full-color book-and-video training package gets you quickly up to speed using the capabilities of the newest release of After Effects and deciphers even the most complex After Effects tasks. Sixteen self-paced lessons explain how to edit and apply effects for stellar visual and special effects. The supplementary video lessons included with the book are each approximately five minutes long and demonstrate the concepts and features covered in the lesson.
Escorts you through the basics of editing and applying motion graphics and visual effects with Adobe After Effects CS5

Deciphers even the most advanced After Effects tasks and makes them less intimidating

Features full-color book and video tutorials with step-by-step training that complement the topics covered in each lesson of the book

Encourages you to absorb each lesson at your own pace
Jam-packed with information, this book with videos and lesson files is just like having your own personal instructor guiding you through each unique lesson.
Note: DVD and other supplementary materials are not included as part of eBook file. These materials are available for download upon purchase.
See More
Starting Up.
About Digital Classroom.
Prerequisites.
System requirements.
Starting Adobe After Effects CS5.
Fonts used in this book.
Resetting Adobe After Effects CS5 preferences.
Loading lesson files.
Working with the video tutorials.
Setting up for viewing the video tutorials.
Viewing the video tutorials.
Additional resources.
Lesson 1: Understanding Motion Graphics.
Starting up.
Defi ning motion graphics.
Digital video basics.
Understanding video formats.
Understanding frame rate and resolution.
Understanding transparency.
Lesson 2: Understanding the After Eff ects Interface.
Starting up.
Understanding and working with menus.
Opening an existing After Effects project.
Understanding the After Effects panel system.
After Effects panels.
Primary panels.
Understanding the workspace.
Viewing and hiding panels.
Docking and undocking panels.
Resizing panels.
Saving a custom workspace.
Resetting the workspace.
Setting After Eff ects Preferences.
Changing the default undo levels.
Enable Auto-Save.
Lesson 3: Media Management—Images, Video, and Audio.
Starting up.
What is Media Management?
Projects, compositions, and layers: an overview.
Creating a new project.
Importing media files.
Organizing the Project panel.
Modifying the column displays.
Creating folders and subfolders.
Previewing footage.
Previewing stills and video.
Previewing audio.
Trimming a video clip.
Importing multiple files.
Importing Photoshop and Illustrator files.
Importing image sequences.
Importing After Effects compositions.
Locating missing files.
Using the Interpret Footage dialog box.
Looping an audio or video file.
Using Remember Interpretation.
Using the Collect Files command to consolidate files.
Lesson 4: Animation Workflow.
Starting up.
Understanding the animation workflow.
Creating and working with compositions.
Creating a new composition.
Understanding composition settings.
Importing compositions from Photoshop and Illustrator.
Working with layers.
Understanding the layer switches.
Understanding layer stacking order.
Changing layer names.
Creating Kinestasis by animating the Anchor Point.
Animating rotation.
Using layer parenting to ease repetition.
Animating position.
Understanding motion paths.
Using layer motion blur.
Adjusting Motion Blur settings.
Using blending modes.
Applying layer styles.
Understanding nested compositions and precomposing.
Adding nested styles.
Pre-composing layers.
Creating a fade-in by animating Opacity and Scale.
Lesson 5: Working with Masks, Track Mattes, and Keys.
Starting up.
Working with masks.
Creating masks with the shape tools.
Selecting and manipulating masks.
Animating the position of masks.
Creating freeform masks.
Animating the shape of masks.
Understanding track mattes.
Creating track mattes.
Creating mattes from animated Photoshop files.
Creating a chroma key.
Creating a garbage matte.
Creating a chroma key.
Refining the matte.
Lesson 6: Working with Text.
Starting up.
Creating text.
Setting text properties globally.
Formatting individual characters.
Animating text properties.
Saving an animator as a preset.
Working with text animation presets.
Modifying animation presets.
Creating custom text animators.
Creating a typewriter effect.
Creating text on a path.
Lesson 7: Working with Audio.
Starting up.
Audio in After Effects.
Previewing audio.
Adding audio files to the Timeline.
Viewing audio file metadata.
Looping audio files.
Animating audio levels.
Working with audio effects.
Using composition markers to set the beat.
Naming composition markers.
Refining the position of composition markers.
Syncing animation to composition markers.
Creating keyframes from audio files.
Lesson 8: Working with 3D in After Effects.
Starting up.
Previewing animation with RAM preview.
Working the 3D capabilities of After Effects.
Creating 3D layers.
Using multiple viewports.
Understanding 3D Transform properties.
Understanding Material Options.
Animating 3D layers.
Creating and using lights.
Understanding light options.
Animating light properties.
Creating and using cameras.
Understanding camera options.
Animating camera properties.
Creating the depth-of-fi eld effect.
Creating a Rack Focus shot.
Working with Live Photoshop 3D.
Importing Live Photoshop 3D effects.
Animating Photoshop 3D compositions.
Adding a Glow and Lens Flare effect.
Lesson 9: Advanced Animation.
Starting up.
Animating with effects.
Applying effects to layers.
Animating effect properties.
Saving animation presets.
Applying and modifying effects presets.
Time-reversing a layer.
Using the Motion Sketch panel to capture motion.
Controlling layer orientation.
Using the Smoother panel to soften movement.
Using the Wiggler panel to add frantic motion.
Create acceleration and deceleration using Easy Easing.
Changing spatial interpolation.
Adding easing to keyframes.
Using squash and stretch to enhance the animation.
Animating with the Graph Editor.
Create a strobing effect using hold interpolation.
Automating animation with expressions.
Finding expressions.
Adding expressions to properties.
Using the LoopOut( ) expression.
Using the Random( ) expression.
Using the Time property with expressions.
Using the Wiggle( ) expression.
Working with scripts.
Installing and running scripts.
Creating scripts.
Finding additional scripts.
Using and applying scripts.
Lesson 10: Outputting After Effects Projects.
Starting up.
Rendering files for output.
Understanding the Render Queue.
Adding compositions to the Render Queue.
Adjusting render settings.
Duplicating jobs in the Render Queue.
Creating render templates.
Exporting a project file.
Trimming and cropping compositions.
Rendering an individual frame.
Self study.
Review.
Appendix A.
After Eff ects Secondary panels.
Appendix B.
Importable media formats.
Still images and image sequences.
Project formats.
Appendix C.
Understanding formats and codecs.
Understanding bit rate.
Understanding spatial and temporal compression.
Appendix D.
Understanding Video Displays.
Understanding aspect ratio and pixel aspect ratio.
Progressive display versus interlacing.
See More
Jerron Smith
is an animator, editor, and educator. He has worked with Adobe technologies for more than a decade. He teaches Web, interactive, and new media classes at American Graphics Institute.
The AGI Creative Team develops and delivers training programs for creative, marketing, and communications professionals through the American Graphics Institute.
See More
November 17, 2010
After Effects CS5 Digital Classroom
Connect with Wiley Publicity
This video lesson shows you what to do when you get a Missing File warning in After Effects CS5 and how to loop short audio and video files.
See More