E-book
Fashion For Dummies
ISBN: 978-0-470-59566-4
352 pages
October 2009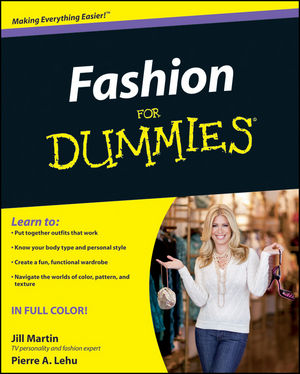 Your full-color guide to building a fun, functional wardrobe
Fashion For Dummies takes the guess out of dress, giving you the confidence and know-how you need to dress for every occasion. This full-color guide is packed with tips on creating a confusion-free wardrobe that works with your body type and personal style, as well as navigating the worlds of color, pattern, and texture.
Reveals how to put together outfits that work without overextending your budget
Features a section dedicated to menswear
Packed with helpful illustrations presented in full color
The perfect guide for novice fashion-hunters, Fashion For Dummies is your key to always dressing your best!
See More
Introduction.
Part I: Fashion, Style, and You.
Chapter 1: Fashion 101.
Chapter 2: Impression Management: Developing Your Personal Style.
Chapter 3: Dressing to Flatter Your Body.
Part II: Mastering the Basics of Garment Construction, Fabrics, and Color.
Chapter 4: Fundamentals on Fabrics and Garment Construction.
Chapter 5: The Art of Color.
Chapter 6: From the Runway to a Store Near You.
Part III: Stocking Your Closet without Going Crazy or Broke.
Chapter 7: Building Your Wardrobe: Your What- and Where-to-Buy Guide.
Chapter 8: Eliminating Fashion Confusion.
Part IV: Dressing for Any Occasion.
Chapter 9: Dressing for Every Day.
Chapter 10: Dressing for Success.
Chapter 11: Très Chic: Threads for Special Occasions.
Chapter 12: The Four Seasons: Dressing for Comfort and Style.
Chapter 13: Dressing for the Bedroom.
Part V: Finishing Touches.
Chapter 14: It's What's Inside That Counts: Undergarments.
Chapter 15: Accessories.
Chapter 16: Putting Your Best Foot Forward: Shoes.
Part VI: The Part of Tens.
Chapter 17: Ten Fashion Faux Pas and How to Avoid Them.
Chapter 18: Ten Ways to Go From Day to Night in a Flash.
Chapter 19: Ten Great Fashion Web Sites.
Index.
See More
Jill Martin is a fashion expert and three-time Emmy-nominated television personality. She appears regularly on NBC's Today show highlighting trends and must-haves, and is well-known for the popular "Ambush Makeover" segments. Jill lives in New York City and is developing her own clothing line. Pierre A. Lehu has worked as a publicist, literary agent, and writer. He is the coauthor of Sex For Dummies.
See More