E-book
Creating Your Own Destiny: How to Get Exactly What You Want Out of Life and Work
ISBN: 978-0-470-59571-8
320 pages
April 2010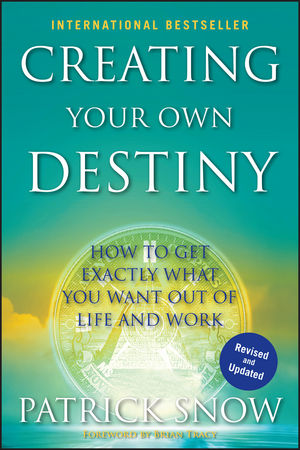 Put your own fate exactly where it belongs-in your hands
It is one of the great questions of life. Its a simple question, really, but it seems impossible for many to answer: Do we control our own destinies? 90 percent of people think and act as if their destiny is foreordained, while only about 10 percent believe in the capacity to change and act on it.
Creating Your Own Destiny explains and demonstrates to the majority how to dream, plan, and execute a better future-despite the challenges of the economy and life circumstances.
Based on time-honored principles, theories, and case studies
Provides a Success Road Map for all those people who are seeking to achieve success but who aren't satisfied with their careers.
Written in an easy and accessible tone by Patrick Snow, who has been dubbed "the Dean of Destiny"
With the powerful and practical tools featured in this essential guide, you'll find yourself newly empowered and energized to achieve extraordinary results.
See More
Foreword (
Brian Tracy
).
Introduction Breaking Free.
Section One DREAM.
Chapter 1 Visualizing Your Dreams.
Chapter 2 Setting Big Goals.
Chapter 3 Putting Your Family Ahead of Work.
Chapter 4 Building Real Wealth.
Section Two PLAN.
Chapter 5 Creating Your Game Plan.
Chapter 6 Conquering Adversity, Temptation, and Addiction.
Chapter 7 Overcoming Your Fears.
Chapter 8 Remembering Those Who Molded You.
Section Three EXECUTE.
Chapter 9 Executing Your Plan Daily.
Chapter 10 Growing Your Business on a Limited Budget.
Chapter 11 Choosing Health, Nutrition, and Exercise Daily.
Chapter 12 Making Permanent Changes in Your Life.
Section Four SOAR.
Chapter 13 Leading and Leveraging Your Network.
Chapter 14 Developing Your Higher Calling.
Chapter 15 Leaving Your Legacy.
Chapter 16 Asking Yourself the Ultimate Destiny Questions.
A Final Note Achieving Your Destiny.
Destiny Secret.
Notes.
About the Author.
About The Snow Group.
Best-Seller Publishing Coaching.
Book Patrick Snow.
Index.
See More
PATRICK SNOW is a professional keynote speaker, international bestselling author, publishing coach, and Internet entrepreneur. He has studied the field of personal growth and development for more than twenty years, and as a result has been dubbed "The Dean of Destiny" by high achievers worldwide. In 2000, he launched his company, The Snow Group, with a mission to help others overcome their fears by turning their career distress into personal success. His self–published version of Creating Your Own Destiny has sold more than 150,000 copies and has been translated into numerous foreign languages. For more information, visit www.PatrickSnow.com.
See More