E-book
PHR / SPHR Professional in Human Resources Certification Study Guide, 3rd Edition
ISBN: 978-0-470-59603-6
672 pages
October 2009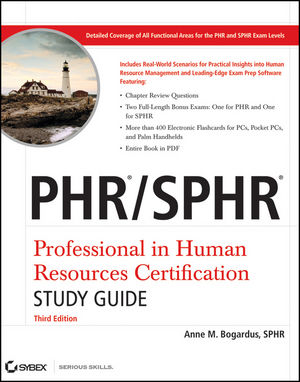 More than 80,000 HR professionals having earned the Senior Professional in Human Resources (SPHR) or Professional in Human Resources (PHR) certification, and another 20,000 are expected to take the exam in 2009. This complete update of the bestselling guide to HR certification contains additional coverage of new HR policies and standards, as well as updated practice exam questions and real world scenarios. Key topics include strategic management, workforce planning and employment, compensation and benefits, employee and labor relations, and Occupational Safety and Health Administration (OSHA) regulations. The CD-ROM contains two bonus exams (one each for PHR and SPHR) as well as flashcards and an electronic book.
Note: CD-ROM/DVD and other supplementary materials are not included as part of eBook file.
See More
Introduction.
Assessment Test.
Chapter 1 Certifying Human Resource Professionals.
Chapter 2 Core Knowledge Requirements for HR Professionals.
Chapter 3 Strategic Management.
Chapter 4 Workforce Planning and Employment.
Chapter 5 Human Resource Development.
Chapter 6 Total Rewards.
Chapter 7 Employee and Labor Relations.
Chapter 8 Risk Management.
Appendix A About the Companion CD.
Appendix B Case Study.
Appendix C Federal Employment Legislation and Case Law.
Appendix D Resources.
Glossary.
Index.
See More
Anne M. Bogardus, SPHR, has more than 20 years of experience working with small businesses developing effective human resource programs. She is the author of two books on human resource management: the previous edition of PHR/SPHR Professional in Human Resources Certification Study Guide and Human Resources Jumpstart. She is also co-author of Human Resource Management. Technical Editor Laura Owen, JD, SPHR, GPHR, is VP of Human Resources for Spirent Communications. She has over 30 years of experience as an employment attorney and human resources executive for leading technology companies, including Cisco Systems, Macrovision, and Credence.
See More