E-book
Action!: Acting Lessons for CG Animators
ISBN: 978-0-470-59605-0
352 pages
October 2009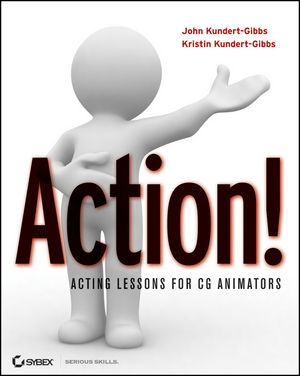 In order to bring a character to life, it is beneficial for animators to have a solid understanding of acting principles, and this book examines the important skills behind the artistry of creating animated characters. With a particular emphasis on a character's motions and movement, this unique resource covers the basic elements of acting for CG animation and then progresses to more advanced topics such as internal intent and motivation.
Note: CD-ROM/DVD and other supplementary materials are not included as part of eBook file.
See More
Introduction xiii
Chapter 1 What Is Acting? 1
A Brief History of Acting 2
How an Actor Works 10
How Acting Relates to the Animator 15
Beginning Acting Exercises 16
Chapter 2 Foundations of Animation 39
What Is Animation? 40
Why Animate? 41
A Brief History of Animation 42
The Disney 12 Principles 47
Facial versus Body Animation 55
The Facial Action Coding System 56
Rigging in a Nutshell 58
Animation Exercises 60
Chapter 3 Stanislavski's System 67
The Beginning of His Life in Art 68
The Moscow Art Theatre 68
The System 69
Exercises in Stanislavski's Method 78
Chapter 4 Commedia dell'Arte 89
Acting Commedia 90
The Characters 90
Relating Commedia Characters to Animation 99
Commedia Acting Exercises 101
Animation Exercises 109
Chapter 5 Bioenergetics 119
Energy 120
Character 121
Bioenergetics Acting Exercises 131
Bioenergetics Animation Exercises 139
Chapter 6 Using the Work of Michael Chekhov in Animation 145
Michael Chekhov 146
The Chekhov Technique 148
Exercises Using the Michael Chekhov Technique 162
Using the Michael Chekhov Technique in Animation 166
Chapter 7 Essences 177
What Is an Essence? 178
Exercises for Understanding Essences 184
Using Essences with Animation 196
Chapter 8 Laban Effort Analysis 203
Rudolf Laban 204
The Effort Shapes 204
Exercises to Use Laban's Movement Categories in Acting 215
Creating Laban Effort Shapes in Animated Characters 229
Chapter 9 Alba Emoting 237
Development of Alba Emoting 238
The Patterns 239
Alba Emoting for Inanimate Characters 247
Exercises to Create Alba Emoting Patterns 248
Exercises for Creating Alba Patterns in Animated Characters 259
Chapter 10 The Voice and Voice-Over Acting 267
What Is a Voice-Over? 268
How the Voice Works 269
Working On Your Voice 271
Developing Your Character Voices 287
The Voice-Over Session 288
Chapter 11 Creating Lip Sync and Facial Performance for Voiced Characters 291
"Reading" Audio Performances 292
Capturing Audio (and Video) for Voice-overs 296
Creating Lip Sync 298
Exercises in Lip-Synced Facial Animation 304
Appendix About the Companion DVD 315
Index 319
See More
John Kundert-Gibbs
is an associate professor of Animation in the Theatre and Film Studies Department at the University of Georgia. He is the author of numerous books on Maya and 3D animation.
Kristin Kundert-Gibbs is assistant professor of Acting and Voice in the Theatre and Film Studies Department at the University of Georgia and has worked as an actress, producer, director, and vocal coach.
See More
Learn more about