E-book
Web Analytics 2.0: The Art of Online Accountability and Science of Customer Centricity
ISBN: 978-0-470-59644-9
504 pages
December 2009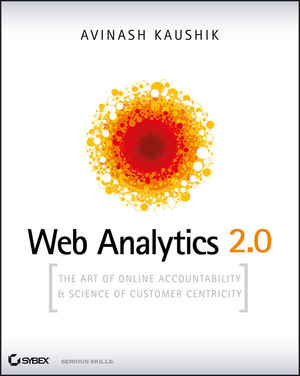 Adeptly address today's business challenges with this powerful new book from web analytics thought leader Avinash Kaushik.
Web Analytics 2.0
presents a new framework that will permanently change how you think about analytics. It provides specific recommendations for creating an actionable strategy, applying analytical techniques correctly, solving challenges such as measuring social media and multichannel campaigns, achieving optimal success by leveraging experimentation, and employing tactics for truly listening to your customers. The book will help your organization become more data driven while you become a super analysis ninja!
Note: CD-ROM/DVD and other supplementary materials are not included as part of eBook file.
See More
Introduction xxi
Chapter 1 The Bold New World of Web Analytics 2.0 1
State of the Analytics Union 2
State of the Industry 3
Rethinking Web Analytics: Meet Web Analytics 2.0 4
Chapter 2 The Optimal Strategy for Choosing Your Web Analytics Soul Mate 15
Predetermining Your Future Success 16
Step 1: Three Critical Questions to Ask Yourself Before You Seek an Analytics Soul Mate! 17
Step 2: Ten Questions to Ask Vendors Before You Marry Them 21
Comparing Web Analytics Vendors: Diversify and Conquer 28
Step 3: Identifying Your Web Analytics Soul Mate (How to Run an Effective Tool Pilot) 29
Step 4: Negotiating the Prenuptials: Check SLAs for Your Web Analytics Vendor Contract 32
Chapter 3 The Awesome World of Clickstream Analysis: Metrics 35
Standard Metrics Revisited: Eight Critical Web Metrics 36
Bounce Rate 51
Exit Rate 53
Conversion Rate 55
Engagement 56
Web Metrics Demystified 59
Strategically-aligned Tactics for Impactful Web Metrics 64
Chapter 4 The Awesome World of Clickstream Analysis: Practical Solutions 75
A Web Analytics Primer 76
The Best Web Analytics Report 85
Foundational Analytical Strategies 87
Everyday Clickstream Analyses Made Actionable 94
Reality Check: Perspectives on Key Web Analytics Challenges 126
Chapter 5 The Key to Glory: Measuring Success 145
Focus on the "Critical Few" 147
Five Examples of Actionable Outcome KPIs 149
Moving Beyond Conversion Rates 151
Measuring Macro and Micro Conversions 156
Quantifying Economic Value 159
Measuring Success for a Non-ecommerce Website 162
Measuring B2B Websites 166
Chapter 6 Solving the "Why" Puzzle: Leveraging Qualitative Data 169
Lab Usability Studies: What, Why, and How Much? 170
Usability Alternatives: Remote and Online Outsourced 175
Surveys: Truly Scalable Listening 179
Web-Enabled Emerging User Research Options 190
Chapter 7 Failing Faster: Unleashing the Power of Testing and Experimentation 195
A Primer on Testing Options: A/B and MVT 197
Actionable Testing Ideas 202
Controlled Experiments: Step Up Your Analytics Game! 205
Creating and Nurturing a Testing Culture 209
Chapter 8 Competitive Intelligence Analysis 213
CI Data Sources, Types, and Secrets 214
Website Traffic Analysis 221
Search and Keyword Analysis 225
Audience Identification and Segmentation Analysis 235
Chapter 9 Emerging Analytics: Social, Mobile, and Video 241
Measuring the New Social Web: The Data Challenge 242
Analyzing Offline Customer Experiences (Applications) 248
Analyzing Mobile Customer Experiences 250
Measuring the Success of Blogs 257
Quantifying the Impact of Twitter 266
Analyzing Performance of Videos 273
Chapter 10 Optimal Solutions for Hidden Web Analytics Traps 283
Accuracy or Precision? 284
A Six-Step Process for Dealing with Data Quality 286
Building the Action Dashboard 288
Nonline Marketing Opportunity and Multichannel Measurement 294
The Promise and Challenge of Behavior Targeting 298
Online Data Mining and Predictive Analytics: Challenges 302
Path to Nirvana: Steps Toward Intelligent Analytics Evolution 306
Chapter 11 Guiding Principles for Becoming an Analysis Ninja 313
Context Is Queen 314
Comparing KPI Trends Over Time 321
Beyond the Top 10: What's Changed 324
True Value: Measuring Latent Conversions and Visitor Behavior 327
Four Inactionable KPI Measurement Techniques 330
Search: Achieving the Optimal Long-Tail Strategy 338
Search: Measuring the Value of Upper Funnel Keywords 346
Search: Advanced Pay-per-Click Analyses 348
Chapter 12 Advanced Principles for Becoming an Analysis Ninja 357
Multitouch Campaign Attribution Analysis 358
Multichannel Analytics: Measurement Tips for a Nonline World 368
Chapter 13 The Web Analytics Career 385
Planning a Web Analytics Career: Options, Salary Prospects, and Growth 386
Cultivating Skills for a Successful Career in Web Analysis 393
An Optimal Day in the Life of an Analysis Ninja 401
Hiring the Best: Advice for Analytics Managers and Directors 403
Chapter 14 HiPPOs, Ninjas, and the Masses: Creating a Data-Driven Culture 407
Transforming Company Culture: How to Excite People About Analytics 408
Changing Metric Definitions to Change Cultures: Brand Evangelists Index 415
Slay the Data Quality Dragon: Shift from Questioning to Using Data 420
Five Rules for Creating a Data-Driven Boss 426
Need Budget? Strategies for Embarrassing Your Organization 429
Strategies to Break Down Barriers to Web Measurement 432
Who Owns Web Analytics? 440
Appendix About the Companion CD 443
Index 447
See More
Avinash Kaushik is the author of the leading research & analytics blog Occam's Razor. He is also the Analytics Evangelist for Google and the Chief Education Officer at Market Motive, Inc. He is a bestselling author and a frequent speaker at key industry conferences around the globe and at leading American universities. He was the recipient of the 2009 Statistical Advocate of the Year award from the American Statistical Association.
The author donates all proceeds from his books to two charities, The Smile Train and The Ekal Vidyalaya Foundation.
See More
Learn more about