Leader to Leader (LTL), Volume 58, Fall 2010
ISBN: 978-0-470-59688-3
64 pages
October 2010, Jossey-Bass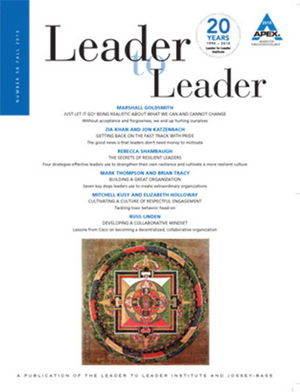 Get insightful articles on leadership, management, and strategy written by today's leaders with this award-winning journal. Brought to you by the Frances Hesselbein Leadership Institute, Leader to Leader brings together a peerless selection of world-class executives, best-selling management authors, top consultants, and respected social thinkers. Leader to Leader poses provocative questions that challenge your leadership assumptions and provides compelling evidence powerful enough to change your leadership thinking while offering thoughtful analysis of complex leadership issues.
See More
HESSELBEIN & COMPANY.
FRANCES HESSELBEIN
The Inspiring Journey We All Share
In these uncertain times, we cannot give in to despair or cynicism.
ANTONY BELL
The Myth of Generational Tensions
Generational differences are real, but that's not the problem.
RAVI S. KUDESIA
Innovators Love Yoga and You Should Too
Improving stress management, self-control, and creative thinking.
JOEL KURTZMAN
Fitting In: The Foundation for Successful Leaders
Groups will eject a leader who does not fit the organizational culture.
RICHARD M. POTTER
Realizing Our Potential: Making a Difference in a Cause Bigger Than Ourselves
Key lessons for leaders on realizing their full potential for themselves and their organizations.
EXECUTIVE FORUM.
MARSHALL GOLDSMITH
Just Let It Go! Being Realistic About What We Can and Cannot Change
Clinging to anger and negativity weighs us down.
ZIA KHAN AND JON KATZENBACH
Getting Back on the Fast Track with Pride
Four steps leaders can use to support change, accelerate recovery, and exploit the new opportunities.
REBECCA SHAMBAUGH
The Secrets of Resilient Leaders
Developing the capacity to bounce back from misfortune, disruptive change, and failure.
MARK THOMPSON AND BRIAN TRACY
Building a Great Organization
Leaders engage in a continuous, ongoing process of learning by doing.
MITCHELL KUSY AND ELIZABETH HOLLOWAY
Cultivating a Culture of Respectful Engagement
How sarcasm, blame, and disrespect can become normal—and what to do about it.
RUSS LINDEN
Developing a Collaborative Mindset
Moving from command-and-control to networked cooperation.
FROM THE FRONT LINES.
Business Analysis Training Helps Leaders Achieve an Enterprise-Wide Perspective
Many companies have begun to promote programs in business analysis.
How to Retain High-Performers
Ten strategies for attracting and engaging highly talented people.
See More
The Leader to Leader Institute's mission is to strengthen the leadership of the social sector. Established in 1990 as the Peter F. Drucker Foundation for Nonprofit Management, the Institute, in collaboration with its partners in the private and public sectors, furthers its mission by providing social sector leaders with the essential leadership wisdom, inspiration, and resources needed to lead for innovation and to build vibrant social nonprofit organizations.
See More