Robert's Rules of Innovation: A 10-Step Program for Corporate Survival
ISBN: 978-0-470-59699-9
Hardcover
212 pages
March 2010
US $34.95

Add to Cart
This price is valid for United States. Change location to view local pricing and availability.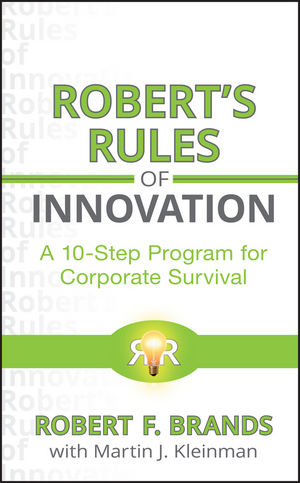 Other Available Formats:
E-book
Introduction.
CHAPTER 1 INNOVATION, SURVIVAL, AND THE "AHA!" MOMENT.
How Do I Get to "Aha!"?
Innovation Is Not a Luxury.
Where Does Innovation Begin?
CHAPTER 2 THE INNOVATOR'S MANIFESTO ROBERT'S RULES OF INNOVATION.
Inspire.
No Risk, No Innovation.
New Product Development Process.
Ownership.
Value Creation.
Accountability.
Training and Coaching.
Idea Management.
Observe and Measure.
Net Result and Reward.
CHAPTER 3 THE INNOVATION AUDIT THE INVALUABLE DISCOVERY PROCESS THAT SETS THE STAGE FOR ACTION.
The Audit Process.
The Short Audit.
The In-Depth Audit.
The Importance of Establishing a Benchmark.
CHAPTER 4 INNOVATION EMANCIPATION KEYS TO FREEING YOUR INNER INNOVATOR.
Defeating Devil's Advocates to Become an Agent for Change.
Innovation Democratization is the Key.
The Role of the Consensus Builder.
The Path of an Innovation Champion.
The Innovation Pay-Off: A Quick, Real-Life Story.
CHAPTER 5 INNOVATION IN THE TIME OF MULTINATIONAL TEAMS.
The Care and Feeding of Creatives.
For Creative People, It's About More Than Money.
Babel, Babble and the Global Team Leader.
Team Building, One Step at a Time.
Viva la Difference!
Aretha Was Right: It's All About R-E-S-P-E-C-T.
CHAPTER 6 PATENTLY OBVIOUS THE CARE AND FEEDING OF YOUR INTELLECTUAL PROPERTY.
Intellectual Property: The Big Picture.
Intellectual Property 101.
Frequently Asked Questions.
Remember: The Wolves Are Always At the Door.
CHAPTER 7 INNOVATION IMPLEMENTATION.
Getting Started.
Define Your Organization's Needs.
NPD Process in Action.
Creating a Roadmap to Success.
Guidelines for Progress.
CHAPTER 8 INNOVATION CHECKLIST.
Pre-Flight Preparation.
Or, If You Really Want Your Innovation Program To Flop…
Advice – and Encouragement -- from the Pros: A Roundtable Discussion.
Sustainable Innovation and You.
APPENDIX A PRODUCT DEVELOPMENT PROCESS.
APPENDIX B THE FIVE STAGES OF THE PRODUCTION DEVELOPMENT PROCESS: EXAMPLE 1
APPENDIX C. THE FIVE STAGES OF THE PRODUCTION DEVELOPMENT PROCESS: EXAMPLE 2
Key Resources and Links.
Acknowledgments.
About the Authors.
Index.