E-book
Wiley Guide to Fair Value Under IFRS
ISBN: 978-0-470-59736-1
400 pages
April 2010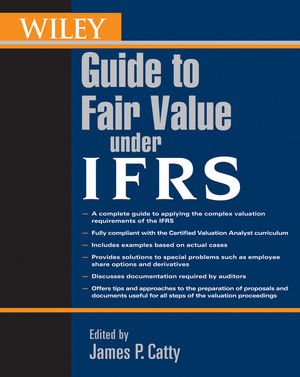 Your one indispensable guide to all the Fair Value requirements of IFRS
Acomplete guide to the complex valuation requirements of IFRS, this book includes chapters on theoretical and practical applications, with extensive examples illustrating the required techniques for each application.
Appropriate for anyone involved professionally with finance—managers, accountants, investors, bankers, instructors, and students—this guide draws on a stellar panel of expert contributors from fourteen countries who provide international coverage and insight into a diverse range of topics, including:
Fair Value in implementing IFRS

Market Approach

Income Approach—Capitalization and Discounting Methods

Economic and Industry Conditions

Cost of Capital

Financial Statement Analyses

Impairment Testing

Intellectual Property Rights (patents, copyrights, trademarks)

Projecting Financial Statements

Liabilities

Customer Relationships

Share-based Payment

Plant and Equipment
Guide to Fair Value Under IFRS is the first international valuation book of its kind. Fully compliant with the Certified Valuation Analyst curriculum, it provides detailed guidance as to how fair value is to be determined and fills numerous gaps in common understanding of IFRS requirements.
See More
Foreword (
Liu Ping, China).
Preface (Jim Catty, United Kingdom).
About the Contributors.
1 Fair Value Concept (Alfred M. King, United States).
2 The Cost Approach (Yea-Mow Chen, Taiwan, and Stephen L. Barreca, United States).
3 The Market Approach (William A. Hanlin Jr. and J. Richard Claywell, United States).
4 Income Approach: Capitalization Methods (Bennet Kpentey, Ghana).
5 Income Approach: Discounting Methods (Wolfgang Kniest, Germany).
6 Excellent Valuation Reports (Brandi L. Ruffalo and Robert C. Brackett, United States).
7 Assessing External Risks (Warren D. Miller, United States).
8 Strategy and Benchmarking (William C. Quackenbush and James S. Rigby Jr., United States).
9 Cost of Capital (Wolfgang Ballwieser and Jörg Wiese, Germany).
10 Risks and Rewards (William A. Hanlin Jr. and J. Richard Claywell, United States).
11 Financial Statement Analyses (Martin Costa, Germany).
12 Projecting Financial Statements (Klaus Henselmann, Germany).
13 Impairment Testing (Frank Bollman and Andreas Joest, Germany).
14 Auditing Valuation Reports (Andreas Bertsch, Germany).
15 Copyrights (Fernando Torres, Mexico).
16 Customer Relationships (Brandi L. Ruffalo, United States).
17 Derivatives and Financial Instruments (Samuel Yat Chiu Chan and Lisa Cheng, Homg Kong).
18 Domain Names (Wes Anson, United States).
19 Hedging (Richard Pedde, Canada).
20 Intellectual Property Rights (Byeongil Jeong, South Korea).
21 Intangible Assets (Stan Sorin, Romania).
22 Leases (Terry A. Isom and Andrea R. Isom, United States).
23 Liabilities (Karrilyn Wilcox, Canada).
24 Manufacturing in Crisis Periods (Emre Burckin, Ayse Pamukcu, and Zeynep Burckin Eroglu, Turkey).
25 Mineral Properties (Michael J. Lawrence, Australia).
26 Pass-Through Entities (Laura J. Tindall and John L. Casalena, United States).
27 Patents (Heinz Goddar and Ulrich Moser, Germany).
28 Petroleum Resources (J. Richard Claywell, United States).
29 Pharmaceuticals and Biotechnology (Sung-Soo Seol, South Korea).
30 Plant and Equipment (Evžen Körner, Germany).
31 Retail Locations (Lim Lan Yuan, Singapore).
32 Share-Based Payments (Shari Overstreet, United States).
33 Software and Systems (Susan M. Saidens, United States).
34 Unpatented Technologies (Anke Nestler, Germany).
35 Trademarks and Brands (Roger Sinclair, South Africa).
36 Transfer Pricing (Lionel W. Newton and Christopher J. Steeves, Canada).
Glossary.
References and Bibliography.
Index.
See More
JAMES P. CATTY, MA, CPA/ABV (U.S.), CA-CBV (Canada), CVA, CFA, CFE, has been engaged in business valuations around the world for more than fifty years and has undertaken speaking engagements in China, Germany, Romania, Taiwan, Turkey, the UK and the United States. He is Chairman and co-CEO of the International Association of Consultants, Valuators and Analysts (IACVA) with members in twelve countries (NACVA is the U.S. Charter); President of Corporate Valuation Services Limited (CVS), Toronto; and, of Counsel to Hanlin Moss PS, Seattle, Washington and Xian China.
See More