Antimicrobial Polymers
ISBN: 978-0-470-59822-1
608 pages
January 2012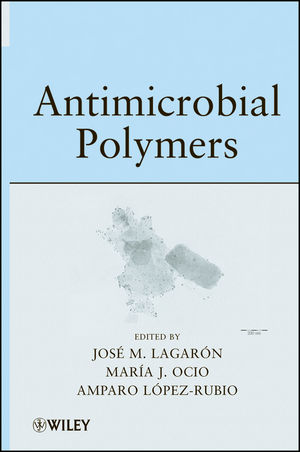 The pioneering guide on the design, processing, and testing of antimicrobial plastic materials and coatings
The manifestation of harmful microbes in plastic materials used in medical devices and drugs, water purification systems, hospital equipment, textiles, and food packaging pose alarming health threats to consumers by exposing them to many serious infectious diseases. As a result, high demand for intensifying efforts in the R&D of antimicrobial polymers has placed heavy reliance on both academia and industry to find viable solutions for producing safer plastic materials. To assist researchers and students in this endeavor, Antimicrobial Polymers explores coupling contaminant-deterring biocides and plastics—focusing particular attention on natural biocides and the nanofabrication of biocides. Each chapter is devoted to addressing a key technology employed to impart antimicrobial behavior to polymers, including chemical modification of the polymers themselves. A host of relevant topics, such as regulatory matters, human safety, and environmental risks are covered to help lend depth to the book's vital subject matter. In addition, Antimicrobial Polymers:
Discusses the design, processing, and testing of antimicrobial plastic materials

Covers interdisciplinary areas of chemistry and microbiology

Includes applications in food packaging, medical devices, nanotechnology, and coatings

Details regulations from the U.S. (FDA and EPA) and EU as well as human safety and environmental concerns
Achieving cleaner and more effective methods for improving the infection-fighting properties of versatile and necessary plastic materials is a goal that stretches across many scientific fields. Antimicrobial Polymers combines all of this information into one volume, exposing readers to preventive strategies that harbor vast potential for making exposure to polymeric products and surfaces a far less risky undertaking in the future.
See More
PREFACE vii
CONTRIBUTORS ix
1 ANTIMICROBIAL PACKAGING POLYMERS. A GENERAL INTRODUCTION 1
Jose´ M. Lagaron, Maria J. Ocio, and Amparo Lopez-Rubio
2 BACTERIAL RESISTANCE AND CHALLENGES OF BIOCIDE PLASTICS 23
Nibras A.A.M. Ahmed
3 "CLICK CHEMISTRY" TO DERIVED ANTIMICROBIAL POLYMERS 51
P. Lecomte, R. Riva, and C. Jerome
4 CHITOSAN AND CHITOSAN BLENDS AS ANTIMICROBIALS 71
Patricia Fernandez-Saiz
5 THYMOL IN NANOCOMPOSITES. A CASE STUDY 101
Maria Dolores Sanchez-Garcia
6 BACTERIOCINS IN PLASTICS 117
Gianluigi Mauriello and Francesco Villani
7 ANTIMICROBIAL ENZYMES AND NATURAL EXTRACTS IN PLASTICS 159
Marcella Mastromatteo, Marianna Mastromatteo, Amalia Conte, and Matteo Alessandro Del Nobile
8 ANTIMICROBIAL PEPTIDES 195
Jose F. Marcos and Paloma Manzanares
9 RECOMBINANT ANTIMICROBIAL PEPTIDES 227
J. Carlos Rodriguez-Cabello, Carmen Garcia-Arevalo, Alessandra Girotti, Laura Martin, and Mercedes Santos
10 NOVEL ANTIMICROBIALS OBTAINED BY ELECTROSPINNING METHODS 261
Sergio Torres-Giner
11 SILVER- AND NANOSILVER-BASED PLASTIC TECHNOLOGIES 287
Antonio Martinez-Abad
12 ANTIMICROBIAL PLASTICS BASED ON METAL-CONTAINING NANOLAYERED CLAYS 317
Jose´ M. Lagaron and Maria A. Busolo
13 NANOMETALS AS ANTIMICROBIALS 327
R.P. Allaker, M.A. Vargas-Reus, and G.G. Ren
14 TITANIUM DIOXIDE-BASED PLASTIC TECHNOLOGIES 351
Marta Fernandez-Garcia, Maria L. Cerrada, Anna Kubacka, and Marcos Fernandez-Garcia
15 TISSUE-IMPLANT ANTIMICROBIAL INTERFACES 379
E. Marsich, A. Travan, I. Donati, G. Turco, F. Bellomo, and S. Paoletti
16 CHARACTERIZING THE INTERACTIONS BETWEEN CELL MEMBRANES AND ANTIMICROBIALS VIA SUM-FREQUENCY GENERATION VIBRATIONAL SPECTROSCOPY 429
Christopher W. Avery and Zhan Chen
17 GAS-BASED ANTIMICROBIALS IN ACTIVE PACKAGING 459
Siriyupa Netramai, Maria Rubino, and Loong-Tak Lim
18 CURRENT LEGISLATION IN ANTIMICROBIALS 489
Javier Gomez
19 HUMAN SAFETY AND ENVIRONMENTAL CONCERNS ASSOCIATED WITH THE USE OF BIOCIDES 527
Orla Condell, Carol Iversen, Karen Power, and Seamus Fanning
INDEX 561
See More
JOSé M. LAGARóN
, PhD, is Founder and Group-Leader of the Novel Materials and Nanotechnology Group of the Institute of Agrochemistry and Food Technology (IATA) of the Spanish Council for Scientific Research (CSIC) in Valencia, Spain. and is part-time Professor of Materials Science at the Universitat Jaume I. Dr. Lagaron has published more than one hundred peer-reviewed papers, a book and several book chapters, and has fourteen patent applications in nanotechnology applied to polymers.
MARÍA J. OCIO, PhD, is a Food Technologist Tenure Track Lecturer at the Preventive Medicine Department of the University of Valencia and also project leader within the Novel Materials and Nanotechnology Lab at the Institute of Agrochemistry and Food Technology of CSIC. She has a wide knowledge and experience in the handling of microorganisms of interest in the food industry. Dr. Ocio has over forty publications in peer-reviewed international journals.
AMPARO LóPEZ-RUBIO, PhD, is a research scientist and project leader within the Novel Materials and Nanotechnology Group of the IATA-CSIC. She has published over thirty-five papers in peer-reviewed international journals on the subjects of food technology, nanotechnology, packaging and biopackaging.
See More