E-book
Venture Capital: Investment Strategies, Structures, and Policies
ISBN: 978-0-470-59979-2
592 pages
May 2010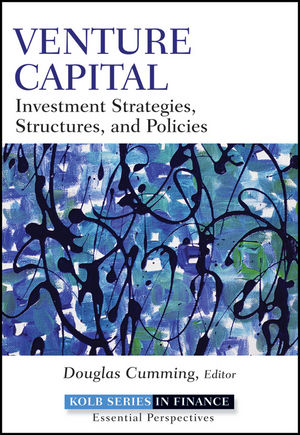 An essential guide to venture capital
Studies have shown that venture capital backed entrepreneurial firms are on average significantly more successful than non-venture capital backed entrepreneurial firms in terms of innovativeness, profitability, and share price performance upon going public. Understanding the various aspects of venture capital is something anyone in any industry should be familiar with.
This reliable resource provides a comprehensive view of venture capital by describing the current state of research and best practices in this arena. Issues addressed include sources of capital-such as angel investment, corporate funds, and government funds-financial contracts and monitoring, and the efficiency implications of VC investment, to name a few.
Opens with a review of alternative forms of venture capital
Highlights the structure of venture capital investments
Examines the role venture capitalists play in adding value to their investee firms
This informative guide will help you discover the true potential of venture capital.
See More
1 Introduction to the Companion to Venture Capital 1
Douglas Cumming
PART I Alternative Forms of Venture Capital 7
2 Venture Capitalists Decision Making: An Information Processing Perspective 9
Andrew Zacharakis
3 Banks Versus Venture Capital in the Financing of New Ventures 31
Jean Etienne de Bettignies
4 Corporate Venture Capital 51
Vladimir I. Ivanov and Fei Xie
5 Angel Finance: The Other Venture Capital 71
Andrew Wong
6 Business Incubation and Its Connection to Venture Capital 111
Darek Klonowski
7 Philanthropic Venture Capital: A New Model of Financing for Social Entrepreneurs 131
Luisa Alemany and Mariarosa Scarlata
PART II The Structure of Venture Capital Investments 151
8 Financial Contracts and Venture Capitalists' Value-Added 153
Catherine Casamatta
9 Venture Capitalists, Monitoring and Advising 169
Roberta Dessi
10 Project Externalities and Moral Hazard 191
Dima Leshchinskii
11 Doing It Not Alone: Antecedents, Dynamics, and Outcomes of Venture Capital Syndication 221
Dirk De Clercq and Dimo Dimov
PART III Venture Capital Value-Added and Conflicts 243
12 Time to Grow Up: Large Sample Evidence on the Maturation Dynamics of Private Venture-Backed Firms 245
John R. M. Hand
13 How Do Venture Capitalists Create Value for Entrepreneurial Firms? A Review of the Literature 277
Thomas J. Chemmanur, Karthik Krishnan, and Debarshi Nandy
14 Venture Capital and Innovation 299
Masako Ueda
15 Reputation in Financial Intermediation: Evidence from Venture Capital 319
Rajarishi Nahata
16 Investor Opportunism, and Governance in Venture Capital 347
Brian Broughman
17 Conflicts of Interest and Litigation in the Venture Capital Industry 365
Vladimir Atanasov
PART IV Venture Capital Exits and Returns 387
18 Venture Capital Exits 389
Armin Schwienbacher
19 Returns to Venture Capital 407
Mike Wright and Riya Chopraa
20 Venture Capitalists' Control: Stimulating or Stunting? 439
April Knill
PART V International Venture Capital and Public Policy 471
21 Cross-Border Venture Capital and Private Equity 473
Markku V. J. Maula
22 The Canadian Public Venture Capital Market 501
Cécile Carpentier and Jean-Marc Suret
23 Public Policy, Venture Capital, and Entrepreneurial Finance 525
Christian Keuschnigg
24 Twelve Meditations on Venture Capital 553
Gordon Murray and David Lingelbach
Index 585
See More
DOUGLAS CUMMING, CFA, PhD, JD, is an Associate Professor of Finance and Entrepreneurship and the Ontario Research Chair at the Schulich School of Business, York University. His research is primarily focused on law and finance, market surveillance, hedge funds, venture capital, private equity, and IPOs, and he has published over fifty refereed articles in leading journals. Cumming was the recipient of the 2009 Canadian Institute of Chartered Business Valuators Research Award, the 2008 Paolo Baffi Centre on Central Banking and Financial Regulation Research Award, the 2008 AIMA Canada-Hillsdale Research Award, the 2005 PWC Global Competency Research Excellence Award, and the 2004 Iddo Sarnat Annual Memorial Award for the best paper published in the Journal of Banking and Finance. He is a research associate with numerous financial and educational groups, and consults for a variety of governmental and private organizations, including Wilshire Associates. Cumming is coauthor (along with his wife, Sofia Johan) of the new book Venture Capital and Private Equity Contracting: An International Perspective.
See More
More in this series