E-book
Essentials of WIAT-III and KTEA-II Assessment
ISBN: 978-0-470-60001-6
368 pages
March 2010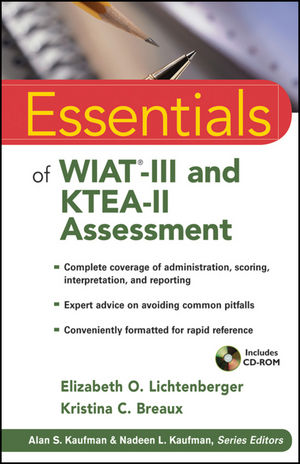 Quickly acquire the knowledge and skills you need to confidently administer, score, and interpret the WIAT-III and KTEA-II
Essentials of WIAT-III and KTEA-II Assessment is the only resource providing practical, step-by-step instruction in the accurate and effective use of the Wechsler Individual Achievement Test, Third Edition (WIAT-III) and the Kaufman Test of Educational Achievement, Second Edition (KTEA-II), two popular measures of individual achievement frequently administered for educational planning, transitional programming for students with disabilities, and vocational guidance.
Like all the volumes in the Essentials of Psychological Assessment series, this book is designed to help busy mental health practitioners, and those in training, quickly acquire the basic knowledge and skills they need to make optimal use of a major psychological assessment instrument. Each concise chapter features numerous callout boxes highlighting key concepts, bulleted points, and extensive illustrative material, as well as test questions that help you gauge and reinforce your grasp of the information covered.
Offering up-to-date and rich information beyond what is available in the tests' manuals, Essentials of WIAT-III and KTEA-II Assessment includes case studies illustrating how to make optimal use of the tests. In addition, the book is packaged with an accompanying CD-ROM containing a program allowing users to enter KTEA-II data to obtain growth scores; useful files to assist users in the proper administration and scoring of the WIAT-III Written Expression subtests; and a cross-battery approach for both tests.
Note: CD-ROM/DVD and other supplementary materials are not included as part of eBook file.
See More
Series Preface x
Acknowledgments xii
One Overview 1
Two WIAT-III 15
Three KTEA-II 77
Four Clinical Applications 154
Five Strengths and Weaknesses of the WIAT-III and KTEA-II 239
Six Illustrative Case Reports 270
References 318
Annotated Bibliography 327
Index 329
About the Authors 351
About the CD-ROM 352
See More
Elizabeth O. Lichtenberger, PhD
, is a licensed clinical psychologist residing in Carlsbad, California. She has coauthored several
Essentials
books, including
Essentials of WAIS-IV Assessment
(with Alan Kaufman) and
Essentials of Assessment Report Writing
(with Nancy Mather, Nadeen Kaufman, and Alan Kaufman).
Kristina C. Breaux, PhD, is a Research Director with Pearson where she has worked as the development lead on the WIAT-III. She is a licensed special educator and learning disabilities specialist, and has worked as a special education teacher, diagnostician, and remediation clinician.
See More