Managing Complex Projects
ISBN: 978-0-470-60034-4
416 pages
September 2010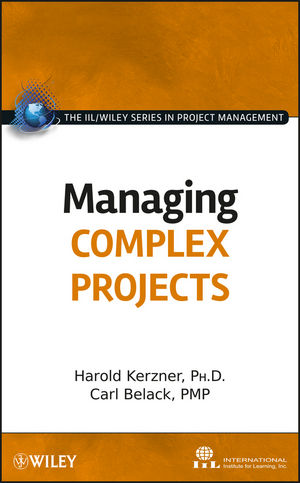 Discover how you can apply the Kerzner Approach®  to successfulLy manage the most challenging and complex projects
Managing complex projects not only takes know-how on the part of project managers, but it also requires that they be willing and able to adapt to change, harness their ability to innovate at a moment's notice, and summon their determination to see a job to completion. This is the book that makes sense out of the complexities that plague today's project managers. It clearly lays out a blueprint to demystify what can be an overwhelming process into manageable strategies that, if cultivated, become second nature.
Based on principles set forth in the bestselling Project Management: A Systems Approach to Planning, Scheduling, and Controlling, Tenth Edition, this easy-to-follow guide will revolutionize the way you view and practice project management. It introduces the acclaimed Kerzner Approach®, demonstrating how it empowers you with the skills needed to ensure that projects are completed successfully. Most importantly, it shows you how to manage complex projects more effectively.
The International Institute for Learning/Wiley Series in Project Management features the most innovative, tested-and-proven approaches to project management, all explained in clear, straightforward language. The series offers new perspectives on solving tough project management problems as well as practical tools for getting the job done. Each book in the series is drawn from the related IIL course and is written by noted project management experts and bestselling authors such as Harold D. Kerzner, Frank P. Saladis, and Carl Belack.
See More
Preface.
Acknowledgments.
International Institute for Learning, Inc. (IIL).
Chapter 1: PROJECT MANAGEMENT FRAMEWORK.
Project Characteristics.
The Complexity of Defining Complexity.
Components of Complex Projects.
The Triple Constraint.
Secondary Success Factors.
Other Success Factors.
The Modified Triple Constraint.
Prioritization of Constraints.
Types of Project Resources.
Skill Set.
Three Critical Requirements.
Problem Identification and Solution.
The "Traditional" Project.
The "Nontraditional" (Complex) Project.
Why Traditional Project Management Must Change.
Traditional versus Complex Projects.
The Need for "Value" as a Driver.
The Benefi ts of "Value" as a Driver.
Elements of Complexity.
Types of Virtual Teams.
Virtual Team Competencies.
Virtual Team Myths.
Customer RFP Requirements.
The Need for Business Solution Partners.
"Engagement" Expectations.
Before and After Engagement Project Management.
Percentage of Projects Using Project Management.
Possible Complex Project Outcomes.
Long-Term Globalization Project Management Strategy.
Global versus Nonglobal Companies.
Quantity of Tools.
Project Management Software.
Areas of Best Practices.
The Collective Belief.
Chapter 2: INTEGRATION MANAGEMENT.
Changes in Focus.
Project Sponsorship (1 of 2).
Project Sponsorship (2 of 2).
Project Accountability.
EPM Methodologies.
Enterprise Environmental Factors.
Organizational Process Assets.
Weaknesses in Leadership Skills.
Project's Business Case.
Project Governance.
Project's Assumptions.
Alignment of Goals.
Expert Judgment.
Project Charter.
Project Decision-Making.
Go and No-Go Decision Points.
Project Replanning.
Optimism.
Poor Project Performance.
Project Justification.
Project Plan Ownership.
The Project Plan: Summary Levels.
Project Management Plan.
Project Approvals.
Project's Constraints.
Identification of Deliverables.
Change Management.
Change Control Meetings.
Conducting Meetings.
Partnerships and Alliances.
Ability to Change.
Chapter 3: SCOPE MANAGEMENT.
Project Boundaries.
Stakeholder Identification.
Requirements Collection.
Changing Product Requirements.
The Project Plan: Work Package Levels.
Project's Deliverables.
Work Performance Information.
Verify Scope.
Control Scope.
Chapter 4: TIME MANAGEMENT.
Project Dependencies.
Templates.
Activity List.
Project Schedule.
Purpose of Schedule.
Types of Schedules.
Published Estimating Data.
Project Management Software.
Top-Down versus Bottom-Up Estimating.
Three-Point Estimates.
Duration versus Effort.
"What-if" Scenarios.
Schedule Compression Techniques.
Chapter 5: COST MANAGEMENT.
The Basis for Project Funding.
Project Funding.
Multiple Funding Sources.
Management Reserves.
Cost-Estimating Techniques.
Use of Earned Value Measurement.
Forecast Reports.
Chapter 6: HUMAN RESOURCES MANAGEMENT.
Fervent Belief.
Conflicts over Objectives.
Shifting Leadership.
Wage and Salary Inconsistencies.
High Stakes.
Culture.
Multiple Cultures.
Multicultural Teams.
Shifting of Key Personnel.
Quantity of Resources.
Quality of the Resources.
Availability of Resources.
Control of the Resources.
Worker Retention.
Chapter 7: PROCUREMENT MANAGEMENT.
Material/Service Requirements.
BOT/ROT Contracts.
Control of Vendors.
Regulations Governing Vendor Selection.
Impact of Stakeholders.
Adversarial Procurement Positions.
Multiple Contract Types.
Chapter 8: QUALITY MANAGEMENT.
"Satisficing" Zones.
Different Life Cycles.
Technology.
Cost-Benefit Analysis.
New Quality Boundaries.
Chapter 9: RISK MANAGEMENT.
Complexity, Uncertainty, and Risk.
Risk Management.
Identify Risks.
Unequal Contingency Planning.
Risk Analysis.
Multiple Options Analysis.
Risk Prioritization.
Determining Risk Response Strategies.
Monitoring and Controlling Risk.
Technical Risks.
Management Reserve.
Chapter 10: COMMUNICATIONS MANAGEMENT.
Stakeholders.
Stakeholder Commitment.
Getting Stakeholder Agreements.
Stakeholder Issues and Challenges.
Making Bad Assumptions.
Another Bad Assumption.
Value Creation.
Stakeholder Management Responsibility.
Changing Views in Stakeholder Management.
Life-Cycle Stakeholder Management.
Stakeholder Management—Macro Level.
Stakeholder Management versus Customer Loyalty.
Stakeholder Management—Micro Level.
Stakeholder Identification.
Classification of Stakeholders.
Tiered Stakeholder Identification.
Managing Stakeholder Expectations.
Managing Stakeholder Expectations: The Design of Health Care Products.
Perform Stakeholder Analysis.
Stakeholder Mapping.
Key Stakeholders.
Unimportant Stakeholders.
Perform Stakeholder Engagements.
Defining Key Performance Indicators (KPIs).
Prioritizing Stakeholders' Needs.
Stakeholder Information Flow.
Virtual Teams.
Measuring KPIs.
Reporting KPI Data.
Summarized KPI Milestones.
Stakeholder Communications.
Project Review Meetings.
Stakeholder Scope Change Requests.
Linear Thinking.
Enforcing Stakeholder Agreements.
Stakeholder Debriefing Sessions.
Satisfaction Management Survey Factors.
Complex Project Management Skills.
Three Critical Factors for Successful Stakeholder Management.
Successful Stakeholder Management.
Failures in Stakeholder Management.
Final Thoughts.
Index.
See More
Harold D. Kerzner
, Ph.D., is Senior Executive Director at International Institute for Learning, Inc., a global learning solutions company that conducts training for leading corporations throughout the world. He is a globally recognized expert on project, program, and portfolio management; total quality management; and strategic planning. Dr. Kerzner is the author of bestselling books and texts, including the acclaimed
Project Management: A Systems Approach to Planning, Scheduling, and Controlling, Tenth Edition.
Carl Belack, PMP, is a Senior Consultant and Trainer for International Institute for Learning, Inc.
With operating companies all over the world and clients in 200 countries, INTERNATIONAL INSTITUTE FOR LEARNING, INC. (IIL) is a global leader in training, consulting, coaching, and customized course development. IIL's core competencies include: project, program, and portfolio management; business analysis; Microsoft Project® and Project Server; Lean Six Sigma; PRINCE2®; ITIL®; and leadership and interpersonal skills. Using their proprietary Many Methods of LearningTM, IIL delivers innovative, effective, and consistent training solutions through a variety of learning approaches, including traditional classroom, virtual classroom, simulation training, and interactive, on-demand learning. IIL is a PMI® Charter Global Registered Education Provider, a member of PMI's Corporate Council, an accredited training organization for PRINCE2 and ITIL, a Microsoft Gold Certified Partner and an IIBA® Endorsed Education Provider. Now in its twentieth year of doing business, IIL is proud to be the learning solution provider of choice for many top global companies.
For more information, visit www.iil.com
See a listing of IIL's webinars at www.iil.com/webinars
See More