Bowling For Dummies
ISBN: 978-0-470-60159-4
Paperback
340 pages
July 2010
US $19.99

Add to Cart
This price is valid for United States. Change location to view local pricing and availability.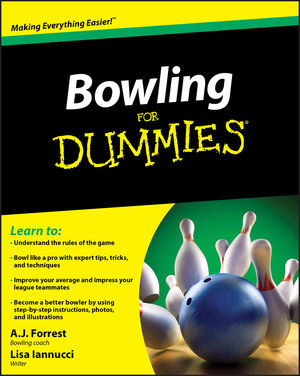 Other Available Formats:
E-book
July 26, 2010
You've Got Game: Ten Simple Ways You Can Add Ten Points (Or More!) to Your Bowling Score
Connect with Wiley Publicity
Everybody loves bowling. Every year, millions of people go bowling with their family and friends. It's a sport that anyone can play, can be enjoyed year-round, and is easy to learn. And since it doesn't cost a lot to play (and there's no expensive equipment to buy to get involved, either), and there are bowling centers in nearly every town, you can get started right away. What's not to love?
"Whether you are a casual player who enjoys a weekly game with friends or a more serious competitor who's been in a league for years, everyone enjoys being a winner," says A.J. Forrest, coauthor along with Lisa Iannucci of Bowling For Dummies® (Wiley Publishing, Inc., July 2010, ISBN: 978-0-470-60159-4, $19.99). "And working to improve your overall score will also help you to learn about different facets of the game, honing you into a better player overall."
And hey, let's be honest—what bowler doesn't like to see his score go higher and higher? Read on for ten simple tips for adding ten (count 'em, TEN) points to your bowling score:
Practice, practice, practice. The best way to get better at something, including bowling, is to practice, practice, practice. In addition to any weekly fun or league play that you do, go to the bowling alley at least once a week for the sole purpose of brushing up on your skills. You can practice by yourself or with friends. Just remember to focus on things such as fine-tuning your form, improving your strike ball, or making certain spares. If you're not into solo bowling practice, find a friend who wants to practice his bowling too so you can help each other remain committed to regular practice sessions and goals. Or consider joining a league. Bowling in a league can push you to do better because you know your team is counting on you to do well.
Improve your approach. kKep these pointers in mind to ensure a perfect approach: keep your arm swing loose; make sure you release the ball at the right time—down by your ankles as you near the foul line; if you're a hook bowler, make sure your hand comes up, following through in the handshake position; and if you're a straight bowler, make sure your hand comes up, following through with your palm facing up toward the ceiling.
Analyze your hook. If you throw a hook and your score isn't improving, analyze what you may be doing wrong. By simply making some adjustments to your hook, you can hit the pocket more frequently and bump up your score. You may find that throwing your ball from a different starting point and aiming at a different target arrow causes you to hit the pocket more often than you were before, boosting your score and giving you more control.
Choose the right ball. House bowling balls aren't one-size-fits-all and may have dings or chips that will prevent the ball from rolling properly. If you want to boost your bowling score, you need to make sure you have the right equipment, that it is in good working order, and that it's right for you. Your local pro shop can help you choose a ball that is the right weight, grip, and fit for you.
Move around. Occasionally, the conditions of the lane may change, which means your starting point may not always work for any given lane. Practice throwing from different starting points so you can be better prepared to adjust your positioning when you need to during a real game.
Understand the oil. Just because a lane is oiled one way at your local center doesn't mean the lanes at another center are going to be oiled the same way. Different patents may be used, and the lane conditions at different centers can vary. Lane conditions can even vary in the same center depending on the time of day you bowl! For example, if you head to the center right when it opens, the newly oiled lanes may be much slicker than if you bowl after a day's worth of bowlers have broken down the oil. Good bowlers know how to read the lanes and adjust where they start and how they throw.
Consistently hit your target. Hit the target, get a strike! Sure, it sounds like something someone might shout out at a carnival game, but it's the truth. If you're hitting your target (the pocket) on your first throw, you should see a strike. If you don't get a strike on the first throw, hitting the target with your second throw gives you a spare, which equals much-needed points.
Adjust for spares. To improve your chances of picking up spares, you need to be able to adjust your approach depending on what you left behind. If you stand in the same spot that you did when you threw your first ball, you run the risk of missing your spare. You can stay in the same spot to pick up headpin spares, but these are exceptions.
Take care of your body and your mind. Believe it or not, your mental and physical well-being contributes greatly to your bowling score. If your mind and body aren't into the game, your score is going to suffer. In order to bring your A-game to the center each and every time, it's best if you are well-rested, you stretch before every game, you take frequent breaks, and you think positively.
Stay calm, relax, and have fun. For the vast majority of people, bowling is primarily a way of having fun. No one enjoys losing, but getting all tense about how your game is going isn't going to change your score for the better. Stay calm, relax, and have fun—if you do, your score will rise before you know it.
"Keep in mind, if you're bowling only once a month, your score may not improve as quickly as someone who's bowling a few times a week," Forrest concludes. "Like any new skill, bowling takes dedication and persistence. If you take the time to concentrate on the techniques and improve your skill set, you'll be bowling like a pro in no time!"