Fashion Drawing For Dummies
ISBN: 978-0-470-60160-0
384 pages
May 2012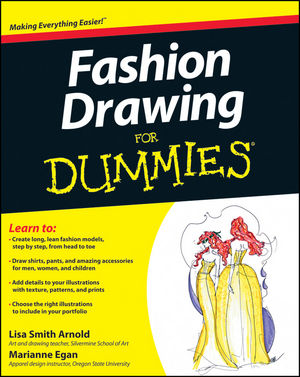 The fast and easy way to learn the art of fashion drawing
This fun guide gives you dozens of step-by-step diagrams that walk you through the process of preparing creative illustrations that you can later develop into dynamic presentations for your design portfolio. Plus, you'll not only learn how to draw clothes and fabric, but also how to show details that make up the total look: faces and hairstyles, fashion accents, and a wide variety of textures.
If you're an aspiring fashion designer, you know it's essential to be able to draw, prepare, and present a fashion drawing. Whether you have little or no prior drawing experience, Fashion Drawing For Dummies gives you easy-to-follow, non-intimidating instructions for mastering the drawing skills you need to design like a pro.
Learn the rules and techniques of fashion drawing
Draw the fashion figure in different poses and from multiple angles
Discover how to complement your drawings with accessories, clothing, and style
If you're a fledgling designer looking for non-intimidating guidance on learning the ins and outs of fashion drawing, this friendly guide has you covered!
See More
Introduction 1
Part I: Fashion Drawing 101 5
Chapter 1: Finding Your Footing in Fashion Drawing 7
Chapter 2: Gathering Supplies and Setting Up Your Work Space 23
Chapter 3: Beginning with Figure Drawing Basics 37
Part II: Building a Fabulous Fashion Figure 59
Chapter 4: Working with the Basic Fashion Drawing Rules 61
Chapter 5: Tackling the Torso 79
Chapter 6: Forming Fabulous Arms, Hands, Legs, and Feet 93
Chapter 7: Putting Your Best Face Forward 119
Chapter 8: Guaranteeing Good Hair Days 143
Part III: Dressing Your Fashion Figure 165
Chapter 9: Slipping into Shirts and Sweaters 167
Chapter 10: Presenting Perfect Pants 189
Chapter 11: Getting All Dolled Up: Evening Wear 217
Chapter 12: Outerwear for All 233
Chapter 13: Accenting the Accessories 249
Part IV: Taking Your Fashion Drawing to the Next Level 269
Chapter 14: Fabrics: Refining Style with Draping, Texture, and Patterns 271
Chapter 15: Conveying Attitude and Movement through Body Language 291
Chapter 16: Going to Extremes to Develop Your Own Style 315
Chapter 17: Building Your Fashion Design Portfolio 329
Part V: The Part of Tens 343
Chapter 18: Ten Ways to Stay Current 345
Chapter 19: Ten Steps to Kick-Start Your Career 351
Index 357
See More
Marianne Egan teaches fashion illustration and design, apparel construction, and more. Lisa Smith Arnold teaches art and drawing, including fashion illustration, at Norwalk Community College.?She has also served as creative coordinator and fashion editor at several major publications.
See More
Learn more about