Business Valuation and Federal Taxes: Procedure, Law and Perspective, 2nd Edition
ISBN: 978-0-470-60162-4
482 pages
May 2011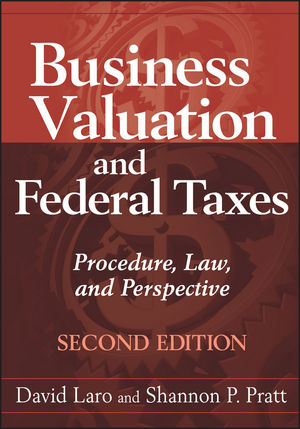 Praise for Business Valuation and Federal Taxes Procedure, Law, and Perspective Second Edition
"The Honorable David Laro and Dr. Shannon Pratt present a comprehensive primer on federal tax valuation controversies that will benefit both tax practitioners (attorneys and CPAs) and valuation practitioners. . . . It serves as a valued reference source and an introductory text for legal and valuation training."
—Roger J. Grabowski, Duff & Phelps Corp. from the Foreword
"[I]t is refreshing to see these two close observers of valuation issues collaborate on this intriguing volume. What the reader gets is something like a mural—depicting the life of a business appraisal from conception to preparation to the occasional ultimate use by a trier of fact."
—Ronald D. Aucutt, Esq.McGuireWoods LLP, from the Foreword
"This offering from Judge David Laro and Dr. Shannon Pratt fills in some persistent gaps in the business valuation literature, as well as a surprisingly fresh treatment of perennial themes."
—John A. Bogdanski, Professor of LawLewis & Clark Law School, from the Foreword
Straightforward guidance and perspective on business valuation from two of the nation's top authorities
Written by Senior Judge David Laro and Shannon Pratt, both leading experts on the subject, Business Valuation and Federal Taxes, Second Edition provides a comprehensive overview of business valuation procedures.
The new edition offers:
Insightful perspectives of personal versus enterprise goodwill

New materials on transfer pricing and customs valuations and how recent markets have affected both the income and market approaches

Timely coverage of FAS 157 and its many changes to penalties and sanctions affecting both taxpayers and appraisers

Exploration of new court cases
Presenting knowledge and guidance to those who perform valuations as well as those who are affected by them, Business Valuation and Federal Taxes, Second Edition is the essential guide to federal taxes and valuation, and specifically valuations relating to business interests.
See More
Foreword to Second Edition.
Foreword: Legal Practitioner's Perspective.
Foreword: Law Professor's Perspective.
Foreword: Business Appraiser's Perspective.
Preface to the New Edition.
Acknowledgments.
About the Authors.
CHAPTER 1: Standards of Business Valuation.
CHAPTER 2: Subsequent Events.
CHAPTER 3: Business Valuation Experts.
CHAPTER 4: Sources of Law and Choice of Courts.
CHAPTER 5: Burden of Proof in Valuation Controversies.
CHAPTER 6: Penalties and Sanctions.
CHAPTER 7: How the Form of Entity Affects Valuation.
CHAPTER 8: Valuation of S Corporations and Other Pass-Through Tax Entities: Minority and Controlling Interests.
CHAPTER 9: Transfer Pricing.
CHAPTER 10: Customs Valuation.
CHAPTER 11: Adjustments to Financial Statements.
CHAPTER 12: Comparative Financial Statement Analysis.
CHAPTER 13: Economic and Industry Analysis.
CHAPTER 14: Site Visits and Interviews.
CHAPTER 15: The Income Approach.
CHAPTER 16: The Market Approach.
CHAPTER 17: The Asset-Based Approach.
CHAPTER 18: Entity-Level Discounts.
CHAPTER 19: Minority Discounts/Control Premiums.
CHAPTER 20: Discounts for Lack of Marketability.
CHAPTER 21: Other Shareholder-Level Discounts.
CHAPTER 22: Personal versus Enterprise Goodwill.
CHAPTER 23: Weighting of Approaches.
CHAPTER 24: IRS Positions.
CHAPTER 25: Business Appraisal Reports.
CHAPTER 26: Valuation of Options.
CHAPTER 27: Questions to Ask Business Valuation Experts.
APPENDIX A: International Glossary of Business Valuation Terms.
APPENDIX B: Bibliography.
Table of Cases.
Index.
See More
Senior Judge David Laro
was appointed to the United States Tax Court, confirmed by the Senate, and invested as a federal judge in November 1992. He formerly practiced law in Flint and Ann Arbor, Michigan, for twenty-four years, specializing in tax law. Senior Judge Laro was chairman and CEO of a publicly traded international company, and he cofounded Republic Bancorp, a Michigan bank holding company. He is an adjunct professor of law at Georgetown University Law School and a visiting professor at the University of San Diego Law School.
Shannon P. Pratt is one of the most successful and respected authors in the field of business valuations. He has authored many industry standard books, including Cost of Capital, Fourth Edition; Business Valuation Discounts and Premiums, Second Edition; and The Market Approach to Valuing Businesses, Second Edition, all published by Wiley. Over a distinguished career of more than four decades, he has performed valuation engagements for M&A, ESOPs, and numerous other purposes. He is also Editor Emeritus of Shannon Pratt's Business Valuation Update, the premier monthly newsletter in the field of business valuation. Dr. Pratt is CEO of Shannon Pratt Valuations, a business valuation firm located in Portland, Oregon.
See More
Learn more about