E-book
Physical Inorganic Chemistry: Principles, Methods, and Models
ISBN: 978-0-470-60251-5
475 pages
April 2010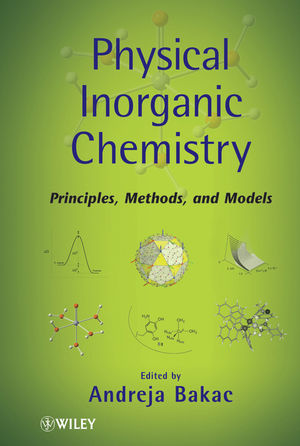 Physical Inorganic Chemistry contains the fundamentals of physical inorganic chemistry, including information on reaction types, and treatments of reaction mechanisms. Additionally, the text explores complex reactions and processes in terms of energy, environment, and health. This valuable resource closely examines mechanisms, an under-discussed topic. Divided into two sections, researchers, professors, and students will find the wide range of topics, including the most cutting edge topics in chemistry, like the future of solar energy, catalysis, environmental issues, climate changes atmosphere, and human health, essential to understanding chemistry.
See More
Preface ix
Contributors xi
1 Inorganic and Bioinorganic Spectroscopy 1
Edward I. Solomon and Caleb B. Bell III
2 57Fe Mossbauer Spectroscopy in Chemistry and Biology 39
Marlene Martinho and Eckard Munck
3 Magnetochemical Methods and Models in Inorganic Chemistry 69
Paul Kogerler
4 Cryoradiolysis as a Method for Mechanistic Studies in Inorganic Biochemistry 109
Ilia G. Denisov
5 Absolute Chiral Structures of Inorganic Compounds 143
James P. Riehl and Sumio Kaizaki
6 Flash Photolysis and Chemistry of Transients and Excited States 199
Guillermo Ferraudi
7 Application of High Pressure in the Elucidation of Inorganic and Bioinorganic Reaction Mechanisms 269
Colin D. Hubbard and Rudi van Eldik
8 Chemical Kinetics as a Mechanistic Tool 367
Andreja Bakac
9 Heavy AtomIsotope Effects as Probes of Small Molecule Activation 425
Justine P. Roth
10 Computational Studies of Reactivity inTransition Metal Chemistry 459
Jeremy N. Harvey
Index 501
See More
ANDREJA BAKAC received her PhD in chemistry from the University of Zagreb. She is a Senior Scientist at the Ames National Laboratory and Adjunct Professor in the Chemistry Department at Iowa State University. Among her many research interests are kinetics and mechanisms of inorganic and organometallic reactions, photochemistry, free-radical reactions, catalysis, and activation of dioxygen.
See More