Your Options Handbook: The Practical Reference and Strategy Guide to Trading Options
ISBN: 978-0-470-60362-8
Hardcover
404 pages
April 2011
US $60.00

Add to Cart
This price is valid for United States. Change location to view local pricing and availability.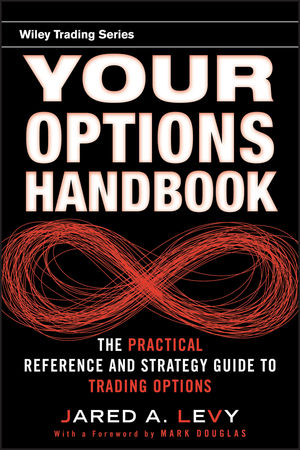 Foreword.
Preface.
Acknowledgments.
Chapter 1 Market Basics and Market Mechanics: What is Going on and How Does it all Work?
The Markets.
Sectors and Industries.
ETFs—A Different Kind of Investment.
Final Thoughts.
Chapter 2 Data That Moves the Markets: The First Step in Your Analysis.
Data and Sentiment.
Economists, Predictions, and Indicators.
Economic Indicators.
Key Indicators to Watch.
Final Thoughts.
Chapter 3 Fundamental and Technical Stock Analysis and Tools: The Second Step in your Analysis.
Introduction to Fundamental Analysis.
Digesting the News.
Cheap versus Value.
Mergers and Acquisitions for the Everyday Options Trader.
The Wisdom (or Lack Thereof) of Crowds.
Trading Tactics and Technical Analysis.
Plans of Attack.
New Trader Tips.
Top 10 Things Professionals Do, That the Average Retail Trader Doesn't.
Final Thoughts.
Chapter 4 Options Basics:  Techniques and Fundamentals to Master Before Applying any Options Strategy.
The Oracle of Omaha Did it, Why Can't I?
The Basics.
Trading Options—Order Types.
Options Expiration in Detail.
Exercise and Assignment.
When Should You Exercise an Option Early?
What is Triple Witching? (Or Quadruple Witching).
Final Thoughts.
Chapter 5 The Greeks: The Forces That Influence Options' Prices.
Delta.
Final Thoughts.
Chapter 6 Strategy – The Basic Option Trades.
Basic Single Options Strategies.
The Long Call.
Covered Call ( Buy-Write).
Buy-Write versus Covered Call.
Long Put.
Basic Stock and Option Spread.
Final Thoughts.
Chapter 7 Strategy – The Basic Spread Trades.
Verticals Spreads in Depth.
The Four Basic Vertical Spreads – Basic Characteristics and Behavior.
Credit Spreads versus Debit Spreads.
Credit Vertical Spreads.
Debit Vertical Spreads.
Buying a Put Spread (Bear Put Spread).
Buying a Call Spread (Bull Call Spread).
Market Direction Neutral Spread Strategies.
Final Thoughts.
Chapter 8 Strategy – The Advanced Option Spreads.
Market Neutral, Volatility, and Earnings Spread Strategies.
Butterflies versus Condors.
Iron Spreads.
Iron Butterfly versus Iron Condor.
Final Thoughts.
Chapter 9 Advanced Concepts.
Put-Call Parity, Interest-Rates, Dividends, and Forwards.
Synthetics and More on Put-Call Parity.
Final Thoughts.
Chapter 10 A Revolutionary Approach to the Mind Games of the Markets:  Understand How Emotions Influence Trading.
Trading is Like Weather Forecasting.
What is Psych Cap?
Strategies and Tactics for Large Psych Cap Balances.
About the Contributor.
Chapter 11 Turning Your Trading into a Business.
Learning the Dollar.
Education.
The Formative Process.
Tips and Formulas for Budgetary Success.
Setting Up a Legal Entity.
Guidelines, Indicators, and Birds of Prey.
Final Thoughts.
About the Contributor.
Notes.
About the Author.
Index.