Your Options Handbook: The Practical Reference and Strategy Guide to Trading Options
ISBN: 978-0-470-60362-8
432 pages
April 2011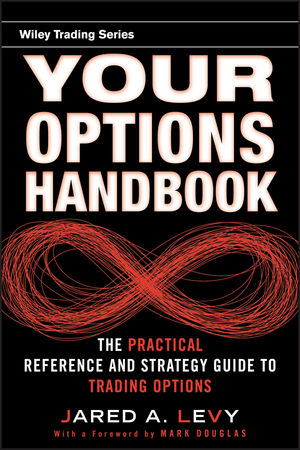 A comprehensive yet simplified guide to the complex world of options investing and risk management
Before trading derivatives, one needs to understand the secrets and mechanics behind the options market. Your Options Handbook: The Practical Reference and Strategy Guide to Trading Options offers a straightforward, practical explanation of the options marketplace, including its origins, the mechanics of the market, and how to profit from trading options.
Walks you through the stock and option markets from a professional's perspective, but uses plain language and simple analogies
Discusses different trading strategies based upon whether one's opinion of the market is bullish, bearish, or neutral
Details market players, useful tips, and trading psychology, and explains how options are priced
Options are a versatile trading instrument that typically cost less and can have lower risk than stocks. They also offer investors a unique edge and lucrative opportunities that are not available to stock only traders. Your Options Handbook helps investors fully understand the options market, allowing them to enter the sector with greater ease.
See More
Foreword xi
Preface xv
Acknowledgments xxvii
CHAPTER 1 Market Basics and Market Mechanics: What Is Going On and How Does It All Work? 1
The Markets 1
Sectors and Industries 9
ETFs—A Different Kind of Investment 12
Final Thoughts 16
CHAPTER 2 Data That Moves the Markets: The First Step in Your Analysis 17
Data and Sentiment 18
Economists, Predictions, and Indicators 18
Economic Indicators 21
Key Indicators to Watch 27
Final Thoughts 43
CHAPTER 3 Fundamental and Technical Stock Analysis and Tools: The Second Step in Your Analysis 45
Introduction to Fundamental Analysis 46
Digesting the News 57
Cheap versus Value 61
Mergers and Acquisitions for the Everyday Options Trader 64
The Wisdom (or Lack Thereof) of Crowds 65
Trading Tactics and Technical Analysis 67
Plans of Attack 93
New Trader Tips 101
Top 10 Things Professionals Do That the Average Retail Trader Doesn't 104
Final Thoughts 106
CHAPTER 4 Options Basics: Techniques and Fundamentals to Master Before Applying Any Options Strategy 107
The Oracle of Omaha Did It, Why Can't I? 111
The Basics 114
Trading Options—Order Types 122
Options Expiration in Detail 126
Exercise and Assignment 128
When Should You Exercise an Option Early? 132
What Is Triple Witching? (Or Quadruple Witching) 134
Final Thoughts 137
CHAPTER 5 The Greeks: The Forces That Influence Options' Prices 139
Delta 139
Final Thoughts 156
CHAPTER 6 Strategy: The Basic Options Trades 159
Basic Single Options Strategies 160
The Long Call 160
Covered Call (Buy-Write) 171
Buy-Write versus Covered Call 175
Long Put 181
Basic Stock and Options Spread 195
Final Thoughts 208
CHAPTER 7 Strategy: The Basic Spread Trades 209
Vertical Spreads in Depth 209
The Four Basic Vertical Spreads—Basic Characteristics and Behavior 214
Credit Spreads versus Debit Spreads 216
Credit Vertical Spreads 219
Debit Vertical Spreads 236
Buying a Put Spread (Bear Put Spread) 237
Buying a Call Spread (Bull Call Spread) 242
Market Direction Neutral Spread Strategies 257
Final Thoughts 271
CHAPTER 8 Strategy: The Advanced Option Spreads 273
Market Neutral, Volatility, and Earnings Spread Strategies 273
Butterflies versus Condors 281
Iron Spreads 285
Iron Butterfly versus Iron Condor 286
Final Thoughts 309
CHAPTER 9 Advanced Concepts 311
Put-Call Parity, Interest Rates, Dividends, and Forwards 312
Synthetics and More on Put-Call Parity 316
Final Thoughts 336
CHAPTER 10 A Revolutionary Approach to the Mind Games of the Markets: Understand Why You Need Emotions to Trade Well 337
Trading Is Like Weather Forecasting 338
What Is Psych Cap? 345
Strategies and Tactics for Large Psych Cap Balances 352
About the Contributor 359
CHAPTER 11 Turning Your Trading into a Business 361
Learning the Dollar 362
Education 362
The Formative Process 363
Tips and Formulas for Budgetary Success 364
Setting Up a Legal Entity 366
Guidelines, Indicators, and Birds of Prey 371
Final Thoughts 381
About the Contributor 381
Notes 383
About the Author 389
Index 391
See More
Jared A. Levy
got his start trading as an options market maker and specialist in the pits of the Philadelphia and American Stock Exchanges in the '90s. Now as an exclusive CNBC contributor, he offers his commentary to the world as part of CNBC's Fast Money team and appears on several programs throughout the network. Jared is also featured and quoted in numerous industry publications both online and in print. He has been featured on Bloomberg, Fox, and several other radio and TV networks over the years. In 2006, he won an Emmy for his daily video, "Trader Cast." More recently, he served as the Senior Derivatives Specialist for PEAK6 Investments, L.P., and is currently an editor for Taipan Publishing Group.
Through his many seminars and courses, Jared Levy has educated tens of thousands of investors on how to successfully and consistently trade and invest for a living, while keeping risk low. He teaches a practical, straightforward approach to investing that involves analyzing equities, derivatives, and the markets as a whole, as well as both simple and complex strategies and the use of diverse instruments.
See More
More in this series
Learn more about