E-book
Green Careers For Dummies
ISBN: 978-0-470-60384-0
360 pages
December 2009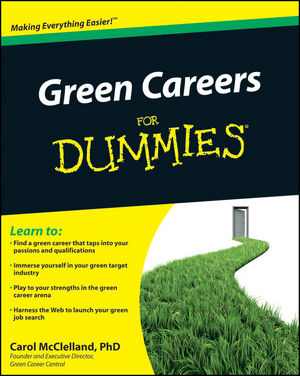 Everything you need to start a green career
As you look for ways to contribute positively to the global economic and environmental crisis, getting an eco-friendly job provides a two-prong solution. Green Careers For Dummies, a 2010 Green book Festival award winner, introduces you to the wealth of opportunities in the rapidly expanding sustainable career genre.
This book explores the green frontier of careers and shows you how to find a field that is best suited to your primary interests, skills, and goals, and then translating that into the sustainable job sphere.
Career opportunities in the environmental science, renewable energy, smart grid, green building, transportation, manufacturing, sustainability, policy, and more.
Job search 2.0 techniques (new media, online, networking, and electronic communications)
Emerging green jobs that will be created in the next 5 years and beyond
Whether you're a recent college graduate or looking to make a career change, Green Careers For Dummies is your one-stop source for finding your fit in an environmentally responsible job. If you are a career counselor, this book gives you a solid overview of the ever-evolving world of green career possibilities you cn refer to in your work with students and clients.
See More
Introduction.
Part I: Discovering the Green Frontier.
Chapter 1: The New World of Green Careers.
Chapter 2: Inside the Green Economy.
Chapter 3: Staking Out a Green Career.
Part II: Finding Your Green Focus.
Chapter 4: Pursuing Your Interests: Finding Green Topics That Engage You.
Chapter 5: Playing to Your Strengths in the Green Careers Arena.
Chapter 6: Setting Your Green Career Goals.
Part III: Exploring Careers in Green Industries.
Chapter 7: Jobs in Caring for the Earth.
Chapter 8: Managing Natural Resources.
Chapter 9: Angling for Jobs in Alternative Energy.
Chapter 10: Careers in Rebuilding the Infrastructure.
Chapter 11: Working to Shape the Green Economy.
Chapter 12: Inspiring and Motivating More Sustainable Actions.
Chapter 13: Providing Green Products and Experiences.
Part IV: Using Green Job Search 2.0 Techniques.
Chapter 14: Getting to Know Your Target Industry.
Chapter 15: Connecting with the Green Movement.
Chapter 16: Advancing Your Green Education.
Chapter 17: Claiming Your Competitive Advantage.
Part V: Activating Your Green Job Search.
Chapter 18: Targeting the Right Eco-Friendly Companies.
Chapter 19: Finding Openings for Your Talents.
Chapter 20: Taking Your Green Career to the Next Level.
Part VI: The Part of Tens.
Chapter 21: Ten Great Green Career Resources.
Chapter 22: Ten Ways to Green Your Current Job.
Index.
See More
Carol McClelland, PhD, is the Founder and Executive Director of Green Career Central, an online green career resource center for professionals, students, and career counselors. She is also the author of Your Dream Career For Dummies.
See More