The Ultimate Guide to Trading ETFs: How To Profit from the Hottest Sectors in the Hottest Markets All the Time
ISBN: 978-0-470-60437-3
Hardcover
212 pages
November 2010
US $34.95

Add to Cart
This price is valid for United States. Change location to view local pricing and availability.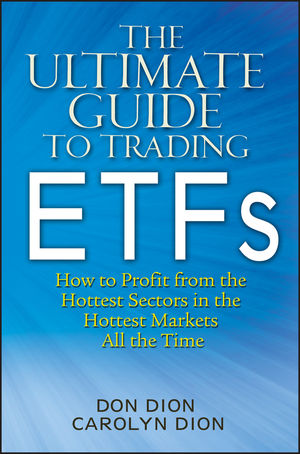 Other Available Formats:
E-book
Preface.
Acknowledgments.
Part I: ETFs – A New Way to Invest and Trade.
Chapter 1: Taking an Active Approach with ETFs.
Understanding ETFs.
Basic Tenets of ETF Investing.
Active Investing Approach.
Three Must-Know Types of ETFs.
The ETF Investor.
Portfolio Approach.
Conclusion: the Discerning, Active Investor.
Chapter 2: Judging ETFs.
Launching a Fund.
A Book Is More than the Proverbial Cover.
Beware of Zombies.
Nontraditional ETFs.
Keep Your Eyes Open.
Chapter 3: Understanding Indexing: New Options for Investors.
Traditional ETFs.
Targeting Sectors with Cap-Weighted Indexes.
Beating the Market with Customized Index ETFs.
Dynamic ETFs.
Lifecycle and Hedge Fund ETFs.
Currency Carry Trade ETF.
Active ETFs.
Looking Ahead.
Part II: Asset Allocation Strategies.
Chapter 4: Building a Portfolio Using ETFs.
The Super Hands-On Active Trader.
The High-Touch Satellite Investor.
The Portfolio Builder.
Investment Continuum.
The Importance of Diversification: Nothing to Excess.
Intelligent Diversification with ETFs.
Chapter 5: Trading: Navigating the Storm.
Placing Your Trades.
Be Aware of the International Disconnect.
All about Liquidity.
When Newer Isn't Necessary Better.
Big Picture and Short-Term View.
Chapter 6: International Investing.
Gaining Exposure through Regional Funds.
Single-Country Promise and Pitfalls.
Commodity Plays.
ADRs vs. Ordinaries.
Target Shifting Things.
New Offerings Ahead.
Chapter 7: Gaining Exposure to Commodities.
Physical Commodity ETFs – Panning for Profits.
Equity-Based Commodity Exposure.
Beware the Futures-Backed Commodity Fund.
Using ETNs to Gain Access to Commodities.
Commodity Exposure, a Cautionary Table.
Chapter 8: Staying Current with TIPs and Currencies.
Dealing with Inflation.
Currencies.
Summing It Up.
Part III: Tying It All Together.
Chapter 9: Looking Ahead: A Changed Landscape.
Victims of Their Own Success.
Searching for Opportunity.
It's Time for a Change.
Back to the Future.
Appendix A.
Appendix B.
Appendix C.
Appendix D.
About the Authors.
Index.