A Hedge Fund Tale of Reach and Grasp: Or What's a Heaven For
ISBN: 978-0-470-60454-0
Hardcover
319 pages
December 2010
US $24.95

Add to Cart
This price is valid for United States. Change location to view local pricing and availability.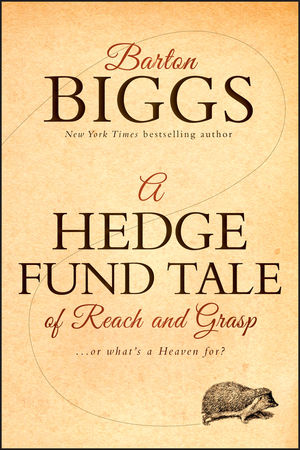 Other Available Formats:
E-book
January 10, 2011
A Hedge Fund Tale of Reach and Grasp...or what's heaven for?
Connect with Wiley Publicity
A HEDGE FUND TALE
of REACH and GRASP
…or what's a heaven for?
by
Barton Biggs
New York Times Bestselling Author &
Legendary Investor
Barton Biggs is at it again. The bestselling author of Hedgehogging and Wealth, War & Wisdom has written a new book titled A HEDGE FUND TALE of REACH and GRASP…or what's a heaven for? (Wiley; January 2011; $24.95; hardcover). "A business and investment book masquerading as a fable," says Biggs, A Hedge Fund Tale reveals the tragedy behind the rise and fall of a hedge fund, the various plagues spawned by our most recent financial catastrophe and the agony and ecstasy of the investment management business in general. Biggs chose to write the book as a business fable because "it was a better, cleaner way to describe life and the people in an investment firm and the incredible, often unintended consequences of success and failure."
Hedge funds were the gold rush of the past 20 years and, like all bubbles and manias, ended with a bust that destroyed many of the egomaniacs and most of the latecomers, and even took out some solid citizens. The immense wealth accumulated in a few years by mostly young hedge fund managers—who haven't hesitated for a moment to spend it ostentatiously and often rudely—has generated great animosity and envy from everyone else. It's a tale worth exploring, says Biggs, because it is littered with compelling stories of triumph and tragedy—and offers a myriad of cautionary lessons for all of us.
The story traces the career of Joe Hill, an imaginary character whose path from rags to riches to perdition personifies the arc of the lives of so many hedge fund professionals Biggs has known. Growing up in rural Virginia, Hill develops a powerful will to win that accounts for his personal intensity and toughness, but also his loneliness. Struggling to find a career on Wall Street, he takes a modest job at an investment company. After being initiated into the insidious politics and relationships of office life, he quickly discovers that the stresses of high-performance investing require toughness and a thick skin to survive.
When Hill finally makes it to the upper echelon of the hedge-fund world, he finds out that the environment and stress become comparable to an infantry unit in combat or life on a destroyer in the North Atlantic in World War II. Ultimately, Hill loses everything, not just his career but the love of his life as well. He walks away from it all and, physically exhausted as well as demoralized, never returns to the investment world. Profoundly bone-weary and lonely, Hill is still looking for someone or something to come home to. Readers ask themselves whether it was the great financial catastrophe or his excessive reach and grasp that was the cause of his ruination, the randomness of the markets or hubris spawned by greed.
As the narrative unfolds, readers will come to understand:
The unique character traits successful investment managers must have


The extraordinary stresses hedge-fund managers must endure and how it affects—and sometimes ruins—their careers and private lives
Why big institutions are turning to low-volatility, market-neutral strategies


The challenges hedge funds face now and going into the future


Where the big investment firms and investors are putting their money
Professional investors, especially hedge fund types, must have more than superb analytical and judgmental skills, tremendous intensity, and a dollop of luck. To survive and be successful, they must also profoundly comprehend that they are going to be vulnerable to and enslaved by extreme mood swings and terribly susceptible to hubris. Both can be mortally dangerous not just to their investment health but also to the well-being of their most intimate life relationships. Joe Hill learns these lessons the hard way.
A Hedge Fund Tale is a modern hedge-fund tragedy: the story of what happens when a good man's reach exceeds his grasp. As F. Scott Fitzgerald so succinctly put it, "Show me a hero and I will write you a tragedy."
About the Author
Barton Biggs is the cofounder and managing partner of Traxis Partners, a billion dollar macro-hedge fund. He spent 30 years as a senior partner at organ Stanley, where he formed the firms' top-rated research department, and created and built its investment management division. He has been elected on numerous occasions by Institutional Investor as the number one ranked global strategist. His previous books, Hedgehogging and Wealth, War, & Wisdom, are also published by Wiley and are international bestsellers. Biggs lives in Greenwich, Connecticut and has three children and nine grandchildren. His foundation provides funding and mentoring for college experiences for African-American men and women.
A Hedge Fund Tale
Of Reach and Grasp
…or what's a heaven for?
Wiley; January 2011; $24.95; Hardcover
ISBN: 9780470604540