The NASAGA Training Activity Book
ISBN: 978-0-470-60709-1
384 pages
October 2012, Pfeiffer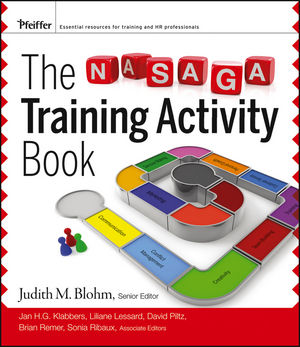 From the acclaimed North American Simulation and Gaming Association, comes the much-anticipated The NASAGA Training Activity Book. This first-of-its-kind book offers a dynamic collection of ready-to-use games, simulations, and activities. With contributions from expert trainers, educators, and simulation and game designers, this highly accessible resource presents a variety of activities that address the most common issues that trainers are asked to tackle including:
Communication
Conflict management
Creativity
Customer service/sales/marketing
Decision making/problem solving
MulticulturAL ISSUES
Organization development
Self-awareness/personal growth
Team building
Training of trainers
Each activity is presented in detail, giving suggestions on set-up, group size, materials and equipment, process, and debriefing. To address the wide range of training opportunities, the book includes at least two variations for each activity. Contributors demonstrate how to adapt each activity to ensure learning is directly connected to instructional objectives and considerate of cultural issues. In addition, all the activities are cross-referenced to other uses.
The NASAGA Training Activity Book is filled with illustrative examples that show how activities can be used for maximum results and includes several debriefing models that contain real answers to help facilitators during debriefing sessions.
See More
Website Contents vii
Acknowledgments ix
Foreword by Sivasailam Thiagarajan xi
Introduction xv
PART I HOW TO USE THIS BOOK 1
Which Activities Are Applicable to Which Topics? 3
Where to Place a Training Activity in a Session 9
Sample Activity 10
Play This Book by Thiagi 12
PART II DEBRIEFING 17
Debriefing 19
Why Debrief 20
When to Debrief 22
Debriefing Models 22
GURU by Brian Remer 23
Debriefing Using the DATA Model by Sandra M. Fowler 25
Six Phases of Debriefing by Thiagi 28
PART III ACTIVITIES
1 Building Blocks for Effective Communication by Ellen Greenberg 33
2 Company Vision by Deborah Thomas 39
3 Decision Matrix by Judith Blohm and Chuck Needlman 47
4 Developing Your Cultural Team Charter by Ursula Leitzmann 67
5 Full Value Contract by Stephanie Pollack 77
6 Getting to Know You and Diversity by Charles Petranek 89
7 Give It Up! by Kathleen Koski 101
8 Golden Goose by Nick Smith 113
9 How Many Squares? by Claudia Arpaia 123
10 Impression Management by Jan Fronek 131
11 Interviewing as Team Building by Stephanie Pollack 141
12 Lessons from Madison Avenue by Brian Remer 153
13 Links by Gilles Chamberland 165
14 Optimally Open by Sandra Fowler 181
15 ORID Model for Conversations by Debi Arnoni 191
16 Perfect Cooperation Game by Jim Clark 207
17 Poker Revisited by Grace E. Oreña 221
18 Raising Cane by Kat Kirkpatrick 231
19 Rollerball by Nick Smith 239
20 Rose Bowl Market by Vincent Peters and Marleen van de Westelaken 251
21 Simplexity Puzzle by José Ochoa 263
22 Ten Times by Stephen Moles 277
23 Team Characteristics by Matt DeMarco and Margaret Wolff 295
24 The Best Choice by Judith Blohm and Chuck Needlman 307
25 The End in Mind by Greg Koeser 319
26 What Is the Learner to Learn? by Joan K. Teach 327
27 Who Are We? by Ursula Leitzmann and Douglas Stuart 345
Contributors 355
About the Editors 363
See More
Senior Editor
Judith (Judee) Blohm has lived and worked in Africa, South America and the Caribbean. Her first-hand experience resulted in training and training design in all phases of foreign sojourns; multinational staff development; international development for professional, development, and educational organizations; and technical writing and cross-cultural training for the Peace Corps, State Department, and other government agencies. In 2009, she was awarded NASAGA's Ifill-Raynolds Lifetime Achievement Award "for connecting the world through learning."
See More