InDesign CS5 Digital Classroom, (Book and Video Training)
ISBN: 978-0-470-60781-7
416 pages
August 2010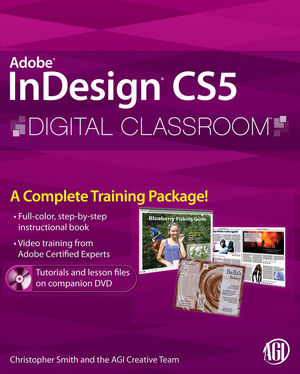 Got designs on learning InDesign? Let this book-and-video training package be your instructor!
Adobe InDesign is a leading design and page layout program that allows you to create and produce stunning publications, from brochures to full-length books. The latest version of InDesign features enhanced features for creating sophisticated page layouts and an executing an efficient workflow. This unique full-color book-and-video training combo makes learning the new features of InDesign less intimidating. Thirteen self-paced lessons explain how to design, produce, and develop a streamlined workflow for page layout. The complementary lessons featured in the downloadable videos are each approximately five minutes long and demonstrate the concepts and features covered in the lesson.
Walks you through the basics of designing and developing sophisticated page layouts with the newest release of InDesign

Features full-color, step-by-step tutorials in the downloadable videos that complement the topics covered in each lesson of the book

Allows you to absorb each lesson at your own pace
Adobe InDesign CS5 Digital Classroom is just like having your own personal instructor guiding you through each unique lesson.
Note: DVD and other supplementary materials are not included as part of eBook file. These materials are available for download upon purchase.
See More
Starting Up.
About InDesign Digital Classroom.
Prerequisites.
System requirements.
Starting Adobe InDesign CS5.
Fonts used in this book.
Resetting the InDesign workspace and preferences.
Loading lesson files.
Working with the video tutorials.
Setting up for viewing the video tutorials.
Viewing the video tutorials with the Adobe Flash Player.
Additional resources.
Lesson 1: InDesign CS5 Essential Skills.
Starting up.
InDesign tools.
The InDesign workspace.
The document window.
Using guides.
Viewing modes.
Working with panels.
The Tools panel.
Managing panels.
Working with the Control panel.
Saving your workspace.
Navigating through an InDesign document.
Using the Pages panel.
Changing the magnifi cation of your document.
Working with type.
Entering and formatting type.
Placing and formatting type.
Flowing type.
Using styles.
Applying paragraph styles.
Applying character styles.
Apply styles using Find/Change.
Applying object styles.
Working with graphics.
Placing graphics.
Positioning graphics within a frame.
Applying text wrap.
Understanding layers.
Applying effects.
Resources for additional help.
In-product help.
On-line help.
Forums.
Conferences, seminars, and training.
Lesson 2: Building Documents with Master Pages.
Starting up.
Planning your document.
Creating custom page sizes.
Creating a new custom-sized document.
Creating and formatting master pages.
Formatting master pages.
Adding automatic page numbering.
Using text variables.
Basing master pages on other master pages.
Overriding master page items.
Adding layout pages.
Placing formatted text.
Creating the classifi ed page.
Adding images and text to the master frames.
Applying master pages to multiple pages.
Lesson 3: Working with Text and Type.
Starting up.
Adding text to your document.
Creating a text frame.
Changing character attributes.
Changing font and type styles.
Adjusting size.
Adjusting line spacing.
Adjusting character spacing:
kerning and tracking.
Using a baseline shift.
Changing paragraph attributes.
Horizontally aligning text.
Changing the spacing before and after paragraphs.
Using tabs.
Adding rules above or below paragraphs.
Changing text color.
Creating drop caps.
Checking and correcting spelling.
Finding and changing text and text attributes.
Finding and changing text using GREP.
Checking spelling.
Adding words to the dictionary.
Checking spelling as you type.
Automatically correcting spelling.
Editing text using the Story Editor.
Drag-and-drop text editing.
Special characters and glyphs.
Using the Glyphs panel and glyph sets.
Text frame options.
Adjusting text inset.
Vertically aligning text.
Importing text.
Flowing text manually.
Threading text between frames.
Using semi-autofl ow to link several text frames.
Changing the number of columns in a text frame.
Baseline grid.
Viewing and changing the baseline grid.
Adding story jumps.
Using styles to format text.
Creating a headline and applying a style.
Importing styles from other documents.
Redefi ning styles.
Type on a path.
Importing text from Microsoft Word.
Missing fonts.
Finding and fixing missing fonts.
Lesson 4: Working with Styles.
Starting up.
Style types.
Paragraph styles.
Applying a paragraph style.
Character styles.
Defi ning a character style.
Applying a character style.
Using nested styles.
Globally updating styles.
Loading styles from another document.
Quick Apply.
Organizing styles into groups.
Object styles.
Defi ning an object style.
Applying an object style.
Changing an object style.
Finishing up.
GREP Styles.
Lesson 5: Working with Graphics.
Starting up.
Understanding how InDesign handles graphics.
Locating missing images.
Working with the Links panel.
Customizing the Links panel.
Adding graphics to your layout.
Fitting an image within an existing frame.
Auto Fitting.
Using Adobe Bridge to import graphics.
Placing multiple graphics using Mini Bridge.
Using object styles for images.
Wrapping text around images.
Wrapping text around the bounding box.
Using graphics with clipping paths and alpha channels.
Removing an image background using InDesign.
Using anchored objects.
Advanced importing.
Importing layered Photoshop files.
Importing InDesign layouts as graphics.
Lesson 6: Creating and Using Tables.
Starting up.
Creating a table.
Creating new tables.
Copying and pasting table information.
Converting text to a table and a table to text.
Importing a table.
Editing tables and table options.
Changing row height.
Editing the border.
Formatting rows and columns.
Using fills.
Formatting cells and text.
Resetting the cell styles within a table.
Text alignment and inset within a cell.
Formatting text within a cell and saving paragraph styles.
Formatting text in tables by column.
Working with tables in Story Editor.
Merging cells.
Defi ning a header cell.
Setting column and row dimensions.
Setting a fixed row height.
Setting column width.
Using graphics in tables.
Placing graphics in cells.
Cell styles and table styles.
Cell styles.
Applying cell styles.
Creating table styles.
Applying table styles.
Lesson 7: Using Color in Your Documents.
Starting up.
Applying colors to frames and text.
Applying color to text.
Applying color to frames.
Applying Live Corner Effects.
Creating and saving a new swatch.
Applying strokes to text.
Creating a tint reduction.
Making a dashed stroke.
Creating and saving gradients.
Linear gradients.
Saving a gradient.
Adjusting fill opacity.
Radial gradient.
Adjusting the direction of a radial gradient.
One-click edits.
Using the Eyedropper tool to copy frame attributes.
Applying colors to multiple objects.
Updating and editing colors.
Using and saving spot colors.
Colorizing a grayscale image.
Lesson 8: Using Effects.
Starting up.
Creative effects.
Applying opacity to objects.
Apply effects to stroke or fill only.
Drop shadow.
Adjusting effects for objects.
Bevel and Emboss.
Object styles with effects.
Using Find/Change to apply object styles.
Basic Feather.
The Gradient Feather tool.
Converting text to a path.
Applying blending modes to objects.
The Screen blending mode.
The Multiply blending mode.
Working with imported files that use transparency.
Applying an alpha channel selection.
Applying a path selection.
Lesson 9: Advanced Document Features.
Starting up.
Adding text variables.
Creating a book from multiple files.
Defi ning pagination and document order.
Synchronizing attributes across a book file.
Creating a Table of Contents.
Building an index.
Adding topics.
Adding cross-references.
Generating the index.
Creating PDFs and printing from the Book panel.
Creating PDFs.
Printing.
Lesson 10 Document Delivery: Printing, PDFs, and XHTML.
Starting up.
Package inventory.
Prefl ight checks.
Packaging your document.
Creating an Adobe PDF.
Generating XHTML.
Adding CSS formatting.
Separation preview.
Printing a proof.
Lesson 11: Using XML with InDesign.
Starting up.
The project.
XML basics.
XML tags in InDesign.
Importing and applying XML Tags.
Using a DTD.
Viewing and organizing structure
Viewing and applying attributes.
Exporting XML.
Importing XML.
Preparing the document template.
Applying an XSLT on import.
Mapping tags to styles.
Using data merge.
Lesson 12: Creating Interactive Documents.
Starting up.
Interactive design considerations.
Importing multimedia content.
Creating buttons to control multimedia content.
Adding more buttons.
Previewing your document.
Creating animations.
Creating page transitions.
Creating an interactive PDF.
Viewing an interactive PDF.
Creating a Flash SWF file.
Viewing a Flash file.
Lesson 13: What's New in Adobe InDesign CS5?
Starting up.
Design and Layout.
Mini Bridge.
Bridge Enhancements.
Metadata Captions.
Draw multiple frames in a grid.
Live Corner Effects.
Multiple Page Sizes.
The Gap tool.
Content Grabber.
Improved Transformations.
Spanning and Splitting paragraphs.
Interactive Elements.
Animation.
File Distribution.
Document Fonts.
Buzzword Integration.
Self study.
Review.
See More
Christopher Smith is President of American Graphics Institute (www.agitraining.com). Hired by Adobe Systems to introduce InDesign 1.0 to publishers worldwide, he has delivered InDesign training to thousands of creative professionals and helped develop the Adobe Certified Expert exams. As a member of the AGI Creative Team, he oversees training programs and the Digital Classroom book series.
See More
Digital Classroom Series Site
Browse a complete directory of all available and coming soon titles in the Digital Classroom series. Find sample chapters and video tutorials as well as lesson files for the books. Instructor's Manuals are available by request or on the Wiley Higher Education website.
See More
June 04, 2010
InDesign CS5 Digital Classroom
Connect with Wiley Publicity
Digital Classroom author, Christopher Smith, shows you how to use Master Pages in InDesign CS5.
See More
Instructors Resources
Request a print evaluation copy
Contact us

See More
See Less
Learn more about