E-book
Roar! Get Heard in the Sales and Marketing Jungle: A Business Fable
ISBN: 978-0-470-60986-6
256 pages
March 2010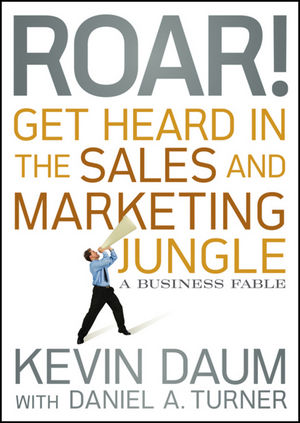 Don't just get your message out. ROAR it out!
In this captivating parable, you'll follow Ryan Miller, an executive struggling with reduced sales in a challenging economy. Ryan is mentored by his old Livingston, New Jersey high school friend, Lenny Bernstein, now a Hasidic Jew in Brooklyn having great success in his packaging business. Over a series of lunches around New York City, Lenny shares the key insights that have driven his sales through the roof, while allowing him to run his business efficiently-and still have plenty of time for family. Lenny explains the simple mnemonic R-O-A-R

Recognize the four types of buyers
Observe from the buyer's perspective, and adapt your message
Acknowledge the buyer's special wants and needs
Resolve the buyer's issues
Praised by renowned money manager Ken Fisher, Roar! gives you a 3,500-year-old sales secret that has never before been articulated in a business context, one you can use to recharge your sales operation and revitalize both your business and your life. It may be a jungle out there, but it's a little less scary once you know how to ROAR!
See More
Chapter 1 The Meeting.
Chapter 2 Visiting the V.P.
Chapter 3 Following Up.
Chapter 4 The 3,500-Year-Old Process.
Chapter 5 The Wise Buyer.
Chapter 6 The Cynical Buyer.
Chapter 7 The Simple Buyer.
Chapter 8 The Disinterested Buyer.
Chapter 9 The Referral.
Chapter 10 The Sales Call.
Epilogue.
Summary of ROAR! Concepts.
Integrating the ROAR! Approach.
Our Inspiration.
Acknowledgments.
About the Authors.
Bonus Chapter and Coupon.
See More
Kevin Daum
is the founder of TAE International, a marketing consultancy that helps companies deliver The Awesome Experience through compelling messaging, intentional marketing, and memorable delivery. He has a degree in theatre and is an Inc. 500 entrepreneur whose sales and marketing techniques resulted in more than $1 billion in sales. Kevin is a graduate of the MIT Entrepreneurial Executive Leadership program, a former board member of the Entrepreneurs' Organization (comprising 7,200 CEOs), and the National Columnist for Smart Business magazine. Kevin and his team of consultants deliver programs on customer experience, marketing, and creativity. Visit Kevin online at www.KevinDaum.com.
Daniel A. Turner is President and founder of TCG, an Inc. 500 company that has saved taxpayers over $250 million. Dan is on the board of the Entrepreneurs' Organization and is a graduate of the MIT Entrepreneurial Executive Leadership program.
See More