E-book
Always Be Testing: The Complete Guide to Google Website Optimizer
ISBN: 978-0-470-61266-8
336 pages
December 2009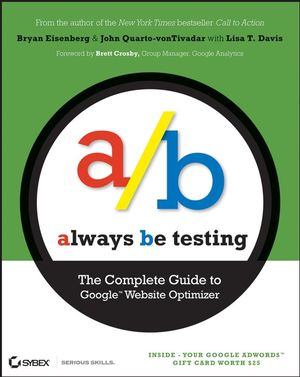 Stop guessing, start testing, and enjoy greater success with your website.
If you're looking for more leads, sales, and profit from your website, then look no further than this expert guide to Google's free A/B and multivariate website testing tool, Google Website Optimizer. Recognized online marketing guru and New York Times bestselling author, Bryan Eisenberg, and his chief scientist, John Quarto-vonTivadar, show you how to test and tune your site to get more visitors to contact you, buy from you, subscribe to your services, or take profitable actions on your site. This practical and easy-to-follow reference will help you:
Develop a testing framework to meet your goals and objectives
Improve your website and move more of your customers to action
Select and categorize your products and services with a customer-centric view
Optimize your landing pages and create copy that sells
Choose the best test for a given application
Reap the fullest benefits from your testing experience
Increase conversions with over 250 testing ideas
Take the guesswork out of your online marketing efforts. Let Always Be Testing: The Complete Guide to Google Website Optimizer show you why you should test, how to test, and what to test on your site, and ultimately, help you discover what is best for your site and your bottom line.
See More
Foreword xxix
Introduction xxxi
PART I A MARKETER'S VIEW OF TESTING: THE POWER OF OPTIMIZATION 1
Chapter 1 Always Be Testing? 2
A System for Closing 2
Scientific Advertising 6
The Court of Only Resort 11
Developing an Always Be Testing Culture 13
Why We Endorse (and Use)
Website Optimizer 17
What Makes This Book the "Complete" Guide? 18
Chapter 2 Playing with Website Optimizer 19
Ten Minutes to Testing 19
Headline Copy Strategies 29
Want to Run a Few More Tests? 31
Multivariate Testing: Sections, Variations, and Combinations 33
More Website Optimizer Tests 36
Avoid Swimming in Data 42
Chapter 3 Understanding Website Optimizer's Report 44
Combination Report 45
Page Section Report 48
Chapter 4 Optimization Works: Examples for Lead Generation and Retail 51
Finding Your Groove 52
Geico's Disconnect 53
Doctor FootCare Rewind 56
Volvo Excavates Leads 58
Danica Meets Go Daddy's Home Page 58
Dell's Choices 59
Max Effect's Show-and-Tell 61
Testing Is for Everyone 62
Chapter 5 The Optimization Life Cycle 63
Miguel and Denise Need a New Cable Service 64
Hitting the Optimization Wall? 66
Navigating the Phases of the Optimization Life Cycle 69
Marketing Challenges 71
Chapter 6 Always Be Testing in Action: Acceller Case Study 75
Chapter 7 Simple Testing Concepts 78
Of Variables and Variations 79
The Hypothesis 80
Designing the Test 83
Types of Tests 84
Chapter 8 Developing a Testing Framework 93
Factors That Determine Online Success: The Web Performance Equation 94
Online Marketing 101 95
Know Thy Customer 99
Chapter 9 Establishing Testing Goals and Parameters 110
Three Steps to Goals and Parameters 110
Actually Getting Started 114
Chapter 10 Jigsaw Case Study 120
Phase 1: Planning 121
Phase 2: Testing 121
Phase 3: Putting It All Together 121
Lessons Learned: What Testing Taught Jigsaw About Its Customers 122
PART II WHAT YOU SHOULD TEST 125
Chapter 11 Understanding What to Test 126
Create a Descriptive Name 127
Define Your Goal 127
Determine How You Will Achieve Your Goal 128
Define the Control Variable/Variation 129
State Your Hypothesis 130
Let the Test Rip 130
Measure and Analyze Your Results 130
The Lowly Button 131
The Bottom Line 134
Chapter 12 WIIFM: What's in It for Me? 135
Competitive/Assertive 136
Spontaneous/Amiable 136
Humanistic/Expressive 137
Methodical/Analytical 138
One Page, Multiple Needs 138
Questions to Ask 140
Exercise 141
What to Test 141
Apply This to Your Site 142
Chapter 13 Unique Value Proposition/Campaign Proposition 143
Questions to Ask 145
Exercises 146
What to Test 146
Apply This to Your Site 147
Chapter 14 The Buying Decision 148
The Complexity of the Sale 148
Scent Trails 150
Point-of-Action or Shop-with-Confidence Messaging 150
Questions to Ask 152
Exercise 152
What to Test 153
Apply This to Your Site 153
Chapter 15 Categorization 154
Questions to Ask 155
Exercises 156
What to Test 156
Apply This to Your Site 157
Chapter 16 Usability 158
Questions to Ask 158
Exercise 160
What to Test 160
Apply This to Your Site 160
Chapter 17 Look and Feel 161
Questions to Ask 161
Exercise 161
What to Test 162
Apply This to Your Site 162
Chapter 18 Searchability 163
Questions to Ask 163
Exercise 164
What to Test 164
Apply This to Your Site 164
Chapter 19 Layout, Visual Clarity, and Eye Tracking 165
Questions to Ask 170
Exercise 170
What to Test 170
Apply This to Your Site 171
Chapter 20 Purchasing 172
Questions to Ask 172
Exercise 173
What to Test 174
Apply This to Your Site 174
Chapter 21 Tools 175
Questions to Ask 176
Exercise 176
What to Test 177
Apply This to Your Site 177
Chapter 22 Error Prevention 178
Questions to Ask 179
Exercise 179
What to Test 179
Apply This to Your Site 179
Chapter 23 Browser Compatibility 180
Questions to Ask 180
Exercise 180
What to Test 182
Apply This to Your Site 182
Chapter 24 Product Presentation 183
Questions to Ask 183
Exercise 184
What to Test 184
Apply This to Your Site 185
Chapter 25 Load Time 186
Questions to Ask 186
Exercise 187
What to Test 187
Apply This to Your Site 188
Chapter 26 AIDAS: Attention, Interest, Desire, Action, and Satisfaction 189
Questions to Ask 189
Exercise 190
What to Test 190
Apply This to Your Site 191
Chapter 27 Security/Privacy 192
Questions to Ask 192
Exercise 193
What to Test 193
Apply This to Your Site 194
Chapter 28 Trust and Credibility 195
Questions to Ask 195
Exercise 196
What to Test 196
Apply This to Your Site 196
Chapter 29 Product Selection/Categorization/Search Results 198
Online, Expectations Are Different 199
Plan to Help Visitors Find the Right Product 201
Questions to Ask 201
What to Test 202
Apply This to Your Site 202
Chapter 30 Navigation/Use of Links 203
Questions to Ask 203
Exercise 205
What to Test 205
Apply This to Your Site 206
Chapter 31 Up-Sell/Cross-Sell 207
Questions to Ask 208
Exercise 209
What to Test 209
Apply This to Your Site 209
Chapter 32 Calls to Action 210
Questions to Ask 210
Exercise 211
What to Test 212
Apply This to Your Site 212
Chapter 33 Point-of-Action Assurances 213
Questions to Ask 214
Exercise 214
What to Test 215
Apply This to Your Site 215
Chapter 34 Persuasive Copywriting 216
Use Active Voice 216
Avoid Jargon 217
Be Specific 217
Speak to the Four Buying Modalities 217
Benefits/Features 217
Identify Other Opportunities to Write Persuasively 218
Questions to Ask 218
Exercises 219
What to Test 221
Apply This to Your Site 221
Chapter 35 Content 222
Questions to Ask 223
Exercise 223
What to Test 223
Apply This to Your Site 224
Chapter 36 Headlines 225
Questions to Ask 225
Exercise 226
What to Test 226
Apply This to Your Site 226
Chapter 37 Readability 227
Scanning and Skimming 228
Questions to Ask 230
Exercise 230
What to Test 230
Apply This to Your Site 230
Chapter 38 Use of Color and Images 231
Questions to Ask 231
Exercise 232
What to Test 232
Apply This to Your Site 232
Chapter 39 Terminology/Jargon 234
Questions to Ask 235
Exercise 235
What to Test 236
Apply This to Your Site 236
Chapter 40 "We We": Customer-Focused Language 237
Questions to Ask 238
Exercise 238
What to Test 239
Apply This to Your Site 239
Chapter 41 Using Reviews 240
Questions to Ask 242
Exercise 243
What to Test 243
Apply This to Your Site 244
PART III DIVING DEEP FOR THE TECHNICALLY CHALLENGED 245
Chapter 42 Mathematics, Misperceptions, and Misinformation 246
Finding Your Center 246
The Spread of Your Data 247
Statistical Significance and Sampling 248
Local vs. Global Maximum 249
The Heart of the Problem: The Two-Armed Bandit 251
Degrees of Freedom 253
Orthogonality 254
Chapter 43 How Website Optimizer's Scripts Work 256
Three Vital Script Functions 256
Marco Polo's Cookie 259
Multiple Tests, One Conversion Page 259
Multiple Tests Running on the Same Site 260
Chapter 44 Using Website Optimizer on Static and Dynamic Sites 262
What Is a Static Site? 262
What Is a Dynamic Site? 263
Mixed Static and Dynamic Sites 264
Applying Website Optimizer to a Static Site 264
Applying Website Optimizer to a Dynamic Site 265
Choose the Approach Appropriate to Your Site 266
Chapter 45 Tracking Key Events and Other Advanced Topics 267
Testing Subsets of Your Traffic 267
Testing Less Than 100 Percent of Traffic 267
How Long Should Testing Last? 268
Modifying the Weight of Each
Combination in the Testing Sample 269
Testing for Key User Events (Clicks and Submits) 270
Using a Timer to Fire Off a Conversion 270
Testing Flash Video Events 271
Stacking Events 271
Explore the Bleeding Edge (If You Dare) 271
Nothing Takes the Place of Planning 272
Chapter 46 Website Optimizer's Plug-in for WordPress 273
Will It Work on Your WordPress Blog? 273
Installing the Plug-in 273
What to Do Before Using the Plug-in 274
Detailed Setup Instructions for Website Optimizer 274
Creating Additional Experiments 282
Appendix Useful Resources 283
Analytics and Testing 283
Blogs 283
Books 284
General Links to Key Topics 284
Google Documentation and Support 285
Other Publications by the FutureNow Team 285
Index 287
See More
Bryan Eisenberg
is the cofounder of FutureNow, Inc., an interactive marketing optimization firm and Google Website Optimizer Authorized consultancy. He is a coauthor of the
New York Times
bestselling books
Call to Action
and
Waiting for Your Cat to Bark?
He is a sought-after speaker at major business conferences worldwide, having keynoted events for Search Engine Strategies, Shop.org, DMA, MarketingSherpa, E-consultancy, and the Canadian Marketing Association.
John Quarto-vonTivadar, having worked on NASA's Hubble telescope (the working parts), is chief scientist at FutureNow, Inc., and coinventor of Persuasion Architecture.
See More
Learn more about