Adobe Acrobat X PDF Bible
ISBN: 978-0-470-61291-0
936 pages
February 2011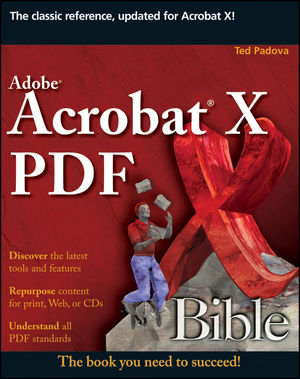 The classic Acrobat and PDF reference, updated to cover the latest release
Consistently the most authoritative and comprehensive resource on the Acrobat PDF format, this standard reference returns with in-depth coverage of the newest version of Acrobat. Written by bestselling author Ted Padova, this book is packed with real-world insights and techniques gained from Padova's daily use of Acrobat under deadline constraints. You'll discover everything there is to know about using Acrobat X for print prepress, the Internet, CD-ROMs, and other forms of media.
Popular author Ted Padova shares everything you need to know about the latest release of Acrobat—Acrobat X
Explores the updated functions of the new Acrobat and using it for print prepress, the Internet, CD-ROMs, and more
As the ultimate resource for all things Acrobat and PDF-related, Adobe Acrobat X PDF Bible is an update of a classic.
See More
Preface xxix
Acknowledgments xxxvi
Introduction xxxvii
Part I: Introducing Adobe Acrobat 1
Chapter 1: Getting to Know Adobe Acrobat 3
Chapter 2: Using Acrobat Viewers 33
Chapter 3: Using Help and Resources 43
Chapter 4: Getting Familiar with Adobe Reader 55
Chapter 5: Viewing and Navigating PDF Files 67
Chapter 6: Searching PDF Files 109
Part II: Converting Documents to PDF 159
Chapter 7: Converting Files to PDF 161
Chapter 8: Using Acrobat PDFMaker with Microsoft Programs 197
Chapter 9: Exporting to PDF from Authoring Applications 223
Chapter 10: Exporting PDF Content 253
Part III: Editing PDFs 267
Chapter 11: Combining, Packaging, and Attaching PDFs 269
Chapter 12: Editing Text 307
Chapter 13: Redacting PDFs 325
Chapter 14: Editing Images and Objects 341
Chapter 15: Editing Pages 365
Chapter 16: Scanning and OCR Conversion 411
Chapter 17: Repurposing and Creating Actions 445
Chapter 18: Enabling Features for Adobe Reader 463
Part IV: Using PDF Interactivity 471
Chapter 19: Annotating PDFs 473
Chapter 20: Working with Review Sessions 507
Chapter 21: Creating Links and Actions 529
Chapter 22: Working with Multimedia and PDFs 575
Chapter 23: Creating Accessibility and Tagging PDF Files 591
Part V: Publishing PDF Files 607
Chapter 24: Using Authentication and Security Methods 609
Chapter 25: Working with PDFs and the Web 643
Chapter 26: Using Acrobat.com for Online Collaboration 659
Chapter 27: Working with eBooks 675
Chapter 28: Printing to Desktop Color Printers 685
Chapter 29: Using Commercial Printing and Prepress 709
Part VI: Using Acrobat PDF Forms 743
Chapter 30: Understanding Acrobat Form Tools 745
Chapter 31: Working with Form Data 795
Chapter 32: Understanding JavaScript 833
Index 867
See More
Ted Padova is the author of all previous editions of the Adobe Acrobat PDF Bible, and he is one of the country's top Adobe Acrobat experts. He has written for the Los Angeles Macintosh Users Group Digest and has published over 40 journal articles on digital prepress and application software methods. Padova has been featured in Macweek, Publish, and other industry magazines.
See More
Buy Both and Save 25%!
Adobe Acrobat X PDF Bible (US $44.99)
-and- Windows PowerShell 2.0 Bible (US $39.99)
Total List Price: US $84.98
Discounted Price: US $63.73 (Save: US $21.25)
Cannot be combined with any other offers. Learn more.