Textbook
Brand Relevance: Making Competitors Irrelevant
ISBN: 978-0-470-61358-0
400 pages
January 2011, ©2011, Jossey-Bass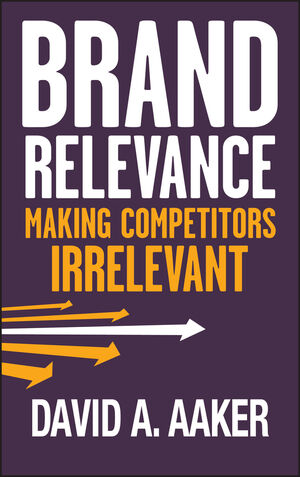 Branding guru Aaker shows how to eliminate the competition and become the lead brand in your market
This ground-breaking book defines the concept of brand relevance using dozens of case studies-Prius, Whole Foods, Westin, iPad and more-and explains how brand relevance drives market dynamics, which generates opportunities for your brand and threats for the competition. Aaker reveals how these companies have made other brands in their categories irrelevant. Key points: When managing a new category of product, treat it as if it were a brand; By failing to produce what customers want or losing momentum and visibility, your brand becomes irrelevant; and create barriers to competitors by supporting innovation at every level of the organization.
Using dozens of case studies, shows how to create or dominate new categories or subcategories, making competitors irrelevant
Shows how to manage the new category or subcategory as if it were a brand and how to create barriers to competitors
Describes the threat of becoming irrelevant by failing to make what customer are buying or losing energy
David Aaker, the author of four brand books, has been called the father of branding
This book offers insight for creating and/or owning a new business arena. Instead of being the best, the goal is to be the only brand around-making competitors irrelevant.
See More
Preface
1. Winning the Brand Relevance Battle.
Cases: The Japanese Beer Industry and The U.S. Computer Industry.
Gaining Brand Preference.
The Brand Relevance Model.
Creating New Categories or Subcategories.
Levels of Relevance.
The New Brand Challenge.
The First-Mover Advantage.
The Payoff.
Creating New Categories or Subcategories—Four Challenges.
The Brand Relevance Model Versus Others.
2. Understanding Brand Relevance: Categorizing, Framing Consideration, and Measurement.
Categorization.
It's All About Framing.
Consideration Set as a Screening Step.
Measuring Relevance.
3. Changing the Retail Landscape.
Cases:
Muji.
IKEA.
Zara.
H&M.
Best Buy.
Whole Foods Market.
The Subway Story.
Zappos.
4. Market Dynamics in the Automobile Industry.
Cases:
Toyota's Prius Hybrid.
The Saturn Story.
The Chrysler Minivan.
Tata's Nano.
Yugo.
Enterprise Rent-A-Car.
Zipcar.
5. The Food Industry Adapts.
Cases:
Fighting the Fat Battle.
Nabisco Cookies.
Dreyer's Slow Churned Ice Cream.
P&G's Olestra.
From Fat to Health.
General Mills and the Health Trends.
Healthy Choice.
6. Finding New Concepts.
Case: Apple.
Concept Generation.
Sourcing Concepts.
Prioritizing the Analysis.
7. Evaluation.
Case: Segway's Human Transporter.
Evaluation: Picking the Winners.
Is There a Market—Is the Opportunity Real?
Can We Compete and Win?
Does the Offering Have Legs?
Beyond Go or No-Go—A Portfolio of Concepts.
8. Defining the Category or Subcategory.
Case: Salesforce.com.
Defining a New Category or Subcategory.
Functional Benefits Delivered by the Offering.
Customer-Brand Relationship—Beyond the Offering.
Categories and Subcategories: Complex and Dynamic.
Managing the Category or Subcategory.
9. Creating Barriers: Sustaining the Differentiation.
Case: Yamaha Disklavier.
Creating Barriers to Competition.
Investment Barriers.
Owning a Compelling Benefit or Benefits.
Relationships with Customers.
Link the Brand to the Category or Subcategory.
10. Maintaining Relevance in the Face of Market Dynamics.
Case: Walmart
Avoiding the Loss of Relevance.
Product Category or Subcategory Relevance.
Category or Subcategory Relevance Strategies.
Energy Relevance.
Gaining Relevance—The Hyundai Case.
11. Innovative Organization.
Case: GE.
The Innovative Organization.
Selective Opportunism.
Dynamic Strategic Commitment.
Organization-Wide Resource Allocation. 
Epilogue: The Yin and Yang of the Relevance Battle.
Notes.
Index.
See More
David A. Aaker is vice chairmanof Prophet Brand Strategy, an executiveadvisor to Dentsu Inc., and Professor Emeritus of Marketing Strategy at the Haas School of Business, University of California, Berkeley.
See More
January 13, 2011
Brand Relevance: Making Competitors Irrelevant
Connect with Wiley Publicity
Prius. Whole Foods Market. iPod. Kindle. Not only are these brands phenomenally successful – they are examples of product categories where competitors are nearly irrelevant, says branding guru David Aaker. In his groundbreaking new book, BRAND RELEVANCE: Making Competitors Irrelevant (Jossey-Bass/January 2011), Aaker shows how any company can use the "brand relevance" strategy to achieve long-term, competitive success.
Brand Preference vs. Brand Relevance
Despite extensive reliance on brand preference strategies to win customers, companies must abandon this approach and focus on brand relevance instead, explains Aaker. Pursuing a brand preference strategy means constantly striving to be faster, cheaper, and better than the competition – an endless battle where competitors quickly match eachother's product improvements. With brand relevance, the goal is to make competition irrelevant – to offer something so different and special that it creates its own unique category and customers don't perceive that there are any alternatives to consider. Detailed with more than two dozen case studies, BRAND RELEVANCE lays out the four key tasks required to attain brand relevance.
Finding New Concepts
"An organization can enhance the chances of creating a transformative new offering by becoming proficient in creative thinking," writes Aaker. In BRAND RELEVANCE, he explains how to foster organizational creativity. For example, from deep observation of customers, P&G developed the Magic Reach device for use in cleaning bathrooms; from his wife's frustration with managing the family's finances, Quicken's founder got the idea for Quicken financial software; and by questioning why non-customers weren't biking, bike components manufacturer Shimano developed the "coasting" bike.
Evaluating a Concept's Prospects
Companies must learn to identify those concept ideas that have the greatest potential to be game changers, Aaker says. The three key questions to ask are: Is there a market? Can we compete and win? Will a market leadership position endure? BRAND RELEVANCE delves into the evaluation process – from the "rosy picture bias" which assumes customers will be as excited about a new offering as its corporate champions (illustrated by the high-profile failure of the Segway), to the "gloomy picture bias" which can mean the demise of a high potential project (P&G killed the development of what ultimately became Tide, and was only saved from this potentially huge lost opportunity by a single scientist who remained committed to the product).
Defining and Managing the Category or Subcategory
Creating and maintaining brand relevance demands a new marketing mind-set. "It is not enough to manage the brand; it is necessary also to manage the perception of the category and influence what category people will buy," Aaker emphasizes. BRAND RELEVANCE explains how to define the category so as to differentiate it from others, appeal to customers, deliver benefits, and drive choice decisions. The key to doing this lies in identifying the category's key associations – such as functional benefits (Westin's Heavenly Bed); aesthetic design (the translucent Apple iMac); customer involvement (Nintendo's Wii); or personality (fashion retailer Zara's fashion forward and trendy persona).
Creating Barriers: Sustaining the Differentiation
Creating a new category can generate a marketplace in which there are no good alternatives – but for how long can this lack of competition be maintained? The answer lies in the barriers created. BRAND RELEVANCE identifies an array of different kinds of barriers – from investment hurdles to building difficult-to-replicate customer relationships. Aaker explains how such diverse products as Dreyer's Slow Churned Ice Cream (proprietary technology), Best Buy and its highly visible Geek Squad (credibility), and Pampers (relationship with customers through its baby care website) have used such barriers to prolong the relevance of their brands.
"Success today is not about winning the brand preference battle, but about winning the brand relevance war," asserts Aaker. "Understanding and managing relevance can be the difference between winning by becoming isolated from competitors or being mired in a difficult market environment where differentiation is hard to achieve and often short-lived." BRAND RELEVANCE provides the tools companies need to generate innovative offerings that can create long-term financial success.
See More
Instructors Resources
Request a print evaluation copy
Contact us

Contact your Wiley Representative
Find Your Rep

See More
See Less
Learn more about