Construction Supervision
ISBN: 978-0-470-61496-9
Hardcover
464 pages
April 2011
US $95.00

Add to Cart
This price is valid for United States. Change location to view local pricing and availability.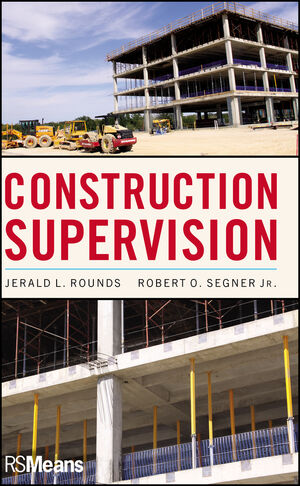 Other Available Formats:
E-book
PREFACE.
The Role of the Supervisor.
Intended Audience.
The Book's Structure and Organization.
Making the Most of the Book.
ACKNOWLEDGEMENTS.
SECTION I: SETTING THE STAGE.
CHAPTER 1: OVERVIEW OF THE CONSTRUCTION INDUSTRY.
CHAPTER 2: SUPERVISION AND THE SUPERVISOR.
SECTION II: SOFT SKILLS.
CHAPTER 3: ORAL COMMUNICATION.
CHAPTER 4: WRITTEN COMMUNICATION AND DOCUMENTATION.
CHAPTER 5: TEAM BUILDING AND MAINTENANCE.
CHAPTER 6: MAINTAINING THE RELATIONSHIP BETWEEN THE EMPLOYEE AND THE EMPLOYER.
CHAPTER 7: MANAGING THE HUMAN RESOURCE.
CHAPTER 8: RISK MANAGEMENT AND PROBLEM SOLVING.
SECTION III: TECHNICAL SKILLS.
CHAPTER 9: SAFETY.
CHAPTER 10: THE CONTRACT AS A MANAGEMENT TOOL.
CHAPTER 11: MANAGING PHYSICAL RESOURCES.
CHAPTER 12: MANAGING COSTS: UNDERSTANDING THE ESTIMATE.
CHAPTER 13: MANAGING COSTS-ELEMENTS OF COST CONTROL.
CHAPTER 14: MANAGING TIME ON A CONSTRUCTION PROJECT.
CHAPTER 15: MANAGING PRODUCTION.
SECTION IV: PROJECT SUPERVISION.
CHAPTER 16: PROJECT ORGANIZATION.
CHAPTER 17: MOBILIZATION.
CHAPTER 18: ONGOING OPERATIONS.
CHAPTER 19: CLOSEOUT OF FIELD OPERATIONS.
CHAPTER 20: THE SUPERVISOR'S CONTINUING DEVELOPMENT.
APPENDIX 1: CONSENSUSDOCS 750: STANDARD FORM OF AGREEMENT BETWEEN CONTRACTOR AND SUBCONTRACTOR.
APPENDIX 2: SIMPLE FILING SYSTEM.
INDEX.