The Complete Guide to Special Education: Expert Advice on Evaluations, IEPs, and Helping Kids Succeed, 2nd Edition
ISBN: 978-0-470-61515-7
384 pages
September 2010, Jossey-Bass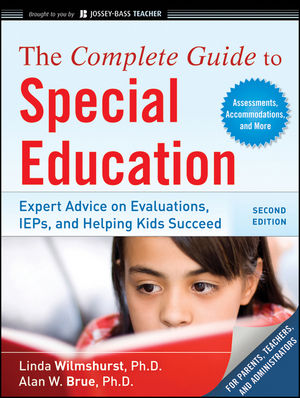 Provides an insider's view of the special education process for parents and teachers
This book explores the special education process-from testing and diagnosis to IEP meetings and advocating for special needs children. Step by step the authors reveal the stages of identification, assessment, and intervention, and help readers to better understand special needs children's legal rights and how to become an active, effective member of a child's educational team. Grounded in more than twenty-five years of working with parents and educators, the authors provide significant insight into what they have learned about the special education. This book fills the gap in the literature for the millions of children receiving special education services and the parents who are clamoring for information on this topic.
Includes valuable tools, checklists, sample forms, and advice for working with special education students
Demystifies the special education process, from testing and diagnosis to IEP meetings and advocating for children
New editions covers Response-to-Intervention (RTI), a new approach to diagnosing learning disabilities in the classroom; expanded coverage of autism spectrum disorders and bipolar disorder; and a revamped Resources section.
See More
About This Book ix
About the Authors x
Acknowledgments xi
Introduction 1
PART ONE: UNDERSTANDING DISABILITIES
1 Different Disabilities, Common Goals 7
2 What Are the Different Disabilities, and How Are They Classified? 15
3 Specifics About Specific Disabilities 27
4 Specific Learning Disabilities and a Response to Intervention Approach 51
PART TWO: PSYCHOLOGICAL ASSESSMENTS
5 Evaluating Children's Difficulties: What, Why, and How? 63
6 Introduction to Assessment: What's It All About? 73
7 The Assessment of Intelligence 89
8 Evaluation of Academic and Processing Problems 111
9 Assessment of Emotional Difficulties and Behavioral Problems 123
10 Executive Functions: What They Are, Why They're Important, and How They're Assessed 133
11 A Sample Assessment and Psychological Report 143
PART THREE: GUIDELINES FOR SUCCESSFUL INTERVENTIONS
12 Interventions and Supports to Address Executive Function Problems 153
13 Interventions to Boost Self-Esteem, Social Competence, and Social Skills 167
14 Interventions to Improve Behavior and Discipline 177
15 Guidelines for Boosting Homework, Studying, and Organizational Skills 193
PART FOUR: PLANNING FOR SUCCESS AND MONITORING CHANGE
16 The IEP and Beyond: Tips for Successful Parent-Teacher Collaboration 205
17 Transitions: Moving, Changing Schools, or Transitioning from Elementary to Secondary School 219
PART FIVE: LAWS AND REGULATIONS RELATED TO SPECIAL EDUCATION
18 An Overview of the Individuals with Disabilities Education Improvement Act of 2004 229
19 504 Plans: An Alternative to Special Education Placement 245
20 A Comparison of IDEA 2004 and Section 504, and a Brief Look at No Child Left Behind 259
References 267
Appendix A: Educational Acronyms and What They Mean 271
Appendix B: Checklists for Child Problems 287
Appendix C: Sample 504 Plan 303
Appendix D: House Rules, Classroom Rules, and Positive Behavior Chart 313
Appendix E: Procedural Safeguards 317
Appendix F: Sample Response-to-Intervention (RTI) Materials 327
Appendix G: State Departments of Special Education 337
Appendix H: Helpful Web Sites for Parents and Teachers 347
Index 359
See More
Linda Wilmshurst
, Ph.D., ABPP, an associate professor of psychology at Elon University in North Carolina, has more than twenty-five years of professional practitioner experience as a clinical and school psychologist working with children and families in a wide variety of settings.
Alan W. Brue, Ph.D., NCSP has worked for many years as a school psychologist in Georgia, providing a wide range of services to metro-Atlanta school districts. A nationally certified school psychologist and university trainer, Brue has extensive knowledge of assessment, special education laws, and school organization.
See More
Learn more about