Modern Tools for the Synthesis of Complex Bioactive Molecules
ISBN: 978-0-470-61618-5
596 pages
October 2012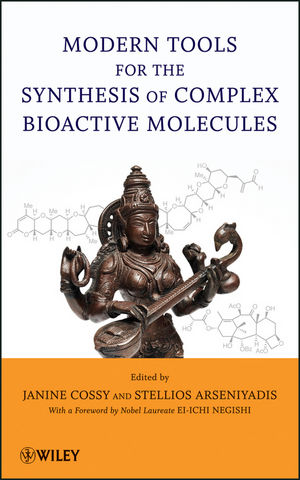 All the latest tools needed to plan and perform the synthesis of complex bioactive molecules
Focusing on organic, organometallic, and bio-oriented processes, this book explores the impact and use of the latest synthetic tools for the synthesis of complex biologically active compounds. Readers will discover step by step how these synthetic tools have provided new, elegant solutions to many synthetic puzzles. Moreover, they will discover innovative methods that make it possible to control the exact connectivity of atoms within a molecule in order to set precise three-dimensional arrangements.
Modern Tools for the Synthesis of Complex Bioactive Molecules features sixteen chapters, each one written by one or more leading experts in organic synthesis from around the world. It covers a broad range of topics that enable readers to take advantage of the latest methods for synthesizing complex molecules, including:
Modern catalysis, emphasizing key transformations such as C-H functionalizations, cross-couplings, gold-catalyzed reactions, metathesis-based syntheses, and asymmetric organocatalysis
Eco-compatible transformations, including rearrangements and domino reactions
Tools for the synthesis of carbohydrates and alkaloids
New techniques, including the use of fluorous tags and engineered biosynthesis
The last two chapters explore target- and diversity-oriented organic synthesis as well as the use of DNA-based asymmetric catalysis, which are all promising tools for the successful synthesis of complex bioactive molecules.
Modern Tools for the Synthesis of Complex Bioactive Molecules is ideal for students and researchers who need to plan and perform the synthesis of complex molecules as efficiently as possible. The book's expert advice will help these readers quickly resolve a broad range of problems that can arise in organic syntheses.
See More
FOREWORD vii
PREFACE ix
CONTRIBUTORS xi
CHAPTER 1 C–H FUNCTIONALIZATION: A NEW STRATEGY FOR THE SYNTHESIS OF BIOLOGICALLY ACTIVE NATURAL PRODUCTS 1
Sophie Rousseaux, Benoýˆt Lie´gault, and Keith Fagnou
CHAPTER 2 THE NEGISHI CROSS-COUPLING IN THE SYNTHESIS OF NATURAL PRODUCTS AND BIOACTIVE MOLECULES 33
Evelina Colacino, Jean Martinez, and Fre´de´ric Lamaty
CHAPTER 3 METAL-CATALYZED C–HETEROATOM CROSS-COUPLING REACTIONS 77
Renata Marcia de Figueiredo, Jean Marc Campagne, and Damien Prim
CHAPTER 4 GOLDEN OPPORTUNITIES IN THE SYNTHESIS OF NATURAL PRODUCTS AND BIOLOGICALLY ACTIVE COMPOUNDS 111
Fabien Gagosz
CHAPTER 5 METATHESIS-BASED SYNTHESIS OF COMPLEX BIOACTIVES 155
Jean-Alexandre Richard, Sin Yee Ng, and David Y.-K. Chen
CHAPTER 6 ENANTIOSELECTIVE ORGANOCATALYSIS: A POWERFUL TOOL FOR THE SYNTHESIS OF BIOACTIVE MOLECULES 189
Mitsuru Shoji and Yujiro Hayashi
CHAPTER 7 ASYMMETRIC PHASE-TRANSFER CATALYSIS 213
Seiji Shirakawa, Shin A. Moteki, and Keiji Maruoka
CHAPTER 8 REARRANGEMENTS IN NATURAL PRODUCT SYNTHESIS 243
Jose´ Marco-Contelles and Elena Soriano
CHAPTER 9 DOMINO REACTIONS IN THE ENANTIOSELECTIVE SYNTHESIS OF BIOACTIVE NATURAL PRODUCTS 271
Lutz F. Tietze, Scott G. Stewart, and Alexander Du¨fert
CHAPTER 10 FLUOROUS LINKER-FACILITATED SYNTHESIS OF BIOLOGICALLY INTERESTING MOLECULES 335
Wei Zhang
CHAPTER 11 THE EVOLUTION OF IMMOBILIZED REAGENTS AND THEIR APPLICATION IN FLOW CHEMISTRY FOR THE SYNTHESIS OF NATURAL PRODUCTS AND PHARMACEUTICAL COMPOUNDS 359
Rebecca M. Myers, Kimberley A. Roper, Ian R. Baxendale, and Steven V. Ley
CHAPTER 12 SYNTHETIC APPROACHES TO BIOACTIVE CARBOHYDRATES 395
Xavier Guinchard, Se´bastien Picard, and David Crich
CHAPTER 13 AMMONIUM YLIDES AS BUILDING BLOCKS FOR ALKALOID SYNTHESIS 433
Scott Bur and Albert Padwa
CHAPTER 14 PRECURSOR-DIRECTED BIOSYNTHESIS OF POLYKETIDE AND NONRIBOSOMAL PEPTIDE NATURAL PRODUCTS 485
Colin J. B. Harvey and Chaitan Khosla
CHAPTER 15 TARGET-ORIENTED AND DIVERSITY-ORIENTED ORGANIC SYNTHESIS 513
Raphae¨l Rodriguez
CHAPTER 16 DNA AS A TOOL FOR MOLECULAR DISCOVERY 539
Michael Smietana, Jean-Jacques Vasseur, Janine Cossy, and Stellios Arseniyadis
INDEX 557
See More
JANINE COSSY graduated from the University of Reims working under the supervision of Prof. Jean-Pierre Pète. After a postdoctoral stay with Prof. Barry Trost (1980-1982) at the University of Wisconsin, she returned to Reims where she became Director of Research of the CNRS in 1990. The same year, she moved to Paris to become Professor of Organic Chemistry at the Ecole Supérieure de Physique et de Chimie Industrielles de la Ville de Paris (ESPCI ParisTech). She has published over 380 articles and filed thirteen patents in the field of synthetic organic chemistry and natural product synthesis. She is Associate Editor at Organic Letters since 2005.
STELLIOS ARSENIYADIS was born in Greece in 1975. He studied chemistry at the Université Paris XI and received his PhD in 2002 from the Université Louis Pasteur (Strasbourg, France) working under the guidance of Dr. Charles Mioskowski. In 2001, he joined Rhodia ChiRex (Boston, USA) for an eighteen-month internship in collaboration with Prof. Stephen L. Buchwald (MIT, USA). He then spent a year as a postdoctoral fellow at Imperial College London (UK) working under the supervision of Prof. Alan C. Spivey, after which he joined Prof. K. C. Nicolaou's group at The Scripps Research Institute (La Jolla, USA) for an additional postdoc. In 2005, he was appointed by the CNRS as Chargé de Recherche in Prof. Janine Cossy's group. His research interests include the development of new synthetic tools and their application to the total synthesis of complex natural products.
See More