E-book
Living Vegetarian For Dummies, 2nd Edition
ISBN: 978-0-470-61640-6
384 pages
November 2009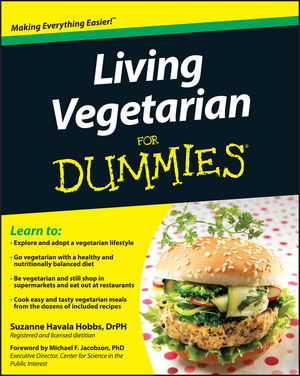 Practical ways to explore and adapt a vegetarian lifestyle
Are you considering a vegetarian diet for yourself or your family? Wondering if it's safe and how you'll get the right amount of nutrients? This authoritative guide has all the answers you need about living vegetarian, featuring healthful advice as well as delicious dishes involving vegetables, fruits, grains, and dairy.
Inside you'll find expert advice on adopting a vegetarian lifestyle, from creating a vegetarian shopping list and understanding the nutritional aspects of vegetarian eating, to using the right cooking supplies to vegetarian etiquette, eating out, and converting a kitchen-and your family's mindset-away from meat. You'll discover how to make it work when you're the only member of the house who is vegetarian, as well as how to support a family member, including a child.
Provides the latest information on vegetarian diets as they relate to health, the environment, and other areas of our lives
Includes tips for gradually reducing your meat intake
Explains the benefits of a vegetarian lifestyle
Offers dozens of new recipes designed to ease the transition from omnivore to vegetarian
Whether you're a long-time vegetarian or just starting out, Living Vegetarian For Dummies, 2nd Edition is your guide to evaluating and enjoying a meat-free lifestyle.
See More
Foreword xxv
Introduction 1
Part I: Being Vegetarian: What It's All About 9
Chapter 1: Vegetarianism 101: Starting with the Basics 11
Chapter 2: Vegetarians Are Sprouting Up All Over: Why Meatless Makes Sense 25
Chapter 3: Nutrition Know-How for Living Vegetarian 37
Chapter 4: Supplement Savvy 59
Chapter 5: Making the Transition to Meat-Free 73
Part II: Planning and Preparing Your Vegetarian Kitchen 89
Chapter 6: Getting Familiar with Common Vegetarian Ingredients 91
Chapter 7: Shopping and Stocking Your Vegetarian Pantry 107
Chapter 8: Cooking Tools and Techniques 123
Part III: Meals Made Easy: Recipes for Everyone 145
Chapter 9: Beyond Cereal and Toast: Whipping Up Breakfast Basics 147
Chapter 10: Serving Simple Starters 161
Chapter 11: Enjoying Easy Soups, Salads, and Sides 173
Chapter 12: Making Meatless Main Dishes 183
Chapter 13: Baking Easy Breads and Rolls 197
Chapter 14: Dishing Out Delicious Desserts 205
Chapter 15: Celebrating the Holidays, Vegetarian-Style 217
Part IV: Living — and Loving — the Vegetarian Lifestyle 227
Chapter 16: Getting Along When You're the Only Vegetarian in the House 229
Chapter 17: Vegetarian Etiquette in a Nonvegetarian World 237
Chapter 18: Dining Away from Home in Restaurants and Other Venues 251
Part V: Living Vegetarian for a Lifetime 265
Chapter 19: When You're Expecting: Managing Your Vegetarian Pregnancy 267
Chapter 20: Raising Your Vegetarian Baby 277
Chapter 21: Meatless Meals for Children and Teens 287
Chapter 22: Aging Healthfully: Vegetarian Lifestyles for Adults of All Ages 301
Part VI: The Part of Tens 315
Chapter 23: Ten Sound Reasons for Going Vegetarian 317
Chapter 24: Ten Simple Substitutes for Vegetarian Dishes 323
Chapter 25: Ten Vegetarian Lunchbox Ideas 329
Index 335
See More
Suzanne Havala Hobbs, DrPH, MS, RD, a vegetarian for more than 30 years, is a registered and licensed dietitian, an editorial board member for Vegetarian Times magazine, and a nationally recognized author on issues relating to food, nutrition, and health policy. She is also a clinical associate professor at the University of North Carolina's Gillings School of Global Public Health.
See More