E-book
How Learning Works: Seven Research-Based Principles for Smart Teaching
ISBN: 978-0-470-61760-1
336 pages
April 2010, Jossey-Bass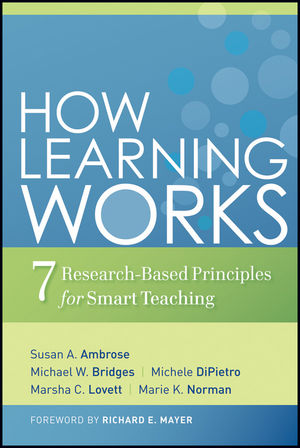 Distilling the research literature and translating the scientific approach into language relevant to a college or university teacher, this book introduces seven general principles of how students learn. The authors have drawn on research from a breadth of perspectives (cognitive, developmental, and social psychology; educational research; anthropology; demographics; organizational behavior) to identify a set of key principles underlying learning, from how effective organization enhances retrieval and use of information to what impacts motivation. Integrating theory with real-classroom examples in practice, this book helps faculty to apply cognitive science advances to improve their own teaching.
See More
List of Figures, Tables, and Exhibits.
Foreword (Richard E. Mayer).
Acknowledgments.
About the Authors.
Introduction Bridging Learning Research and Teaching Practice.
1 How Does Students' Prior Knowledge Affect Their Learning?
2 How Does the Way Students Organize Knowledge Affect Their Learning?
3 What Factors Motivate Students to Learn?
4 How Do Students Develop Mastery?
5 What Kinds of Practice and Feedback Enhance Learning?
6 Why Do Student Development and Course Climate Matter for Student Learning?
7 How Do Students Become Self-Directed Learners?
Conclusion Applying the Seven Principles to Ourselves.
Appendices.
Appendix A What Is Student Self-Assessment and How Can We Use It?
Appendix B What Are Concept Maps and How Can We Use Them?
Appendix C What Are Rubrics and How Can We Use Them?
Appendix D What Are Learning Objectives and How Can We Use Them?
Appendix E What Are Ground Rules and How Can We Use Them?
Appendix F What Are Exam Wrappers and How Can We Use Them?
Appendix G What Are Checklists and How Can We Use Them?
Appendix H What Is Reader Response/Peer Review and How Can We Use It?
References.
Name Index.
Subject Index.
See More
Susan A. Ambrose
is Vice Provost for Teaching and Learning and Professor of Education at Northeastern University in Boston, Massachusetts.
Michael W. Bridges is director of faculty development at UPMC St. Margaret Hospital in Pittsburgh, Pennsylvania.
Michele DiPietro is associate director for graduate programs at the Eberly Center and instructor in the Department of Statistics at Carnegie Mellon.
Marsha C. Lovett is associate director for faculty development at the Eberly Center and associate teaching professor in the Department of Psychology at Carnegie Mellon.
Marie K. Norman is a teaching consultant and research associate at the Eberly Center and adjunct professor of anthropology at Carnegie Mellon.
The Eberly Center for Teaching Excellence at Carnegie Mellon University was created in 1982 with a mission to distill the research on learning for faculty and graduate students and to collaborate with them to design and implement meaningful educational experiences. The center's work is based on the idea that combining the science and art of teaching empowers college faculty to create the conditions for students to learn and, through this learning, transform their world.
See More
Learn more about