The Professional Practice of Architectural Working Drawings, 4th Edition
ISBN: 978-0-470-61815-8
688 pages
November 2011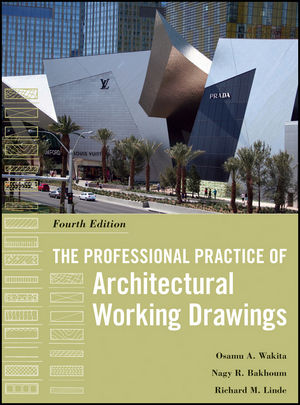 The practical, comprehensive handbook for creating effective architectural drawings
In one beautifully illustrated volume, The Professional Practice of Architectural Working Drawings, Fourth Edition presents the complete range of skills, concepts, principles, and applications that are needed to create a full set of architectural working drawings. Chapters proceed logically through each stage of development, beginning with site and floor plans and progressing to building sections, elevations, and additional drawings.
Inside, you'll find:
Coverage of the latest BIM technologies

Environmental and human design considerations

Supplemental step-by-step instructions for complex chapters

Five case studies, including two that are new to this edition

Hundreds of computer-generated drawings and photographs, including BIM models, three-dimensional models, and full-size buildings shown in virtual space

Checklists similar to those used in architectural offices

Tips and strategies for complete development of construction documents, from schematic design to construction administration
With an emphasis on sustainability throughout, this new edition of The Professional Practice of Architectural Working Drawings is an invaluable book for students in architecture, construction, engineering, interior design, and environmental design programs, as well as professionals in these fields.
See More
Preface xiii
PART I PROFESSIONAL FOUNDATION S 1
Chapter 1 The Office 3
The Physical Office 4
Office Practice and How It May Be Structured 4
Resource Library 6
Professional Organizations 7
Architect/Client Relationship 7
Implementation of the Construction Documents 12
Building 13
Influence of Building Information Modeling on Building Design 14
Chapter 2 Standards and Techniques, Metrification, Hand Drafting, and Computer-aided Drafting 17
Introduction to Standards and Techniques 18
Drawing Practice 18
Lettering 20
Architectural Drafting 26
Reproduction Methods 26
Office Standards 30
Metrics 35
Hand Drawing 44
Kinds of Drafting Equipment 44
Selecting and Using Drafting Pencils 48
Computer Drafting 49
Office Standards 49
A Game within a Game 67
Power of the CAD Drafter 69
Disadvantages of a Computer 72
Advantages of a Computer 73
Future of CAD 75
Conclusion 78
Chapter 3 BIM, Revit, and Human Concerns 79
Introduction 80
Human Considerations 80
Americans with Disabilities Act (ADA) 80
Building Information Modeling (BIM) 89
Chapter 4 Sustainable/Green Architecture 107
Environmental and Human Considerations 108
Sustainable Architecture 108
Lateral Influences 109
Energy Conservation 110
Sound 112
Snow 115
Fire and Smoke 116
Temperature 119
Deterioration 120
Drainage/Rainfall 121
Underground Gas Control 123
Water Table 123
Frost Line/Frost Depth 123
Termites and Termite Treatment 125
Energy Sources 126
Future of Energy Sources 132
Chapter 5 Construction Materials and Methods 135
Building Materials 136
Wood Floor Systems 136
Wood Wall Systems 142
Wood Roof Systems 144
Concrete 149
Steel Floor System 155
Steel Stud Wall Framing System 156
Steel Decking Roof System 157
Light Steel Roof Framing System 157
Masonry Wall System 157
Composite Systems and Combinations of Materials 159
Material Selections 161
Wood as a Material 162
Concrete as a Material 166
Steel as a Material 169
Masonry as a Material 174
Chapter 6 Initial Preparation Phase for Construction Documents 177
Working Guidelines for Preparing Construction Documents 178
Making the Transition from Schematic Drawings to Construction Documents 180
Building Code Requirements 180
Primary Materials Analysis 181
Selecting the Primary Structural System 182
Requirements of Consultants 182
Regional Considerations 183
Energy Conservation 185
Interrelationship of Drawings 186
Project Management 186
Office Procedure and Planning Strategy 186
Tracking a Set of Working Drawings 188
Format/Cartoon 190
Project Book 191
Numbers—Legal, Job, Task 192
Drawing Sequence 197
Delivery Methods 208
Part II DOCUMENT EVOLUTION 217
Chapter 7 Site and Grading Plan 219
Site Analysis 220
Site Analysis Applied 222
The Topography Map 225
The Soils and Geology Map 225
The Site Plan 227
The Grading Plan 231
The Site and Grading Plan 234
The Drainage Plan 241
The Erosion and Sediment Control Plans 245
The Utility Plan 245
The Circulation Plan 246
The Landscape, Irrigation, and Drainage Plans 246
The Site Improvement Plan: An Overview 247
Size and Location 250
Chapter 8 Floor Plan 253
Types of Floor Plans 254
Symbols 268
Other Floor-plan Considerations 273
Drawing a Floor Plan with a Computer 277
Chapter 9 Foundation and Roof Plans, Floor and Roof Framing Systems 287
Foundation Introduction 288
Types of Foundations 288
Examples 295
Summary of Typical Conventions for Foundation Plan 300
Exterior and Interior Walls 304
A Steel Structure 305
Roof Plans and Framing Systems 308
Framing with Different Materials 333
Floor Framing 337
Chapter 10 Building Sections 347
Building Sections Defined 348
Drawing a Building Section 348
Types of Building Sections 351
Drafting a Building Section 356
Drafting a Building Section of a Residence 356
Chapter 11 Exterior and Interior Elevations 365
Introduction to Exterior Elevations 366
Drawing Doors and Windows 372
Material Designations 374
Notes 375
Dotted Lines 377
Controlling Factors 380
Drafting an Exterior Elevation 383
Weatherproofing 385
Drawing an Elevation with and without a Model 387
Exterior Elevation Using BIM/Revit 389
Interior Elevations 390
Dimensions and Intersections 394
Drafting an Interior Elevation: Examples 394
Computers and Interior Elevations 395
Evolution of a Set of Interior Elevations 396
Interior Elevations Using BIM/Revit 397
Chapter 12 Schedules: Door, Window, and Finish 403
Schedules Defined 404
Tabulated Schedules: Doors and Windows 404
Pictorial Schedules: Doors and Windows 405
Choosing a Tabulated or Pictorial Schedule 406
Interior Finish Schedules 406
Additional Schedules 408
Schedules as They Relate to Structural Entities 408
CAD-Generated and Computer-Drafted Schedules 409
Schedule Templates 410
Schedules Using BIM or Revit 411
Chapter 13 Architectural Details and Vertical Links (Stairs/Elevators) 421
The Purpose of Architectural Details 422
Freehand Detail Sketches 422
Using Details in Construction Documents 422
Hard-Line (Hand-Drafted and CAD) 428
Footing Detail 430
Window Detail 432
Fireplace 436
Stair Design and Vertical Links 443
Mechanical Vertical Links 447
Detailing in BIM/Revit 451
Tenant Improvement Details 452
Part III CASE STUDIES 459
Chapter 14 C onstruction Documents for a One-story, Conventional Wood-framed Residence 461
Conceptual Design 462
Design and Schematic Drawings 463
Evolution of the Working Drawings 467
Site Plan, Vicinity Map, Roof Plan, and Notes 467
Jadyn Residence Site Plan 471
Jadyn Residence Floor Plan 473
Jadyn Residence Roof Plan 480
Jadyn Residence Building Sections 480
Jadyn Residence Exterior Elevations 486
Jadyn Residence Foundation Plan 491
Framing a Residence 494
Jadyn Residence Roof Framing Plan 498
Jadyn Residence Interior Elevations 498
Set Check 502
Chapter 15 Construction Documents for a Two-story, Wood-framed Residence with Basement 507
Schematic Design for Blu Residence 508
Site Plan 511
First-Floor Plan 513
Second-Floor Plan 514
Roof Plan 518
Blu Residence Building Sections 518
Blu Residence Building Elevations 522
Foundation Plan: Slab and Raised Wood 529
Blu Residence Foundation Plan: Raised Wood 534
Framing Plan 537
Support Drawings for Blu Residence 541
Chapter 16 Conceptual Design and Construction Documents for a Steel and Masonry Building (Theater) 549
Introduction 550
Conceptual Design: Site and Client Requirements 550
Design Development Punch List 550
Initial Schematic Studies 550
Site Plan 554
Foundation Plan 556
Ground-Floor Plan 557
Partial Floor Plan and Interior Elevations 560
Exterior Elevations 560
Building Sections 564
Roof Plan 575
Roof Framing Plan 577
Chapter 17 Madison Steel Building 597
Introduction 598
The Madison Office Building 598
Floor-plan Design Development Phase 603
Summary 625
Chapter 18 Tenant Improvements 627
Tenant Improvement Introduction 628
Existing Buildings 628
Existing Floor Level—Building A 628
Development of Working Drawings—Building B 630
Working Drawings 642
Index 653
Appendix A Survey of Regional Differences available online at www.wiley.com/go/wakita
Appendix B A Uniform System for Architectural Working Drawing available online at www.wiley.com/go/wakita
Abbreviations available online at www.wiley.com/go/wakita
PowerPoint presentations available online at www.wiley.com/go/wakita ??$
See More
Osamu A. Wakita, Hon. AIA,
is a retired professor of architecture and former department chair of architecture at Los Angeles Harbor College. He has been involved in architectural education since 1958. He is a recipient of the California Council of the American Institute of Architects' prestigious Outstanding Architectural Educators Award and is listed in the Council's General Reference as one of the leading authorities in perspective drawing.
Nagy R. Bakhoum is a licensed architect and principal of Obelisk Architects, Inc., in Torrance, California. He has provided architectural services internationally and throughout the state in which he is licensed to practice. He is an authority on high-end residential housing and commercial projects. He has been involved in architectural education since 1996, and is also a Professor of Architecture in the Los Angeles Community College District system.
The late Richard M. Linde, AIA, was a licensed architect and President of the American Institute of Architects.
See More
Instructors Resources
Request a print evaluation copy
Contact us

See More
See Less
Learn more about