The New Polymath: Profiles in Compound-Technology Innovations
ISBN: 978-0-470-61830-1
Hardcover
384 pages
June 2010
US $39.95

Add to Cart
This price is valid for United States. Change location to view local pricing and availability.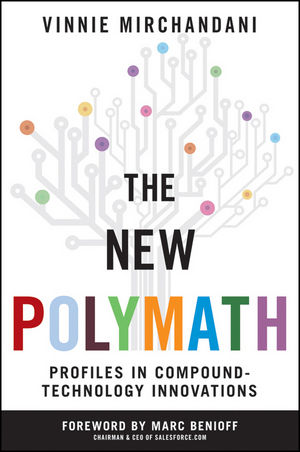 Other Available Formats:
E-book
Foreword
.
Preface.
Invoking the Spirit of the Renaissance.
Flow of the Book.
What Got Left Out?
Acknowledgments.
Prologue: The Field of Polymath Dreams.
PART I SPREZZATURA: THE ART OF MAKING THE COMPLEX LOOK EASY.
CHAPTER 1 The New Polymath: In an Age of "Wicked Problems" and Technology Abundance.
The Modern-Day Technology Polymath.
Our "Grand Challenges".
An Extinct Species in Our Complex World?
Leonardo 2.0.
Don't Forget Michelangelo, Raphael, and . . .
"Spray Painters" in the New Renaissance.
Less Visible Signs of Our New Renaissance.
Recap.
CHAPTER 2 Modern-Day Dark Ages: So Much Stagnation.
"Empty Calories" in Infotech.
Lack of Agreement around Cleantech.
Inconsistent Coverage in Healthtech.
Turning the Tide.
Recap.
CHAPTER 3 Polymath Profile #1: General Electric.
GE Global Research.
Corporate IT.
R&D at a Business Unit.
Business Unit IT.
Recap.
PART II THE R-E-N-A-I-S-S-A-N-C-E FRAMEWORK: BUILDING BLOCKS FOR THE NEW POLYMATH.
CHAPTER 4 Residence: Better Technologically Equipped Than the Office.
Southwest Airlines and Consumerization.
Apple and Consumerization.
Rise of the Tech-Savvy Consumer.
Consumerization Impact—Not Just on the High-Tech Industry.
Wait until You See the Next-Generation Consumer.
Technology, Finally, Can Be about Revenue Generation.
Technology as a Competitive Advantage or Disadvantage.
Consumer Sourcing.
Consumer Technology Economics Are Not Just for Consumers.
If You Embed Technology into Your Products, Think Like a Technology Company.
Your Employees Are Tech-Savvy Consumers at Home.
Tech-Savvy Consumer = Smartass Consumer?
Recap.
CHAPTER 5 Exotics: Innovation from Left Field.
Women in Technology.
Turn Your Internal Technology into an Asset.
Innovation from Back-Office Processes Like Human Resources.
Innovation from "Game Scores".
Innovation from "Unconsolidating" Vendor Bases.
Business Model Innovation: Demarketing Your Core Product.
Business Model Innovation: "Make It Up in Years".
Business Model Innovation: Beyond "Freemium".
The Silicon Valley Model: Move West, Young Man.
"Trickle-Up" Innovation.
Don't Forget Your Backyard.
Beyond BRICK.
Recap.
CHAPTER 6 Polymath Profile #2: Cognizant.
The Early Years.
The Structure for Growth.
The Future "Future of Work".
Recap.
CHAPTER 7 Networks: Bluetooth to Broadband.
Alexander Bell Is Looking Down in Awe.
Bell Is Also Looking Down in Consternation.
Reinventing the Traditional Telco.
Who Is Willing to Wait for Telcos to Morph Themselves?
Global Telecom Race.
Innovating the Telecom Supply Chain.
Recap.
CHAPTER 8 Polymath Profile #3: Plantronics.
Five Decades of Telecommunications.
Consumerization Effect.
Pushing Form/Function Boundaries.
Recap.
CHAPTER 9 Arsonists: And Other Disruptors.
Myth of Moore's Law.
Learning from the Automobile Service Model MAXroam: Disrupting the International Mobile Roaming Market.
Zoho: Disrupting the Microsoft Office Market.
Cartridge World: Disrupting the Printer Ink Market.
Rimini Street: Disrupting Enterprise Software Maintenance Markets.
ZDNet Blogs: Disrupting the Technology "Influencer" Market.
Agresso: Easing Disruptions at Its Customers.
HP and Cisco: Disrupting Each Other's Markets.
When Disruptors Get Disrupted: The Pharmaceuticals Example.
SAP: Trying to Disrupt the Database Market.
Verizon: Disrupting Cable and Other Telcos.
Recap.
CHAPTER 10 Polymath Profile #4: W. R. Hambrecht.
United Football League.
The Hambrecht OpenIPO Process.
Recap.
CHAPTER 11 Interfaces: For All Our Senses.
The BMW iDrive.
Microsoft Surface Computer.
The Sonos Controller.
The Tablet PC.
Adobe Flash.
Scanners and Bar Codes.
Digitized Information at Source.
Wearable Computers.
The CNN "Magic Wall".
"SixthSense".
Voice Recognition.
Digital Smelling and Tasting.
The Brain–Machine Interface.
Unicode and Exotic Scripts.
Recap.
CHAPTER 12 Sustainability: Delivering to Both the Green and Gold Agendas.
Sustainability and Innovation in Public Policy.
Sustainability and Energy Frugality.
Sustainability and Innovation in Supply Chains.
Sustainability and Innovation in Keeping Score.
Sustainability and Innovation in Education.
Recap.
CHAPTER 13 Polymath Profile #5: Kleiner Perkins Cleantech.
The Cleantech Market Opportunity.
Portfolio Company: Luca Technologies.
Portfolio Company: Silver Spring Networks.
Portfolio Company: Bloom Energy.
The Shifting Sands.
Recap.
CHAPTER 14 Singularity: Human–Machine Convergence.
State of Medical Technology.
Internet of Humans and Things.
Medical Cities and High-Tech Villages.
Heartwarming Robots and Heartbreaking Autism.
Personalized Medicine and Personalized Doses.
The Tiny and the Giant: Nanotech and Sensory Databases.
Recap.
CHAPTER 15 Analytics: Spreadsheets, Search, and Semantics.
The Black Swan Is Not That Rare.
It's the Age of "Big Data".
Deemphasize Slice and Dice, Reemphasize Decisions.
We Still Have Plenty of Small Data.
Don't Ignore Unstructured Data.
And Then There Is Web and Social Data.
This Much Data Equals Better Visualization Tools.
This Much Data Equals Massive Storage Requirements.
This Much Data Equals Predictive Powers.
Recap.
CHAPTER 16 Polymath Profile #6: National Hurricane Center.
Data Sources and Models.
Data Products.
Continuous Improvement.
Recap.
CHAPTER 17 Networks Again: Communities, Crowds, Contracts, and Collaboration.
Aren't Communities a Relic from Communism?
Enter Social Customer Relationship Management.
"Ding-Dong, It's the Avon Lady".
Starbucks' Pledge 5.
First Generation of "True Customer Interaction" Applications.
You Call This a Light Application?
Nobody Ever Accused SAP of Being a Light Application.
"Genomes" of Communities and Crowds.
We Are Supposed to Rely on Love and Glory in Our Talent?
Then There Are Contracted Crowds, Better Known as Outsourcing.
It's a Plane, It's a Bird . . . It's an Outsourcer?
What's Accenture Doing with Lego?
Employees Are Still a Major Talent Category.
How Do All These Talent Pools Collaborate?
But . . . Collaboration Is Mostly Unstructured!
Recap.
CHAPTER 18 Clouds: Technology-as-a-Service.
Microsoft's Cloud Infrastructure.
DeVry in the Cloud.
NetSuite's Macro View from the Clouds.
Bessemer's Investments in the Cloud.
Appirio: Clouds for Clients and for Itself.
PaaS, as in Leapfrog.
Schumacher Group and the Network Effect.
Private versus Public Clouds.
Altimeter Group: Born in the Cloud.
Recap.
CHAPTER 19 Polymath Profile #7: salesforce.com.
Democracy in Action.
Transparency as Market Advantage.
Religious Wars.
Recap.
CHAPTER 20 Ethics: In an Age of Cyberwar and Cloning.
Discussion 1: Florida and Biofuels.
Herman Tavani: Ethical Computing.
Discussion 2: GPS and Routing Traffic through Family Neighborhoods.
Gregory Call: The Law and Technology Spawned Ethical Issues.
Discussion 3: Neelie Kroes, Former EU Commissioner for Competition.
Governments and Our "Wicked Problems".
Discussion 4: Google's Ethics.
Professor Batya Friedman: Value Sensitive Design.
Discussion 5: Environmental Trade-offs.
Erik Keller: Technology Can Learn from Horticulture.
Discussion 6: Isaac Asimov and Rules for Robots.
Troy Angrignon: Learning from Hari Seldon.
Discussion 7: Genetic Markers and Prophylactic Treatments.
Technology and Work/Life Balance.
Discussion 8: The "Patently Absurd" Patent System.
Brian Sommer: Where Are the 10 Commandments of Technology?
Recap.
PART III GROOMING YOUR OWN NEW POLYMATH.
CHAPTER 21 Polymath Profile #8: BP CTO.
CTO "Toolkit".
CTO Philosophy.
CTO Team.
The "Ecosystem".
Recap.
CHAPTER 22 Moon Shots for Budding Polymaths.
Michelangelo: Stretch the Stretch Goals.
Leonardo: Live by the Ethos of "And" Not "Or".
Plato: Think Big, Act Small.
Hypatia: Explore Exotic.
Shen Kuo: Exploit the Power of N.
Thomas Jefferson: Hone Your Serendipity "Sensors".
Benjamin Franklin: Benchmark Often and Wide.
Isaac Newton: Leapfrog—Build on Baselines.
Nasir al-Din al-Tusi: Stay Humble.
Aristotle: Embed Ethics in Innovation Plans.
And the Sidebar Conversations.
Epilogue: The Beginner's Mind.
Notes.
About the Author.
Index.