Leading with Soul: An Uncommon Journey of Spirit, Revised 3rd Edition
ISBN: 978-0-470-61900-1
304 pages
August 2011, Jossey-Bass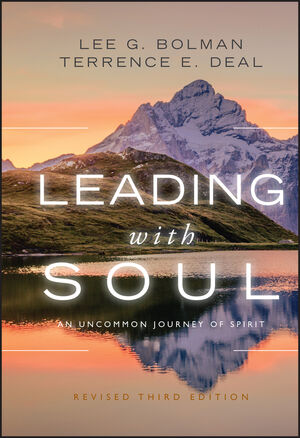 A new edition of the bestselling book on finding one's personal path to leadership
Leading with Soul has inspired thousands of readers since its publication more than a decade ago. Far ahead of its time, the book illuminated the deeply personal journey to leadership. Now, in this new and revised edition, the authors update a timeless spiritual message in the light of the turmoil of recent years? including recession, the spread of global terrorism, and ethics scandals? as well as new insights from the literature of spirituality and work.
Bolman and Deal are the co-authors of the bestselling book Reframing Organizations, now in its 4th edition
Explores in greater depth the concepts of love, power, and significance as relates to leadership
This completely revised story of an executive and his quest for deeper meaning continues to point the way to a more fulfilling work experience.
See More
Prelude
In Search of Soul and Spirit 3
The Search
1. The Heart of Leadership Lives in the Hearts of Leaders 15
2. The Human Heart Is More Than a Pump 25
3. The Journey of a Soul 29
4. Discovering New Teachers 33
INTERLUDE 1: Reclaiming Your Soul 39
Conviction
5. A Place to Start 53
6. Vicissitudes of the Journey 59
INTERLUDE 2: Leaning Into Your Fear: The Courage of Conviction 65
Gifts
7. Gifts of Leadership 75
8. Authorship 83
9. Love 89
10. Power 97
11. Signifi cance 103
12. Corporate Community 111
INTERLUDE 3: Community and the Cycle of Giving 121
Sharing
13. Summoning the Magic of Stories 147
14. Lifting Our Voices in Song 155
15. Celebrating Shared Icons 163
INTERLUDE 4: Expressing the Spirit 169
A New Life
16. The Twilight of Leadership 179
17. Deep Refuge 187
INTERLUDE 5: The Cycle of the Spirit 191
18. The Legacy 203
Postlude
Soul at Work 209
Continuing a Spirited Dialogue 237
Notes 267
Recommended Readings 277
Acknowledgments 283
The Authors 289
Write to the Authors 291
See More
LEE G. BOLMAN holds the Marion Bloch/Missouri Chair in Leadership at the Bloch School of Business and Public Administration at the University of Missouri-Kansas City.
TERRENCE E. DEAL is the former Irving R.Melbo Professor of Education at the University of Southern California's Rossier School of Education and coauthor of sixteen books.
See More