Handbook of Psychology, 12 Volume Set, 2nd Edition
ISBN: 978-0-470-61904-9
8560 pages
October 2012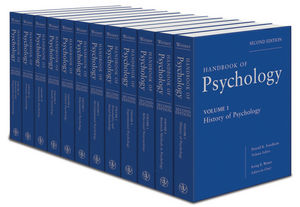 Psychology is of interest to academics from many fields, as well as to the thousands of academic and clinical psychologists and general public who can't help but be interested in learning more about why humans think and behave as they do. This award-winning twelve-volume reference covers every aspect of the ever-fascinating discipline of psychology and represents the most current knowledge in the field, discoveries based in neuroscience, clinical psychology's new interest in evidence-based practice and mindfulness, and new findings in social, developmental, and forensic psychology.
Offers an authoritative review as well as insight into emerging topics in psychology

Each volume is the result of the collaboration of leading national and international scholars with expert volume editors to produce chapters on virtually every topic in the subject area, from established theories to the most current research and developments

Recognized as the definitive reference work in the field
12 Volumes
See More
Irving B. Weiner, Ph.D., is Clinical Professor of Psychiatry and Behavioral Medicine at the University of South Florida and former Director of Psychological Services at the University of South Florida Psychiatry Center in Tampa, Florida. He is a Fellow of the American Psychological Association and of the Association for Psychological Science, a Diplomat of the American Board of Professional Psychology in both Clinical and Forensic Psychology, and a Licensed Psychologist in the State of Florida. He is currently President of APA Division 5 (Evaluation, Measurement, and Statistics) and Past President of APA Division 12 (Society of Clinical Psychology), formerly president of the Society for Personality Assessment and of the International Rorschach Society, and a recipient of the Society for Personality Assessment Distinguished Contribution Award. He has authored or edited over 15 scholarly and professional books including the first edition of the Handbook of Psychology and, with W. Edward Craighead, the fourth edition of the Corsini Encyclopedia of Psychology.
See More
"The work is extraordinary in scope by virtually any metric. The consistencies of the individual contributions across the many volumes are remarkable in level of depth and style of writing. The Handbook of Psychology is a major work without peer in scope and coverage of the conceptual, empirical, and applied advances of psychology. The volumes provide a status report on psychological science, even though clearly selective in their contents. There are broad issues to raise that span many volumes and areas of our field. Overall the volumes reflect an enormous accomplishment, statement, and status report. There is no other set of volumes I have seen that is as comprehensive, integrative, or enlightening as this Handbook." (Alan Kazdin, PsycCRITIQUES, Vol 58, Release 6 Article 1, 2/16/13)
See More