Textbook
Flawless Consulting: A Guide to Getting Your Expertise Used, 3rd Edition
ISBN: 978-0-470-62074-8
368 pages
March 2011, ©2010, Pfeiffer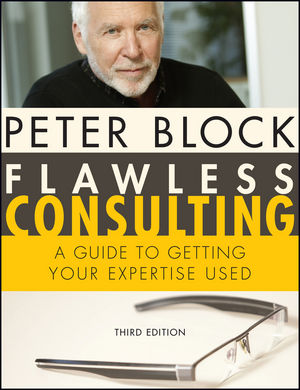 This Third Edition to Peter Block's Flawless Consulting addresses business changes and new challenges since the second edition was written ten years ago. It tackles the challenges next-generation consultants face, including more guidance on how to ask better questions, dealing with difficult clients, working in an increasingly virtual world, how to cope with complexities in international consulting, case studies, and guidelines on implementation. Also included are illustrative examples and exercises to help you cement the guides offered.
See More
What's New? xiii
Acknowledgments xxi
1 A Consultant by Any Other Name . . . 1
Some Defi nitions and Distinctions 2
Consulting Skills Preview 6
The Promise of Flawless Consultation 9
2 Techniques Are Not Enough 13
Beyond Content 14
The Consultant's Assumptions 17
The Consultant's Goals 19
Developing Client Commitment––A Secondary Goal of Each Consulting Act 21
Roles Consultants Choose 22
Collaboration and the Fear of Holding Hands 27
Staging the Client's Involvement, Step by Step 29
3 Flawless Consulting 37
Being Authentic 37
Completing the Requirements of Each Phase 40
Results 46
Accountability 47
The Right to Fail 49
4 Contracting Overview 51
Contracting: The Concept and the Skill 52
Elements of a Contract 57
Ground Rules for Contracting 65
5 The Contracting Meeting 67
Who Is the Client? 68
Navigating the Contracting Meeting 70
When You Get Stuck 87
The Problem with Saying No 95
Contracting Checkpoint 96
Selling Your Services: Good Selling Is Good Contracting 98
The Meeting as a Model of How You Work 102
Closing the Contracting Meeting 103
After the Contracting Meeting 104
6 The Agonies of Contracting 107
Dealing with Low Motivation 107
Ceaseless Negotiation: The Shifting Tide of Your Role 109
Some Other Specifi c Agonies 113
The Virtual World 115
7 The Internal Consultant 121
Important Differences Between Internal and External Consultants 122
Triangles and Rectangles 124
8 Understanding Resistance 129
The Faces of Resistance 130
What Are Clients Resisting When They Are Resisting Us? 138
Underlying Concerns 140
Sometimes It Is Not Resistance 143
The Fear and the Wish 143
Ogres and Angels 147
. . . And Heroics 148
9 Dealing with Resistance 149
Three Steps for Handling Resistance 151
Don't Take It Personally 155
Good-Faith Responses 156
Consulting with a Stone 157
10 From Diagnosis to Discovery 159
It Is Still the Relationship That Counts 160
The Call to Action 163
The Problem Is Not the Problem 167
How the Problem Is Being Managed 170
Flawless Discovery 172
11 Whole-System Discovery 175
Third-Party Consulting 176
Taking a Whole-System Approach 178
Your Choice 179
Putting Whole-System Discovery to Work 180
The Payoff 182
12 Discovering Gifts, Capacities, and Possibilities 183
When All Else Fails 185
The Power of Positive Deviance 186
The Implications of Positive Deviance for Consulting 189
An Example of What Is Working 190
13 Get the Picture 201
The Steps in Getting the Picture 202
A Word About Bias 206
Assessing How the Situation Is Being Managed 207
The Discovery Interview 210
Levels of Analysis 211
Your Experience as Data 214
14 Preparing for Feedback 217
A Clear Picture May Be Enough 217
Condensing the Data 218
Some Do's and Don'ts 219
Language in Giving the Picture 221
Presenting the Picture . . . As Courtroom Drama 223
Support and Confront 225
15 Managing the Meeting for Action 229
How to Present the Picture 230
Structuring the Meeting 231
The Meeting for Action, Step by Step 233
A Recap 241
Resistance in the Meeting 242
When Group Members Are at Odds Among Themselves 244
Modeling the Meeting 246
16 Implementation 249
Choosing Engagement over Installation 250
Deciding Doesn't Get It Done 251
The Limits of Installation 252
Betting on Engagement 258
17 The Elements of Engagement 261
The Meeting Is the Message 262
Eight Ways to Engage 263
The Point 275
18 Teacher as Consultant 279
The Story 280
Assumptions About Motivating Students 281
The Reality 282
Taking a Consultant's Stance 283
The Trip to Washington, D.C. 293
The Choice in the Matter 296
19 The Heart of the Matter 299
Choosing Learning over Teaching 300
Learning as a Social Adventure 302
The Struggle Is the Solution 303
The Question Is More Important Than the Answer 304
Beyond How 305
Insight Resides in Moments of Tension 307
Capacities Bear More Fruit Than Deficiencies 309
We Are Responsible for One Another's Learning 311
Culture Changes in the Moment 312
If Change Is So Wonderful, Why Don't You Go First? 313
The Final Question Is One of Faith 315
Online Appendix: Handy Checklists You Can Use 317
Further Reading 319
About the Author 323
See More
PETER BLOCK is an author and consultant whose work is about empowerment, stewardship, chosen accountability, and the reconciliation of community. He is the author of several best-selling books, including the first two editions of Flawless Consulting, Stewardship, Community, and The Empowered Manager. He is a partner in Designed Learning, a training company that offers his personally designed workshops that help to build the skills outlined in his books.
See More
March 08, 2011
Flawless Consulting: A Guide to Getting Your Expertise Used
Connect with Wiley Publicity
San Francisco, CA – Our lives are full of profound uncertainty. Permanent vulnerability and uncertainty demand a level of relatedness and thus makes command and control behavior increasingly obsolete. For these reasons, people are functioning more than ever in a consultative stance.
It's been nearly 25 years since Peter Block's FLAWLESS CONSULTING was first published. The book quickly established itself as the "consultant's bible" and became a landmark bestseller that astutely explained how to deal effectively with clients, peers, and others.
This thoroughly revised third edition of FLAWLESS CONSULTING: A Guide to Getting Your Expertise Used (Jossey-Bass; 978-0-470-62074-8; March 2011) by Peter Block explores the latest thinking on consultation. It includes new insights about how we can organize our consulting around discovering the strengths, positive examples, and gifts of the client organization or community. The book remains a practical and specific guide for anyone who needs to develop a capacity for deeper relatedness and partnership.
FLAWLESS CONSULTING not only addresses business changes and new challenges since the second edition was written 10 years ago, but also addresses what's on the minds of "next generation" consultants, including:
More guidance on how to ask better questions

Dealing with a difficult client

Working in an increasingly virtual world

Dealing with challenges with international consulting

More guidelines on implementation

More on how to ask good questions

Additional case studies
Like the first two editions, FLAWLESS CONSULTING affirms the notion that authentic behavior and personal relationships are the key to business success. By demonstrating their ability to be truly authentic at each step in the process, consultants can aim toward creating workplaces that are more collaborative and ultimately more successful.
See More
Instructors Resources
Request a print evaluation copy
Contact us

Contact your Wiley Representative
Find Your Rep

See More
See Less
Learn more about