Leading the Fundraising Charge: The Role of the Nonprofit Executive
ISBN: 978-0-470-62198-1
262 pages
January 2013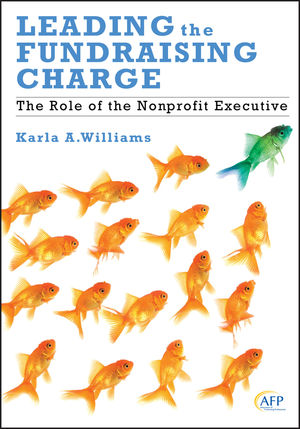 Practical guidance to deal with the challenges executives face when leading a philanthropically supported nonprofit organization
In today's donor-focused environment, the executive director has a greater responsibility to play an active, informed, and influential role in creating an environment that is conducive to optimal philanthropy. Leading the Fundraising Charge addresses the challenges and issues that executives face when leading a nonprofit organization that is dependent on philanthropic support..
Offers nonprofit directors and executives the tools they need to help their organizations survive and thrive in any economic scenario
Provides a perspective that is unique to the nonprofit executive's position
Helps every executive director to evaluate and prioritize the best fund development strategies
At no other time in the history of organized philanthropy has fundraising been more critical, complex, and challenging. Thorough and focused, Leading the Fundraising Charge equips you with the guidance you need to lead your nonprofit effectively.
See More
Preface xix
CHAPTER 1 Leadership Concepts
Essence, Enigma, Energy, and Effect 1
Introduction 1
ESSENCE of Personal Leadership
Necessary Elements and Ingredients 2
ENIGMA of Positional Leadership
Pressures of Being at the Top 18
ENERGY of Fundraising Leadership
Differences Between Good and Bad 27
EFFECT of Organizational Stages
Various Stages Will Alter Strategy 33
INFANCY
Vision and Values Create Impetus 36
CHAPTER 2 Philanthropy Concepts
Principles, Motivations, IMPACT, and Culture 49
Introduction 49
PRINCIPLES of Organized Philanthropy
Spiritual and Democratic Ideology 50
MOTIVATIONS of Personal Philanthropy
Discovery of Complexity and Complications 62
IMPACT of Community Philanthropy
Measurable Economic and Social Benefits 72
CULTURE of Organizational Philanthropy
Foundation for Successful Fundraising 81
ATTITUDE
Perception Influences Opinions 82
ADVOCACY
Communications Shape Cultures 84
ACTION
Aligning Cultural Ideas and Ideals 87
CHAPTER 3 Development Concepts
Profession, Professionals, Program, and Plan 95
Introduction 95
PROFESSION of Fund Development
From Begging, to Selling, to Marketing 96
PIONEERS (1641 to 1904)
Moral Imperative to Collect Contributions 98
CAMPAIGNERS (1905 to 1960)
Consultants Who Codified Campaign Theory 99
TECHNOCRATS and INNOVATORS (1960 to 1990)
Merged a Calling Into a Career 101
REFLECTORS and CORRECTORS (1990 to 2005)
Shifted to a Donor-Focused Culture 103
RESPONDERS (2005 and Beyond)
Faced Expansion, Retraction, and Globalization 104
PROFESSIONALS in Fund Development
Characteristics, Credentials, and Compensation 107
CHARACTERISTICS
Expertise, Competencies, and Conscience 108
CREDENTIALS
Education, Experience, and Certification 112
COMPENSATION
Equitable and Competitive Salaries 116
JOB DESCRIPTION
Roles, Responsibilities, and Expectations 117
PROGRAM for Fund Development
An Integrated Seemless System 121
STRATEGIES
An Integrated Development Program 121
RESOURCES
Adequate Infrastructure and Systems 124
TEAMWORK
Key to Unleashing Energy and Talent 132
PLAN for Fund Development Program
Articulation of Metrics and Methods 136
COMPONENTS of the Plan
The Individual Parts, Assembled, and Linked 138
EVALUATION of Plan
Measures to Reduce Risk and Increase Effectiveness 141
CHAPTER 4 Relationship Concepts
Social Exchange, Alignment, Cultivation, and Management 147
Introduction 147
SOCIAL EXCHANGE in Relationships
Move From Transactions to Transformations 149
MARKETING
Social Exchange Based on Shared Values 149
MOTIVATIONS
Evaluation of Constituency Profile 153
CONSTITUENTS
Focus on High Potential Prospects 156
ALIGNMENT of Relationships
Constituency Analysis Uncovers Patterns 163
RESEARCH
Identify Donors With Linkage and Interests 164
SEGMENTATION
Organize Similar Donors Into Groups 170
TARGETING
Rate, Rank, and Match Donors With Cases 172
CULTIVATION in Relationships
Strategies To Build Long-Term Relationships 175
DONOR PYRAMID
Donor Movement and Monetary Distribution 176
CULTIVATION CYCLE
Process to Engage Donors Toward Mission Affinity 179
MOVES MANAGEMENT
Relationship System Involving Multiple Contacts 182
MANAGEMENT of Relationships
Techniques To Expand the Donor Base 184
ACQUISITION
Identify and Invite Donors to Give 186
RENEWAL
Encourage Donors to Repeat Behavior 190
UPGRADE
Building Donor Loyalty and Attachment 193
OVER-ABOVE
The Final Step in Donor Management 195
CHAPTER 5 Solicitation Concepts
Case, Campaigns, Communications, and Goals 199
Introduction 199
CASE to Solict Gifts
Critical Elements of a Case for Support 200
MISSION
Relevance and Achievability of Vision 201
LEADERSHIP
Marketplace Position in the Community 202
STABILITY
Structurally Sound and Financially Responsible 203
READINESS
Institutional Assessment of Worthiness 204
CASE FOR SUPPORT
Compelling, Urgent, and Realistic Goal 205
CAMPAIGNS to Solicit Gifts
Integration of Fundraising Methods 207
ANNUAL
Program for Repeat, Loyal Giving 210
MAJOR
Program for Inspired, Impactful Gifts 213
CAPITAL
Program for Mega, Named Donors 215
LEGACY
Program for Donors' Last Gifts 218
COMMUNICATIONS to Solicit Gifts
Motivational Elicitors to Generate a Response 221
DONOR FOCUSED
Creation of a Social Exchange 222
METHODS
Solicitation Effectiveness and Efficiency 229
STEWARDSHIP
Accountability for Donors and Dollars 236
GOALS to Solicit Gift
Budgetary Approach to Match Needs and Interests 240
Summary 243
References 243
About the Author 245
Index 247
See More
KARLA A. WILLIAMS, ACFRE, is the principal of The Williams Group, a consulting firm serving clients across the country who want to enhance and expand their philanthropic efforts. She works with CEOs and trustees to assess their potential for civic engagement, create innovative nonprofit programs, and recruit talented people. She is nationally known and a highly respected industry leader, bestselling author, adjunct faculty at three universities, and expert in nonprofit organizational development.
See More
More in this series