Building a Scholarship of Assessment
ISBN: 978-0-470-62307-7
368 pages
April 2002, Jossey-Bass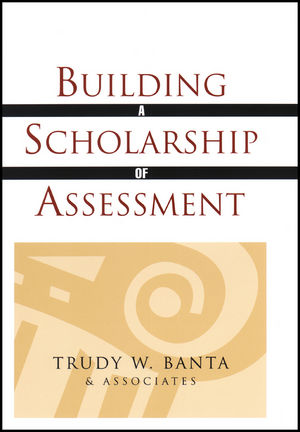 In this book, leading experts in the field examine the current state of assessment practice and scholarship, explore what the future holds for assessment, and offer guidance to help educators meet these new challenges. The contributors root assessment squarely in several related disciplines to provide an overview of assessment practice and scholarship that will prove useful to both the seasoned educator and those new to assessment practice. Ultimately, Building a Scholarship of Assessment will help convince skeptics who still believe outcomes assessment is a fad and will soon fade away that this is an interdisciplinary area with deep roots and an exciting future.
See More
Preface ix
The Authors xiii
Part One: History and Current Status of Assessment 1
1 An Emerging Scholarship: A Brief History of Assessment 3
Peter T. Ewell
2 Promoting Academic Improvement: Organizational and Administrative Dynamics That Support Student Assessment 26
Marvin W. Peterson and Derek S. Vaughan
Part Two: Theoretical Foundations of Assessment 47
3 The Roots of Assessment: Tensions, Solutions, and Research Directions 49
Peter J. Gray
4 A Scholar-Practitioner Model for Assessment 67
T. Dary Erwin and Steven L. Wise
5 Enacting a Collaborative Scholarship of Assessment 82
Marcia Mentkowski and Georgine Loacker
6 The Scholarly Assessment of Student Development 100
George D. Kuh, Robert M. Gonyea, and Daisy P. Rodriguez
Part Three: Methods of Assessment 129
7 Measurement Issues in Outcomes Assessment 131
Gary R. Pike
8 Web Applications in Assessment 148
Mark D. Shermis and Kathryn E. Daniels
9 Information Support for Assessment 167
Victor M. H. Borden
Part Four: Scholarly Assessment 183
10 Engaging and Supporting Faculty in the Scholarship of Assessment: Guidelines from Research and Best Practice 185
Thomas Anthony Angelo
11 Scholarly Assessment of Student Learning in the Major and General Education 201
Catherine A. Palomba
12 Program Review: A Spectrum of Perspectives and Practices 223
Karen E. Black and Kimberly A. Kline
13 Accreditation and the Scholarship of Assessment 240
Barbara D. Wright
Part Five: Toward a Scholarship of Assessment 259
14 Characteristics of Effective Outcomes Assessment: Foundations and Examples 261
Trudy W. Banta
15 A Call for Transformation 284
Trudy W. Banta
References 293
Name Index 319
Subject Index 325
See More
Trudy W. Banta is vice chancellor for panning and institutional improvement at Indiana University-Purdue University Indianapolis. She is a widely acknowledged leader in the field of assessment. Banta is the coauthor or editor of several books on assessment, including Assessment Essentials: Planning, Implementing, and Improving Assessment in Higher Education (Jossey-Bass, 1999). She is also the editor of the Jossey-Bass bimonthly Assessment Update.
See More
Learn more about