To Improve the Academy: Resources for Faculty, Instructional, and Organizational Development, Volume 29
ISBN: 978-0-470-62317-6
352 pages
October 2010, Jossey-Bass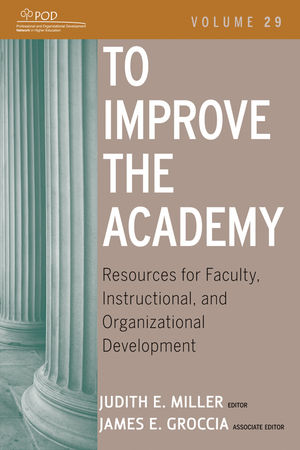 To Improve the Academy, Volume 29
An annual publication of the Professional and Organizational Development Network in Higher Education (POD), To Improve the Academy offers a resource for improvement in higher education to faculty and instructional development staff, department chairs, faculty, deans, student services staff, chief academic officers, and educational consultants.
Contents include:
North American graduate student professional development programs

Self-reflection through peer observation

Support needs of university adjunct lecturers

Supporting full-time non-tenure-track faculty

Multimedia case stories of exemplary teaching for faculty development

Social intelligence development of faculty

Collaborative learning and the transformation of faculty identity

A coaching-based framework for individual consultations

A reflective framework for collaborative development

Intersecting identities and the work of faculty development

Using class time on the first day of class

The effects of midcourse evaluation

Peer review and evaluation for online course development

Using data from syllabi review to inform faculty development

Social capital and the campus community

A professional development model cocreated by faculty and undergraduates

Students supporting faculty development

A teaching assistant consultant program

An international study of the preparation of educational developers

Distribution of teaching-learning development units in higher education

The scholarship of faculty development

International engagement as educational developers in the United States
See More
About the Authors.
Preface.
Acknowledgments.
Ethical Guidelines for Educational Developers.
SECTION ONE: Enriching Our Colleagues.
1 Taking Stock: Contemplating North American Graduate Student Professional Development Programs and Developers (Dieter J. Schönwetter, Donna Ellis).
2 Growing a New Generation: Promoting Self-Reflection Through Peer Observation (Allison Boye, Micah Meixner).
3 Support Needs of University Adjunct Lecturers (Sarah M. Ginsberg).
4 Understanding and Supporting Full-Time Non-Tenure-Track Faculty: A Needed Change (Genevieve G. Shaker, Megan M. Palmer, Nancy Van Note Chism).
5 Using Multimedia Case Stories of Exemplary Teaching for Faculty Development (Tasha J. Souza, Tom Carey, Flora McMartin, Roberta Ambrosino, Joe Grimes).
6 There Was Something Missing: A Case Study of a Faculty Member's Social Intelligence Development (Tamara Rosier).
7 Cross-Domain Collaborative Learning and the Transformation of Faculty Identity (James B. Young).
8 A Coaching-Based Framework for Individual Consultations (Deandra Little, Michael S. Palmer).
9. Professional Conversations: A Refl ective Framework for Collaborative Development (Peter Shaw, Bob Cole).
10 Intersecting Identities and the Work of Faculty Development (Cerri A. Banks, Jonathan Iuzzini, Susan M. Pliner).
SECTION TWO: Enriching Our Campus Contexts.
11 The First Day of Class: How Should Instructors Use Class Time? (Sal Meyers, Brian C. Smith).
12. Student and Faculty Perceptions of Effects of Midcourse Evaluation (Whitney Ransom McGowan, Russell T. Osguthorpe).
13 Evolution of a Peer Review and Evaluation Program for Online Course Development (Cynthia L. Adams, Dianna Z. Rust, Thomas M. Brinthaupt).
14 Completing the Faculty Development Cycle: Using Data from Syllabi Review to Inform Action (Phyllis Blumberg).
15 Social Capital and the Campus Community (Andrew N. Carpenter, Linda Coughlin, Susanne Morgan, Christopher Price).
SECTION THREE: Enriching Our Craft.
16 Teaching and Learning Together: College Faculty and Undergraduates Cocreate a Professional Development Model (Alison Cook-Sather).
17 Using Students to Support Faculty Development (Teresa M. Redd, Carl E. Brown Jr.).
18 The TA Consultant Program: Improving Undergraduate Instruction and Graduate Student Professional Development (Mikaela Huntzinger, Paul McPherron, Madhumitha Rajagopal).
19 Ready or Not? An International Study of the Preparation of Educational Developers (Nancy Van Note Chism).
20 Distribution and Penetration of Teaching-Learning Development Units in Higher Education: Implications for Strategic Planning and Research (Sally Kuhlenschmidt).
21 Toward a Scholarship of Faculty Development (Mark Potter).
22 Refl ections on International Engagement as Educational Developers in the United States (Virginia S. Lee).
See More
Judith E. Miller is executive director of assessment at the University of North Florida in Jacksonville.
James E. Groccia, former president of POD, is director of the Biggio Center for the Enhancement of Teaching and Learning and associate professor of higher education at Auburn University.
See More
Learn more about