Creative Portraits: Digital Photography Tips and Techniques
ISBN: 978-0-470-62326-8
240 pages
August 2010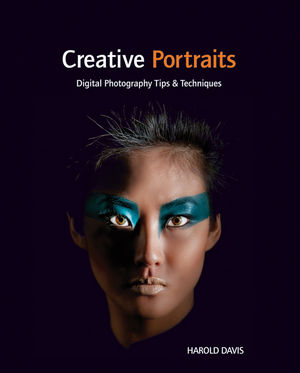 Go beyond the basic rules of photography to capture stunning portraits
Portrait photography is a vital topic for photographers of every level of experience, from amateur to professional. Written by renowned photographer Harold Davis, this inspirational book encourages you to define our own photographic style and capture stunning, creative, and unique portraits.
You'll discover tips and techniques for "breaking the rules" of basic digital photography so that you can go beyond the fundamentals such as composition, lighting, and exposure in order to create memorable and incomparable portraits.
Explores the most common subject of most photographers-people-and explains when, why, and how to forgo the fundamentals to capture memorable portraits
Encourages you to define your own unique photographic style and offers information and inspiration to help you do so
Delves into a variety of creative techniques that you can use when exploring ways to take lively and stunning portraits
Illustrated with Harold Davis's striking portrait photography, Creative Portraits will both inform and inspire you.
See More
Introduction.
Window of the Soul.
Kinds of Portrait Photos.
Why People Sit for a Portrait.
Why Photographers Make Portraits.
The Psychology of Portraiture.
Understanding People.
Character is Destiny.
Capturing Emotion.
Telling the Truth About Someone.
Vanity and Narcissism.
Artifice and Portraiture.
Creating a Self-Portrait.
Day in the Life.
Assignment: People.
Approaching People.
Model Releases.
Composing Portraits.
Street Photography.
Environmental Portraiture.
People at Work.
People at Play.
Working with Models.
Casting Models.
Propping.
Clothing.
Hair and Make-Up.
Portrait Techniques.
Posing.
Jumping.
Backgrounds.
Positioning Your Camera.
Making Camera-Eye Contact.
Movement and Shutter Speed.
Aperture and Depth-of-Field.
Choosing the Right Lens.
Lighting Techniques.
Working with Light.
To See the Light.
Kinds of Light.
Lighting at Home.
Direct Flash.
Studio Lighting.
Kids and Family.
Photographing Kids.
Working with Families.
Portraits of Children.
Casual Kid Photographs.
Environmental Portraits of Kids.
Making Sure Your Kids Love Photography.
Portraits in the Digital Darkroom.
Workfl ow and File Formats.
Mulit-RAW Processing.
Saving Your Work.
Fixing Flaws.
Working with Skin.
Enhancing Eyes.
Selective Sharpening.
Black and White.
LAB Color Inversions.
Notes and Resources.
Glossary.
Index.
See More
Harold Davis is an award-winning professional photographer. He is the author of more than 30 books, including Creative Composition: Digital Photography Tips & Techniques, Creative Black & White: Digital Photography Tips & Techniques, The Photoshop Darkroom: Creative Digital Post-Processing, and Practical Artistry: Light & Exposure for Digital Photographers. Harold writes the popular Photoblog 2.0, www.photoblog2.com.
See More