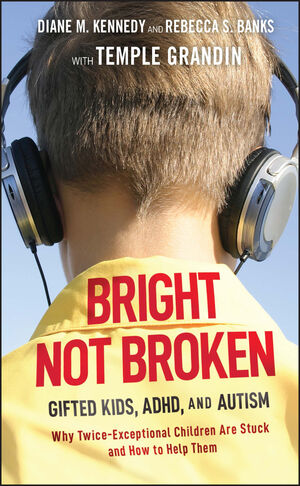 Bright Not Broken: Gifted Kids, ADHD, and Autism
Buy this book from:
ISBN: 978-0-470-62332-9
320 pages
September 2011, Jossey-Bass
The future of our society depends on our gifted children—the population in which we'll find our next Isaac Newton, Albert Einstein, or Virginia Woolf. Yet the gifts and talents of some of our most brilliant kids may never be recognized because these children fall into a group known as twice exceptional, or "2e". Twice exceptional kids are both gifted and diagnosed with a disability—often ADHD or an Autism Spectrum Disorder—leading teachers and parents to overlook the child's talents and focus solely on his weaknesses. Too often, these children get lost in an endless cycle of chasing diagnostic labels and are never given the tools to fully realize their own potential.
Bright Not Broken sheds new light on this vibrant population by identifying who twice exceptional children are and taking an unflinching look at why they're stuck. The first work to boldly examine the widespread misdiagnosis and controversies that arise from our current diagnostic system, it serves as a wake-up call for parents and professionals to question why our mental health and education systems are failing our brightest children.
CEC SmartBrief Subscribers: Purchase Bright Not Broken directly from Wiley and save 25% and receive free shipping on your entire order! Use promotion code W12SC at checkout. Please read our discount terms and conditions for more information.
More Information About this Book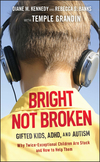 Bright Not Broken: Gifted Kids, ADHD, and Autism
Buy this book from: