Electronic Health Records For Dummies
ISBN: 978-0-470-62365-7
Paperback
384 pages
December 2010
US $29.99

Add to Cart
This price is valid for United States. Change location to view local pricing and availability.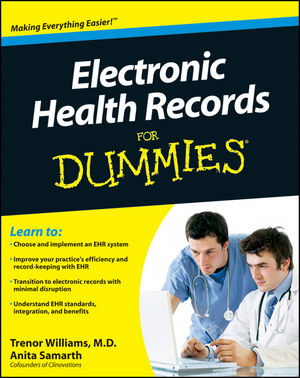 Other Available Formats:
E-book
January 05, 2011
Electronic Health Records For Dummies
Connect with Wiley Publicity
Electronic health records (EHR) are an evolving concept defined as a systematic collection of electronic health information about individual patients or populations. These digital records can be shared across different health care settings and can include a whole range of data in comprehensive or summary form, including demographics, medical history, medication and allergies, immunization status, laboratory test results, radiology images, vital signs, personal stats like age and weight, and billing information. Doctors, nurses, and hospital and clinic administrators need an easy-to-understand guide to get clear on the ins and outs of this new technology. Electronic Health Records For Dummies (Wiley; $29.99; ISBN: 9780470623657) is a helpful, plain-English guide that provides the need-to-know information on how to choose the right system, assure patients of the security of their records, and implement an EHR in such a way that it causes minimal disruption to the daily demands of a hospital or clinic.
Electronic Health Records For Dummies provides the straight scoop on choosing and implementing an electronic health records (EHR) system. The modular format and thoughtful organization allows readers to skip around rather than read straight through, and expert tips and tricks are highlighted throughout to help readers sidestep common pitfalls and get the most out of their electronic health record system. Coverage includes:
* Getting a handle on EHR — understand what it is, how it will affect staff and patients, and the impact of health information legislation on EHRs
* Exploring the nuts and bolts — examine the needs, assess the office infrastructure, research vendors, and calculate costs and benefits
* Creating a good partnership — decide what is needed, outline it to potential vendors, learn what to get in writing, and develop a successful contract
* Fitting EHR into a practice — see where the office workflow needs adjustment and how best to use an EHR to shift your stakeholders into new and improved processes
* Making the most of it — explore how EHR can make an office run more smoothly, improve patient communication, and help manage chronic conditions
* Ongoing maintenance — learn to support, monitor, and upgrade an EHR system
Authors Trenor Williams and Anita Samarth are a duo of EHR experts who provide clear, easy-to-understand information on how to choose the right EHR system and implement it effectively. Inside, readers will learn:
* Reasons to implement EHR

* Standards that affect EHR and where to learn about them

* How to evaluate whether your practice is ready

* Different characteristics of the available vendors

* How an EHR system will affect your practice

* How to communicate EHR benefits to patients

* Important privacy and security tips

* Ten questions to ask your EHR vendor
Electronic health records are rapidly becoming a must in the healthcare industry, but choosing and implementing an EHR system can be daunting. This book helps readers determine what they should expect from an EHR system, how to analyze potential vendors, how best to train staff, and much more. Whatever the healthcare setting or needs, Electronic Health Records For Dummies will help readers make the move to EHR.
About the Authors:
Trenor Williams (Washington, DC) is a medical doctor and the founder of Clinovations, Inc (www.clinovations .com), a consultancy that provides information about electronic health record implementations to clinics and hospitals across the United States. The Clinovations consultancy boasts over 10,000 followers on Twitter. Their Better Blogcast widget (displayed on most of their contributing blogger sites) registers about 1 million page views/month. Their partner sites (MedPage Today and MedHelp) reach 11 million page views/month.
Anita Samarth (Washington, DC), a principal at Clinovations, Inc. is a technology consultant specializing in EHR. Anita is a past program director for the eHealth initiative (www.ehealthinitiative.org), which is an affiliation of non-profit organizations who share the goal of improving the quality, safety, and efficiency of healthcare through information technology.
About For Dummies®
After nearly 20 years and with more than 200 million copies printed, For Dummies is the world's bestselling reference series, well known for enriching people's lives by making knowledge accessible in a fun and easy way. Loyal customers around the globe agree that For Dummies is "more than a publishing phenomenon … [it is] a sign of the times," [The New York Times]. The books span every section of the bookstore, covering topics from health to history, music to math, sports to self-help, technology to travel and more. The For Dummies brand presence is further expanded with the addition of eBooks, a corporate custom publishing program, a robust consumer website and a licensed product line that includes consumer electronics, culinary, crafts, video, software, musical instrument packs, home improvement, automotive, game and more. For more information, visit http://www.dummies.com. For Dummies is a branded imprint of Wiley.