Information Overload: A System for Better Managing Everyday Data
ISBN: 978-0-470-62574-3
Hardcover
200 pages
August 2010
US $34.95

Add to Cart
This price is valid for United States. Change location to view local pricing and availability.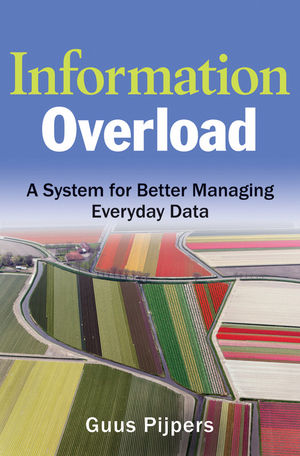 Other Available Formats:
E-book
August 23, 2010
INFORMATION OVERLOAD: A System for Better Managing Everyday Data
Connect with Wiley Publicity
In today's society, almost all information is available to almost everyone. And although it can be overwhelming, in business environments, information is now the single most valuable asset. With this, professionals are inundated too many e-mails, news feeds, and other data which is greatly irrelevant. In the next five years, the amount of information available is expected to increase tenfold, thanks mostly to the Internet. More than ever, professionals need to get organized and handle information in a smarter way. INFORMATION OVERLOAD: A System for Better Managing Everyday Data (John Wiley & Sons; $34.95; August 2010) reveals how the mind works, how it can be used to think optimally about business, and how to improve business performance through better information management practices.
INFORMATION OVERLOAD is an essential road map to seeking and finding the information that's important, as well as tips and tricks on sanely navigating our information-flooded society. Written by renowned information management expert Guus Pijpers, this guide helps readers take control of all the information that enters their lives, get better informed, and have more time for the important issues they face within business. Professionals are seeking the information that best meets their needs, and at a certain point, each additional piece of information increases the value of all the pieces that have already been acquired. However, there is a place where there is so much information that it is no longer possible to effectively use it. This is the point of information overload.
Pijpers produces an insightful look at:
The peculiarities of information, people, and their memory
Why information deserves separate attention in daily work and life
How people collect information and the most salient barriers to information use
The symptoms and causes of information overload
Ways in which senses and feelings deal with information
Why professionals should move toward having healthy information behavior
INFORMATION OVERLOAD is a forward-thinking guide so readers can learn how to handle information as well as discover their own information behavior. In addition, this book shows managers how they can improve their performance and achieve better end results with less effort.
ABOUT THE AUTHOR:
Guus Pijpers (Riethoven, Netherlands) is Managing Director of Acuerdis, a consulting company that offers business solutions to organizations that recognize the key role that information plays in organizational success. In addition, he is an Associate Professor of Information Behavior at TiasNimbas Business School (Tilburg, Netherlands) and an Academic Advisor at the Institute for Innovation and Information Productivity (San Francisco). Pijpers has over 25 years of extensive experience in information and information usage at every corporate managerial level. This includes Chief Information Officer at Philips Electronics as well as a being a consultant and IT auditor at KPMG. He is currently working with a number of companies on programs aimed at implementing the new world of work for the people-ready business.
INFORMATION OVERLOAD
A System for Better Managing Everyday Data
Published by John Wiley & Sons, Inc.
Publication date: August 2010
$34.95; Hardcover; 200 pages; ISBN: 978-0-470-62574-3