E-book
Going Global: Practical Applications and Recommendations for HR and OD Professionals in the Global Workplace
ISBN: 978-0-470-62650-4
500 pages
March 2010, Pfeiffer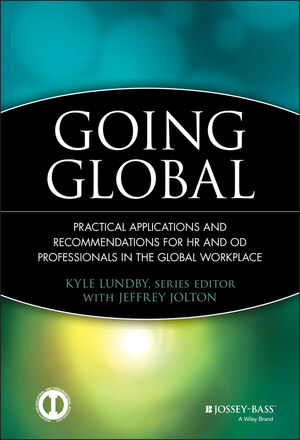 This book uses the employee lifecycle as an underlying organizing framework and examines critical phases in I/O practice and the employee lifecycle (e.g., selection/placement, performance management/development, ongoing organizational performance). It also shows how they are manifested in a global and culture-spanning space. The book showcases various sets of I/O practices that are firmly grounded in good science. Throughout the book, practical advice is offered by those who have engaged clients globally in each of these phases. This resource is written for global I/O faculty and practitioners, students, and HR professionals.
See More
Foreword xi
Allen Kraut
Preface xv
The Contributors xxiii
Part One: Practical Considerations for HR and OD Practitioners Working Across Geographic-Cultural Boundaries: The Changing Workplace xxxv
1 Navigating the Complexities of a Global Organization 1
Mariangela Battista, Patricia Pedigo, and Erica Desrosiers
2 Culture: Values, Beliefs, Perceptions, Norms, and Behaviors 22
Vesselin Blagoev
3 Multicultural Teams: Critical Team Processes and Guidelines 46
C. Shawn Burke, Marissa L. Shuffler, Eduardo Salas, and Michele Gelfand
4 HR in the Global Workplace 83
Mariangela Battista and Mario DiLoreto
Part Two: Attracting and Selecting Employees in the Global Workplace 111
5 Recruitment in a Global Workplace 113
Mukta Kulkarni and Mathian Osicki
6 Global Selection: Selection in International Contexts 143
Tim Carey, David Herst, and Wynne Chan
7 On-Boarding in a Global Workplace 175
Mary Plunkett
Part Three: Maximizing Performance in the Global Workplace 201
8 Developing Leadership in Global Organizations 203
Tommy Weir
9 Strategic Surveying in the Global Marketplace and the Role of Vitality Measures 231
Jeffrey M. Saltzman and Scott M. Brooks
10 Best Practices for Training Intercultural Competence in Global Organizations 256
Jessica L.Wildman, Luiz F. Xavier,Mitch Tindall, and Eduardo Salas
11 Creating Infectious Change in Global Organizations: Applying Psychology to Large-Scale Planned Interventions 301
Paul M. Mastrangelo
12 Maximizing the Success and Retention of International Assignees 333
Paula Caligiuri and Thomas Hippler
13 Work and Family in a Global Context 377
Tammy D. Allen, Kristen M. Shockley, and Andrew Biga
The Editor 403
Subject Index 405
Name Index 419
See More
The Editor
Kyle Lundby is a senior consultant with strong business acumen and a proven track record of supporting global organizations in their talent management and organizational change efforts. He has a Ph.D. in Industrial/Organizational Psychology and has numerous publications and presentations to his credit. Lundby recently returned to the United States after completing a multi-year expatriate assignment in Asia.
See More
More in this series