Commercial Real Estate Restructuring Revolution: Strategies, Tranche Warfare, and Prospects for Recovery
ISBN: 978-0-470-62683-2
237 pages
December 2010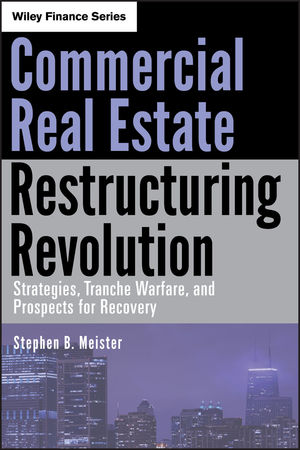 How to plan for the commercial real estate collapse
Encompassing apartment, office, retail, hospitality, warehouse, manufacturing, and flex or R & D buildings, commercial real estate (CRE) investment in the U.S. totaled $6.4 trillion at the end of 2008. As noted in the February 2010 Congressional Oversight Panel Report, $1.4 trillion of CRE debt is coming due by 2014 and half of the CRE projects securing such debt are underwater. Commercial Real Estate Restructuring Revolution: Strategies, Tranche Warfare, and Prospects for Recovery looks at how we got into this mess–impacts of the housing crisis, debt structures, lender-borrower collusion, and bankruptcy abuses–and offers possible solutions to the CRE crisis. Along the way, author Stephen Meister:
•    Discusses how CRE value losses are being driven by investors' risk adjusted cap rates, not just poorer market fundamentals
•    Discusses strategies and emerging trends in CRE foreclosures, including forced lender fundings, lender attempts to chill bids and UCC foreclosure tactics and pitfalls
•    Proposes legislative solutions and explains how any rebound will require federal spending cuts, a vast deleveraging and a market clearing process
With a crashing CRE debt market and the hundreds of CRE-heavy regional banks destined for failure, getting out ahead of the curve is essential. Commercial Real Estate Restructuring Revolution addresses how we got here and how you can plan for the impending crash.
See More
Preface ix
Acknowledgments xxix
CHAPTER 1 The Housing Bubble 1
CHAPTER 2 The Bubble Implodes 15
CHAPTER 3 Capital Markets Supporting U.S. Commercial Real Estate 33
CHAPTER 4 CRE Values and Loan Defaults 55
CHAPTER 5 Putting Off the Day of Reckoning 65
CHAPTER 6 Tranche Warfare 77
CHAPTER 7 Loans to Own and Chilling the Bid 91
CHAPTER 8 Funding Cessations and Extension Fights 101
CHAPTER 9 Bankruptcy Considerations 117
CHAPTER 10 Multifamily Market 131
CHAPTER 11 Governmental Actions Caused the Affordable Housing Crisis 145
CHAPTER 12 Governmental Reactions to the Housing Crisis 157
CHAPTER 13 Assessing Blame for the Financial Crisis 175
CHAPTER 14 The Centerpiece for Real Reform 189
CHAPTER 15 Other Areas Requiring Reform 203
Notes 219
About the Author 231
Index 233
See More
STEPHEN B. MEISTER is a founding partner of Meister, Seelig & Fein, LLP, where he represents real estate investment trusts, real estate private equity firms, hedge funds, banks, real estate developers, and investors. Well known throughout New York City for the powerful deal-making presence he brings to high-stakes negotiations, he is also nationally recognized for the trial skills he brings to bear in complex lender liability cases, mortgage and mezzanine equity collateral foreclosures, affordable housing cases, mandamus proceedings against state and municipal agencies, rent control laws, contract disputes, business tort actions, legalmalpractice, and brokerage commission claims. Meister appears regularly on Fox News and CNBC, and writes op-ed pieces for the New York Post that are reprinted by many online news sites. Mr. Meister is often quoted or featured in the Wall Street Journal, New York Times, New York Post, Crain's New York Business, Real Estate Weekly, The Real Deal, and other business journals and daily newspapers around the country.
See More