MCTS Microsoft SharePoint 2010 Configuration Study Guide: Exam 70-667
ISBN: 978-0-470-62701-3
672 pages
November 2010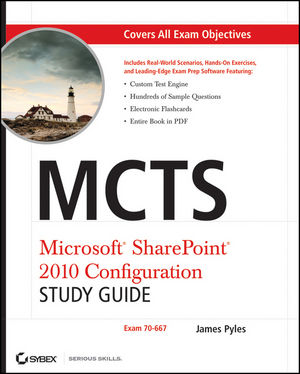 A Sybex study guide for the new SharePoint Server 2010 Configuration exam
SharePoint holds 55 percent of the collaboration and content management market, with many more companies indicating they plan to join the fold. IT professionals interested in enhancing their marketability with the new Microsoft Certified Technology Specialist: Microsoft SharePoint Server 2010 Configuring exam will find this guide may be their only alternative to costly classroom training.
Microsoft SharePoint claims over half the market for collaboration and content management software; IT professionals will boost their marketability with the newest MCTS certification covering Microsoft SharePoint Server 2010 Configuring
This study guide covers 100 percent of the exam objectives with real world scenarios, hands-on exercises, and challenging review questions
Covers installing, deploying, configuring, and upgrading SharePoint Server 2010; managing search, business intelligence, and administration; configuring content management and business forms; and more
With plenty of practice questions on the companion CD, this guide to exam 70-667 prepares IT professionals to achieve the MCTS: Microsoft SharePoint Server 2010 Configuring certification.
See More
Introduction.
Chapter 1 What's New in Microsoft SharePoint 2010.
Chapter 2 Planning and Deploying a SharePoint 2010 Installation and Upgrade.
Chapter 3 Configuring SharePoint Farm Environments.
Chapter 4 Configuring Service Applications.
Chapter 5 Configuring Indexing and Search.
Chapter 6 Managing Operational Settings.
Chapter 7 Managing User Accounts and Roles.
Chapter 8 Managing Authentication Providers and Permissions.
Chapter 9 Managing Web Applications and Host Sites.
Chapter 10 Managing Site Collections.
Chapter 11 Deploying and Managing Applications and Solutions.
Chapter 12 Backing Up and Restoring SharePoint.
Chapter 13 Monitoring the SharePoint Environment.
Chapter 14 Optimizing SharePoint.
Chapter 15 Working with Windows PowerShell.
Appendix About the Companion CD.
What You'll Find on the CD.
Glossary.
Index.
See More
James Pyles is an experienced author, instructor, and consultant, and currently worksas a technical writer for Keynetics, Inc. He has been involved in numerous Ethernet rolloutprojects, software and hardware installations and upgrades, and Windows and UNIXoperating system upgrades. Previously he was a developmental editor for Global Support Content Operations at HP. He has authored or coauthored several books, including MCTS: Microsoft SharePoint Server 2007 Configuration Study Guide and PC Technician Street Smarts: A Real World Guide to CompTIA A+ Skills, Second Edition.
See More
Do you think you've discovered an error in this book? Please check the list of errata below to see if we've already addressed the error. If not, please submit the error via our Errata Form. We will attempt to verify your error; if you're right, we will post a correction below.
Chapter
Page
Details
Date
Print Run
1 & 10
12 & 390
Text correction: "multi-tendency"
Due to an editorial error, the term "multi-tenancy" was inadvertantly changed in a few instances to "multi-tendency".

On page 12 at the bottom of the page this error occurs twice.
On page 390, under the heading "General Site Management" the error occurs in the first sentence of the second paragraph.
Substitute "multi-tenancy" for all instances of "multi-tendency".
11/23/10
1st
8
338
Text correction: Incorrect answer given to Chapter 8 Review Question 1
The answers given are B. and C. The correct answers are C. and D. The explanation is correct as written.
1/21/11
1st
See More
Learn more about