Mergers and Acquisitions Playbook: Lessons from the Middle-Market Trenches
ISBN: 978-0-470-62753-2
Hardcover
336 pages
November 2010
US $49.95

Add to Cart
This price is valid for United States. Change location to view local pricing and availability.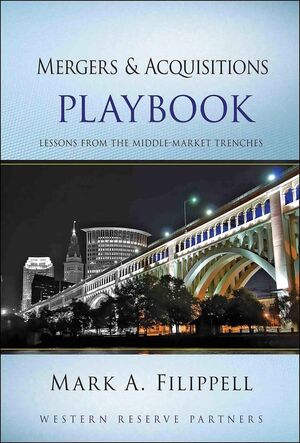 Other Available Formats:
E-book
Preface.
Acknowledgments.
Chapter 1: Why People Sell Businesses.
Honesty Is the Best Policy.
Most Common Reasons People Sell.
Proactively Making the Sale Decision.
Notes.
Chapter 2: Should the Seller Hire an Intermediary?
What Do Investment Bankers Do Anyway?
Criteria for Selecting an Investment Banker.
Investment Banker Fees.
Choosing the Right Investment Banker.
Notes.
Chapter 3: What Is the Business Worth?
Valuation Methodologies.
Applying Valuation Theory to Real-World Situations.
Notes.
Chapter 4: The Difference between Value and Currency .
Mediums of Exchange in M&A.
Sale of a Company's Stock.
Notes.
Chapter 5: Taking Advantage of the Seller's Unfair Advantages: Prepping and Timing.
Preparation.
Timing.
Involving the Management Team.
Informing the Workforce.
Leaks.
Conclusion.
Notes.
Chapter 6: Preparing the Documents.
The Offering Memorandum.
The Executive Summary.
The Management Presentation.
The Data Room.
The Definitive Purchase Agreement.
Notes.
Chapter 7: Identifying and Cultivating the Right Buyers.
Strategic Buyers.
Financial Sponsors
Diversification Parties.
ESOPs.
Management.
Family Members.
Notes.
Chapter 8: How Many Buyers to Approach?
Negotiated Sale.
Limited Auction.
Broad Auction.
Notes.
Chapter 9: Approaching Prospective Buyers.
Confidentiality.
Distributing the Offering Memorandum to Buyers.
Securing Buyers' Indications of Interest.
Appendix 9A: Confidentiality Agreement.
Appendix 9B: Sample Process Letter.
Appendix 9C: Indication of Interest.
Notes.
Chapter 10: Management Presentations and Plant Tours.
Management Presentations.
Facility Tours.
Next Steps.
Notes.
Chapter 11: Negotiating the Purchase Price.
The Letter of Intent.
Case-Specific Negotiating Strategies.
Negotiating Dynamics.
Appendix 11A: Letter of Intent.
Notes.
Chapter 12: Moving from Letter of Intent to Closing.
The Negotiating Dynamics Have Reversed.
Hart-Scott-Rodino Filing.
Keeping the Closing Process on Track.
What If It's Not Meant to Be?
Appendix 12A: Definitive Purchase Agreement.
Notes.
Chapter 13: Sales Forced by Bankruptcy or Financial Duress.
The Painful Decision to Act.
Secured Party Sales.
Sales Engineered before Filing, but Closed in Bankruptcy Court.
Sales Engineered and Closed in Bankruptcy Court.
Notes.
Chapter 14: Working with Lawyers.
Legal Involvement from Day 1.
The Lawyer's Distinct Role.
Deal Makers versus Deal Breakers .
Retaining the Right M&A Lawyer.
The Legal Check-Up .
Collaborating with the Investment Banker.
Drafting and Negotiating the Purchase Agreement.
Effective versus Ineffective Lawyering.
Managing the M&A Lawyer.
Appendix 14A: Seller's Attorney Pre-Transaction Checklist.
Note.
Chapter 15: After the Sale Has Closed.
Post-Closing Immediate Cooperation.
Post-Closing Subsequent Matters.
Post-Closing Subsequent Matters.
Leveling the Playing Field.
Notes.
About the Author.
Index.