The 10X Rule: The Only Difference Between Success and Failure
ISBN: 978-0-470-62760-0
Hardcover
256 pages
April 2011
US $24.95

Add to Cart
This price is valid for United States. Change location to view local pricing and availability.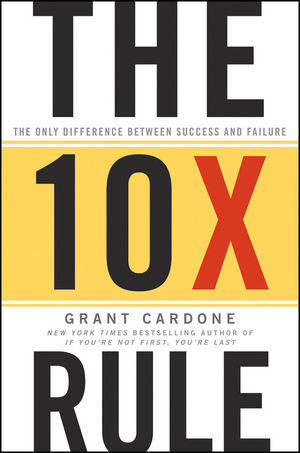 Other Available Formats:
E-book
April 20, 2011
The 10X Rule
Connect with Wiley Publicity
The vital secrets to achieving extreme success aren't taught at the leading, Ivy League business schools.
As New York Times bestselling author and sales expert Grant Cardone explains in his provocative new book, The 10X Rule: The Only Difference Between Success and Failure (Wiley; Hardcover; April 2011; $24.95; 978-0-470-62760-0), extreme success is built from breaking out of the normal routine, overcoming fears, creating new and exciting opportunities and taking those extra steps to push one's career, and life, to the next level of achievement.
For those looking to remove luck and chance from their business equation, and lock in massive success, The 10X Rule compels readers to defy mediocrity and be extraordinary by doing what others refuse to do - stop thinking in terms of basic needs, and start aiming for abundance—in all areas of their lives.
The 10X Rule guides readers toward the frame of mind that all successful people share. If they aim ten times higher than they are right now—and if they come up short, they'll still find themselves further along than if they had maintained their lives' current status quo.
Cardone explains that people come up just short of their goals because they do not correctly estimate how much effort it takes to accomplish a goal. The problem is most of the world operates with only the first three degrees of action (No action, Retreat, Normal Action) and are not operating on the Fourth Degree of Action: taking "Massive Action."
In The 10X Rule readers will be introduced to the "Estimation of Effort" calculation that will ensure they exceed targets, as well as how to make the Fourth Degree, or "Massive Action," a way of life. The book will teach readers how to:
Reach goals that they previously thought were impossible
Correctly set goals and guarantee their achievement
Create unprecedented levels of happiness and satisfaction in every area of life
Use fear as fuel to move into action
Avoid ever having to settle
Dominate competition and become a role model for success
Appreciate criticism is a good indicator
Disregard social standards
Realize rejection is vital to success
Setting the right targets, estimating the correct amount of effort, and operating at the right levels of action are the only things that will guarantee success. These steps will allow those looking for stellar success to blast through business clichés, competition, client resistance, economic challenges, risk aversion and even fear of failure while taking concrete steps to reach one's highest potential. The 10X Rule will help increase courage and belief in oneself, eliminate procrastination and insecurities, and provide a sense of purpose that will revitalize one's life, dreams and goals.